Da'Vine Joy Randolph Reveals The Meaning Behind Destiny's Outfits In The Idol
The Tony-nominated actor got advice about her role from a real-life counterpart.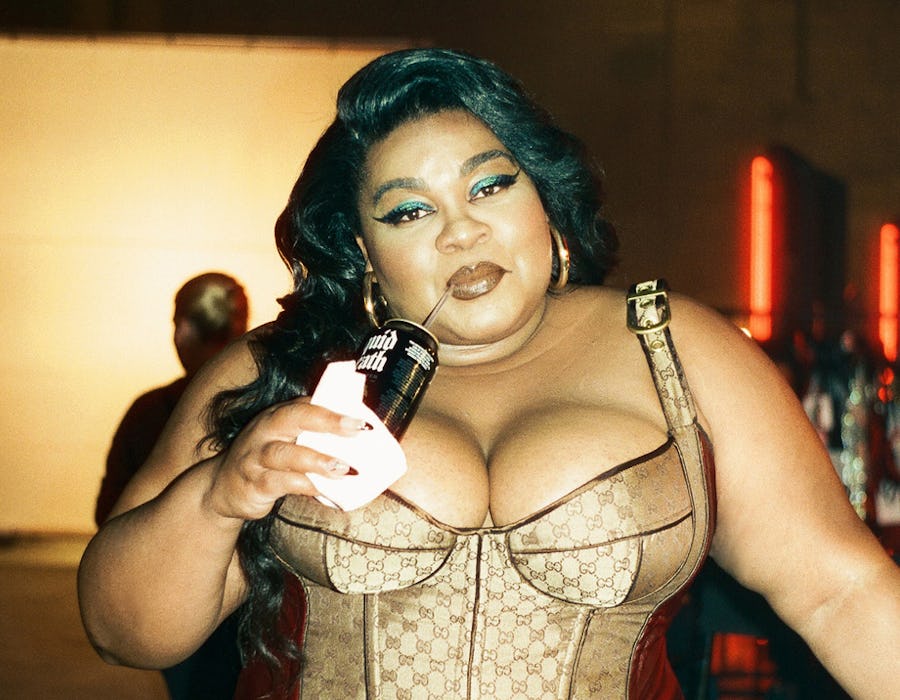 Eddy Chen/HBO
While the central drama on HBO's The Idol focuses on the disturbing relationship between pop star Jocelyn and her romantic interest Tedros (Lily-Rose Depp and Abel "The Weeknd" Tesfaye), the people in their orbit are often just as compelling to watch, from her bestie-slash-personal assistant to the Vanity Fair journalist profiling her. By Episode 2 of the show (co-created by The Weeknd, Reza Fahim, and Euphoria's Sam Levinson), only one person has the ability to really get through to Jocelyn: one of her managers, Destiny, played by Da'Vine Joy Randolph.
So far, Destiny's managerial approach is a carefully considered balance of paternal and professional. Randolph, who stars on Only Murders in the Building and received a Tony nod for her work on Ghost: The Musical, got insight into the role from the woman who does it for music legend Mary J. Blige.
Randolph ran into Blige's manager at the airport. "We just chatted the entire time," Randolph tells Bustle via Zoom from Cannes. "I got insight into knowing what [the job] is like and what it all entails. When is the job done? Do you have off-time? What are the boundaries you set?"
Although Randolph hadn't seen Levinson's work on Euphoria before joining The Idol, she knew it was a phenomenon ("How could you not?") and watched one of its special bridge episodes before meeting the TV creator over the phone. "It was deeply moving," she says of the episode, "Part 1: Rue." "Through that scene, I felt [Levinson's] heart and his passion. He has such a beautiful way with language. I was hooked."
Below, Randolph talks about the meaning behind Destiny's clothing, ignoring controversy, and The Weeknd's "monkey room."
You've done some designing yourself. Did you have a hand in crafting Destiny's look?
Most of Destiny's clothes were my own. I wanted this idea of a uniform-slash-armor, and I liked how polished she was. I wanted her to be very done, in a sense of [having her] hair done, nails done, makeup beat. As the show goes on, [viewers will see that] she was involved in this industry more personally. I wanted to show a bit of that is still in her.
On that note, is there anything you can tease about the rest of the season?
I'm excited for fans to see the power of a woman, and what it means to go after what you want, by any means necessary. It'll be a very exciting ride.
There's been some controversy surrounding The Idol. Anything you want to say about those discussions?
Very early on in my career, I chose to never engage in that. I know why I'm doing what I'm doing. I want to make people feel good and seen and heard. Secondly, it's hard to judge something off of two episodes. But ultimately, you're never going to please everybody. I always try to keep in mind: As long as my intention is good, and I'm telling a story and revealing truths, if that causes one person to change for the better, it is worth it.
Looking back, what behind-the-scenes moments stand out?
We literally filmed in [The Weeknd's] house. We didn't have any trailers because our set was the house, and there was one room that we called the "monkey room" because this big statue of a monkey was outside the door. The room had these huge, adult-sized bunk beds, and on long days, we'd take turns taking naps. It felt like summer camp. It was very communal and we really got a chance to know one another. I've never experienced anything like that before.
Now that you've been able to watch the show, are there any scenes you've enjoyed seeing come to life?
The two that stick out to me are [in Episode 2]: the music video scene, and the scene where [Jocelyn] is excited to present her new, developing sound. I remember filming it, but I don't remember it being that funny. I really love it because I think that's real. I don't think everything's just funny or just dramatic.
This interview has been edited and condensed for clarity.