Fans Don't Think Kim Kardashian Actually Ate Anything In Her Beyond Meat Ad
Kardashian stars as the plant-based food company's "Chief Taste Consultant" in a new ad.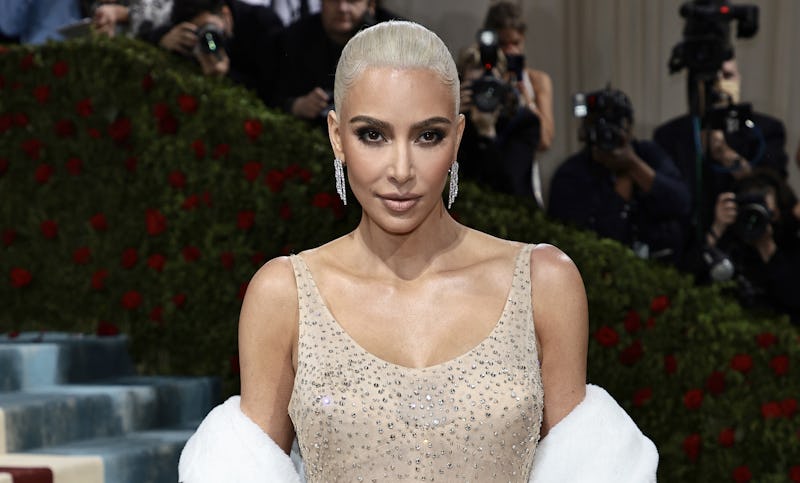 Dimitrios Kambouris/Getty Images Entertainment/Getty Images
Kim Kardashian may not be taking her new job as Beyond Meat's "chief taste consultant" too seriously. The Skims founder stars in a new ad for Beyond Meat that she posted to Instagram on May 25, where she tells viewers just how much she loves the company's plant-based meat alternatives. "I believe so much in the mission of Beyond Meat that I've stepped in to help with my greatest asset… my taste," she says, promoting her new title of "Chief Taste Consultant." However, fans don't think she actually tasted anything while filming the commercial.
In the ad, Kardashian is seen pretending to chew a vegan burger that's actually fully intact in her hand, with not even one bite taken from it. She also stabs a faux-meatball with a fork without eating it, fist-bumps a chef for making a good hot dog (but isn't seen eating it), and takes a selfie with a taco that's also still intact, while still pretending to chew something. There is a bite taken out of the chicken tenders that she steals from the chef, wanting them all to herself, but fans still don't see her actually taste it.
Now, fans have taken to Twitter and Kardashian's Instagram comments to point out the alleged gaffes. "This is beyoooond meat, so good you don't even have to eat it," one Instagram user commented on the post. Neither Kardashian nor Beyond Meat have responded to the outcry.
Regardless of whether she actually ate anything for the campaign, Kardashian's partnership with Beyond Meat makes sense, considering how she has been open about trying to stick to a plant-based diet while still enjoying animal products on occasion. "I'm a vegan most of the time — like, 98% of the time," she admitted on the first episode of her family's new Hulu show The Kardashians, as she was grabbing a burger and chicken nuggets. Maybe at their next barbeque, she'll eat Beyond Meat nuggets instead just to prove critics wrong.