Diddy's Jennifer Lopez Throwback Photo Has Upped The J. Lo Ex Chaos
"It's giving 2002 and I LOVE IT."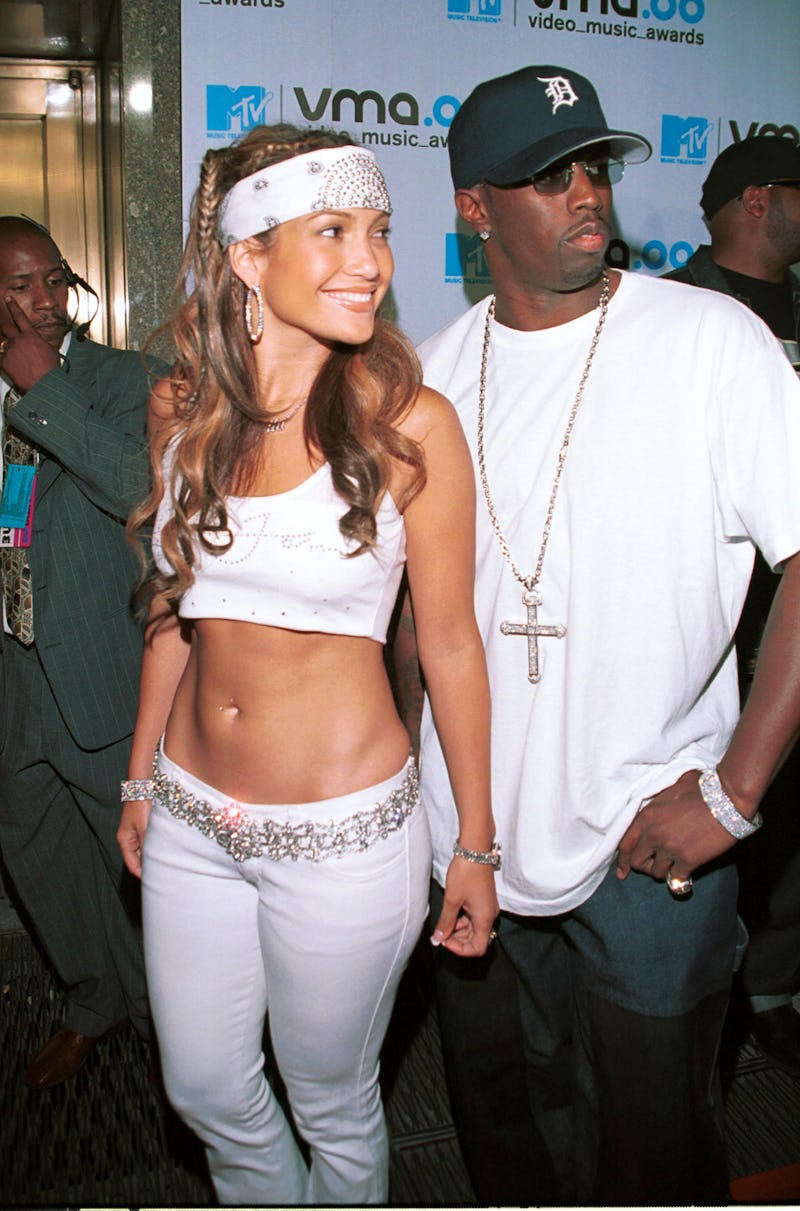 Steve Azzara/Corbis Entertainment/Getty Images
Ever since her breakup with ex-baseball player Alex Rodriguez, Jennifer Lopez seems to be playing the field — and judging by his recent Instagram post, another one of her famous exes might be hoping to be next at bat.
On May 27, Sean "Diddy" Combs woke up and, for reasons that are currently unknown, decided he was going to share a paparazzi photo of him and J. Lo on Instagram for throwback Thursday. The photo was captured back in 2000 when the couple dated and showed the singer and rapper holding hands. He cryptically captioned the photo "#tbt," and soon after it hit newsfeeds, "Diddy" started trending on Twitter.
The post could be written off as simply a nostalgic throwback, but since the internet basically broke last month with reports that Lopez had rekindled a relationship with her former fiancé Ben Affleck, 17 years after they called it quits, that seems doubtful.
Stories, fan reactions, and sightings of the couple, formerly known as "Bennifer," have dominated the pop culture consciousness ever since Affleck was first spotted in J. Lo's ride, and they don't seem to be hiding the relationship. The couple, who originally dated years after Lopez split with Diddy, were spotted kissing between sets at the gym on May 24 and have vacationed together in South Florida and Montana, heavily hinting that they're an official pair.
So perhaps Diddy was driven to shoot his shot after learning that Lopez was also recently seen having coffee with her ex-husband Marc Anthony in Miami. However, the pair, who split back in 2011, have always had a friendly relationship and co-parent their twins together, so they were likely just hanging out platonically.
Fans had mixed feelings about Diddy's post, with some sharing that they think it's funny and others sharing that they think it's inappropriate. One fan tweeted, "Jennifer Lopez, Ben Affleck, and Diddy news cycle is just the entertainment I need! It's giving 2002 and I LOVE IT," while another blamed his star sign for his attention-seeking behavior, sharing, "Diddy is really a Scorpio man through and through."
But one of Lopez's exes does seem to be trying to move on. Rodriguez recently took to Instagram stories to express his hopes for a fresh start, sharing, "I am about to step into a new beginning in my life." He added, "Anything that doesn't serve me is clearing out of my life. New energy is emerging. New levels are unlocking for me mentally, physically, and spiritually. I am remaining patient and know that this new phase of my life is coming."