Dwayne Johnson Shares COVID-19 Tips After Revealing He Tested Positive
"Use me as your example and stay healthy, my friends."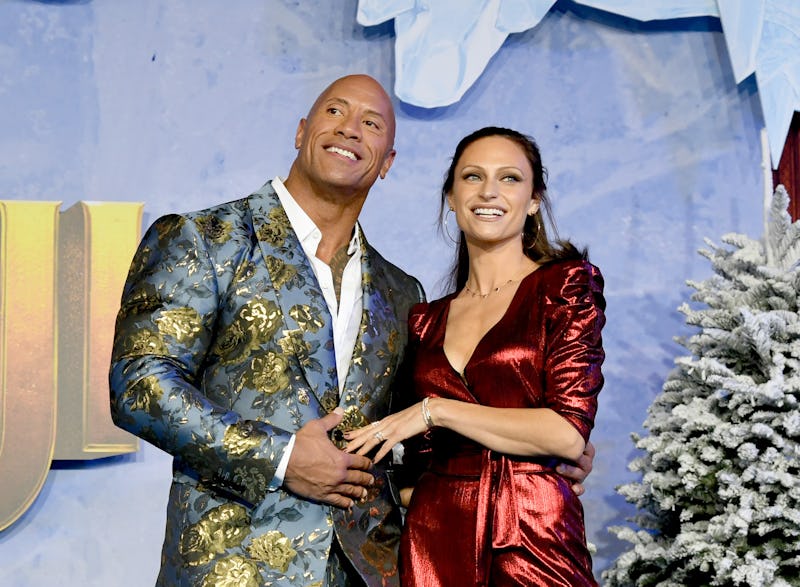 Kevin Winter/Getty Images Entertainment/Getty Images
The Rock wants everyone to stay safe and healthy after experiencing the effects of the novel coronavirus firsthand. In a lengthy Instagram video shared on Sept. 2, Dwayne Johnson revealed that he and his whole family tested positive for COVID-19 before candidly encouraging all of his fans and followers to take the ongoing pandemic seriously. "I wanted to give you guys a little helpful update on things that have been going on on my end for the past two-and-a-half to three weeks now," Johnson said in the video.
"The update is this: my wife Lauren as well as my two baby girls and myself, we have all tested positive for COVID-19," he continued. While the actor and producer stressed that everyone in his household were "on the other side" of the illness and are "no longer contagious" after recovering, Johnson also made it clear that the whole experience had been a shock to the system, not just physically, but emotionally. "I can tell you that this has been one of the most challenging and difficult things that we have had to endure as a family. And for me personally as well — and I've been through some doozies in the past," he said.
He continued, calling seeing his daughters, 4-year-old Jasmine and 2-year-old Tia, contract the illness "a real kick in the gut." He added that his kids only had sore throats and quickly "bounced back," but that he and his wife "had a rough go" and experienced much more intense symptoms. However, he declined to go into detail about the exact nature of his COVID-19 symptoms, instead offering up some "takeaways" from the experience and advice for his fans and followers.
First, Johnson advised everyone to be "incredibly disciplined" about social distancing measures, and encouraged them to have their friends and family tested for the coronavirus before inviting them over. "We picked up COVID-19 from very close family friends," he revealed, adding that both his family and his loved ones have been strict about social distancing, and yet they still managed to get sick. "These are people that we love and trust, and people that we still love and trust. ... [But] you still never know. You never know. So, take an even [more] aggressive measure and have them tested."
He also advised people to make a "commitment to wellness" and boost their immune systems, in case they are unlucky enough to catch COVID-19. "We have to control the controllable," Johnson said, encouraging everyone to make a "slight tweak" to their lifestyles in order to give their bodies the best possible chance at fighting illness. "Stack the deck in your favor. Have your immune system boosted so you can get on the other side of COVID-19, stronger and healthier," he added. (Throughout the video, Johnson stated that his family was "stronger" and "healthier" after recovering from COVID-19; however, scientists still don't know what kind of long-term effects the illness can have on the body.)
Finally, Johnson made a passionate plea for everyone watching the video to wear their masks in order to protect themselves — and more importantly, to protect the people around them. "It baffles me that some people out there, including some politicians, will make it part of a political agenda," he said. "Wear your mask. It is a fact, and it is the right thing to do. It's the responsible thing to do, not only for yourself, but for your family and your loved ones and also for your fellow human beings."
"I'm not a politician," Johnson added. "I am a man, though, who cares about his family very deeply, and will do everything to keep them safe. I am also a man who cares about all of you guys. I do not want you or your entire family to get COVID-19." He concluded his video by encouraging everyone to take serious precautions in order to keep themselves safe: "Use me as your example. Remember these takeaways, and stay healthy, my friends."
Johnson is just the latest in a string of celebrities to open up about their experiences with COVID-19. Tom Hanks, Anna Camp, and Andy Cohen are just a handful of names of those who have gone public with their diagnosis, and they, too, have stressed the importance of diligence, especially when it comes to mask wearing. "One time, when the world was starting to open up, I decided to forgo wearing my mask in public. One. Time. And I ended up getting it," wrote Camp on Instagram in July. "Please wear ur mask [sic]."
If you think you're showing symptoms of coronavirus, which include fever, shortness of breath, and cough, call your doctor before going to get tested. If you're anxious about the virus's spread in your community, visit the CDC or NHS 111 in the UK for up-to-date information and resources, or seek out mental health support. You can find all Bustle's coverage of coronavirus here, and UK-specific updates on coronavirus here.