With Love Star Emeraude Toubia Is In Her Friends Era
The actor borrowed *this* genius tip from playing Lily Diaz.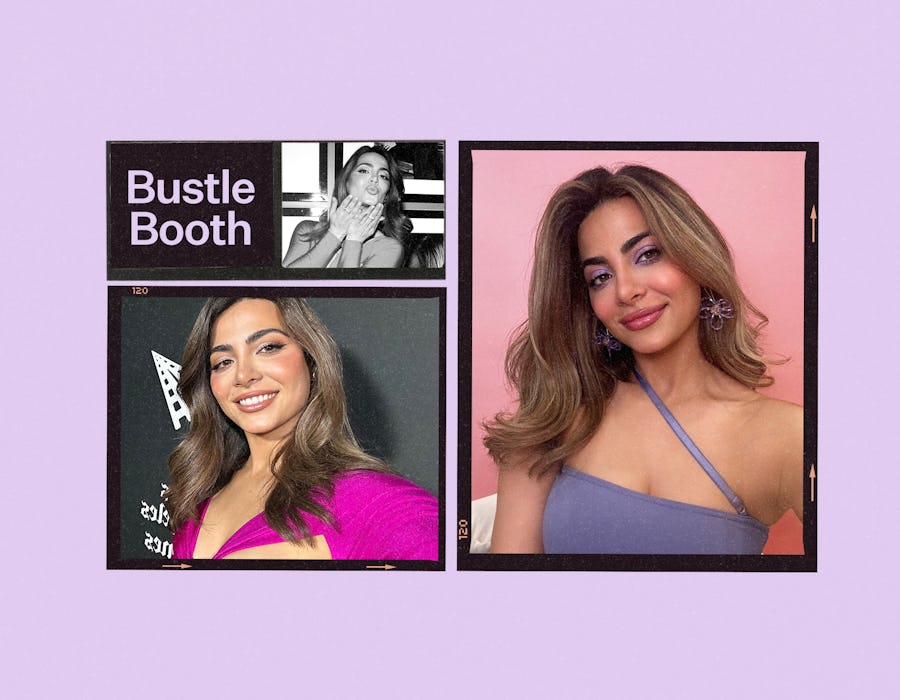 The romantic dramedy With Love charts the intersecting lives of the Diaz family over a calendar of holidays, from proposals on Noche Buena to fights on the Fourth of July. In the newly released second season, on Amazon's Prime Video, the family's adult daughter, Lily Diaz, goes through a breakup and faces the exciting if terrifying prospect of rebuilding her life. Actor Emeraude Toubia, who plays Lily, has been there recently. After three years of marriage, she and singer Prince Royce announced their divorce last year.
"I was dealing with a breakup [while] shooting the show, which is a little insane," the 34-year-old tells Bustle over Zoom. "[I dug] deep with my personal experiences, which I don't like to do when I'm [acting] because I like to separate [the two]. But if I'm going through it, I'm sure a lot more people are going through it."
She and her ex met 15 years ago, Toubia says, so she's getting to know herself in an all-new era. "I feel like I'm part of the show Friends," Toubia says with a laugh. "It's that moment in life when your friends are your family."
It's not the only similarity between Toubia and Lily. The actor has adapted her character's birthday bucket list into an "adventure of the month," and gives herself quests like pasta making, pole dancing, and aerial yoga.
Toubia was raised in the border town of Brownsville, Texas, and had her breakout role in Freeform's Shadowhunters before starring in Hallmark and Lifetime rom-coms. She views With Love as an apex of sorts — and her role as an homage to genre greats like Jennifer Lopez, Reese Witherspoon, Julia Roberts, and Sandra Bullock. "I feel like Lily is all these beautiful women put together in one, and I love her so much," Toubia says. "I would have never dreamed of doing something like this."
But she's excited to explore other genres, too, like in the upcoming horror film Rosario, which she'll star in and executive produce. Toubia recently started her own production company, The Emerald Co. "I recently went to Mexico to direct and produce this little sizzle [reel] to help my pitch," says Toubia, who's keeping the idea itself under wraps. "It's very personal, female-driven, [and] puts women in traditionally unseen places."
Learn more about Toubia in her Bustle Booth questionnaire below.
In The Bustle Booth
What's your coffee order?
I love coffee so much. I only [get] it as a treat, so I order a hot white mocha!
What are the saved weather locations on your phone?
I grew up in Brownsville, Texas, and it's such a small town. It doesn't have a direct flight, so I have Dallas as the connecting flight. Every time I visit my family, I'm always checking the weather [in Dallas] to make sure there are no delays, and then I have NYC and, recently, Rome, because I'm heading there this summer!
What's your sign?
Pisces. Yes, everything that is said about my sign is so me! ;)
Favorite overused movie quote?
"When I'm good, I'm very good, but when I'm bad, I'm better!" — Mae West, I'm No Angel (1933)
What was your favorite cartoon as a kid?
The Powerpuff Girls. I always wanted to be Buttercup.
What's one movie or TV show you're currently obsessed with?
The Marvelous Mrs. Maisel. I love how it incorporates choreography with words and such beautiful costumes, plus every actor really is "marvelous!"
Who is your celeb idol?
Jennifer Lopez. She's one of the most successful, hardworking professionals in our industry and happens to be Latina. I met her, and she gave me one of the best pieces of advice, "You're never going [to] feel the time is right, so do it now!"
If you had to be on a reality TV show, what would it be?
Top Chef. I enjoy cooking, I don't know how good I am at it, but I love connecting with people through food and culture.
Go-to karaoke song?
The first and LAST time I ever sang karaoke was on With Love! I feel so bad for everyone who had to hear me!!! But If I were to choose, it would be "Genie in a Bottle" by Christina Aguilera or "Hips Don't Lie" by Shakira.
What's something that's inspiring you lately?
Travel.
What is something you would want people to say about you?
I just want people to say I brought joy into their lives through my work and my relationships, [that I was] someone they could count on when life was challenging.