Thank God For Fexi
They're the one string holding the Euphoria fandom together.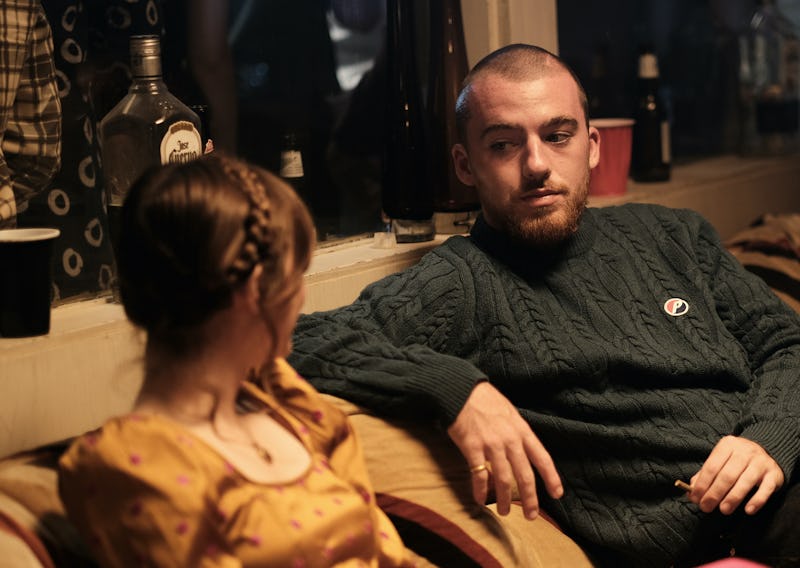 Eddy Chen/HBO
Spoilers ahead for Euphoria Season 2 Episode 6.
Between Rue hitting her breaking point and Cassie's chaotic downward spiral, Euphoria's second season has once again been grueling to watch. But the one thread seemingly holding the entire fandom together is Lexi and Fezco's blossoming relationship.
The two first connected in the Season 2 premiere while they were posted up on the couch at a New Year's Eve party — the preferred parking spot for introverts everywhere. While Rue did drugs and Cassie hid in a bathtub, Lexi calmly explained Germanic pagans to a riveted Fez. "Talking to you was one of the best parts of my whole year," he told her earnestly, adding that she was the coolest person there. Eventually, he worked up the courage to ask for her number.
This prompted numerous tweets and TikTok fan edits in support of the fledgling couple, which have only intensified as the season has pressed on. The two may seem like an unlikely pairing: A drug dealer and a straight-laced theater kid do not, on the surface, have a lot in common. But they're both sort of loners — fitting in but lurking on the outskirts of the group — and there's something sweetly PG about them grazing hands and sharing prolonged glances across the gas station amid all the graphic sex more often found on Euphoria. It's a classic bad boy/good girl love story, and though series creator Sam Levinson has given us mere crumbs of Fexi compared to other relationships on the show, viewers have been desperate for more. In Episode 6, another moment finally arrives.
As Cassie melts down over Maddy finding out about her secret tryst with Nate, Lexi escapes to hang out with Fez. He listens patiently as she explains the drama and tells him about the play she's writing — all while staring at her like she's hung the moon. They cry and laugh about Rob Reiner's 1986 buddy film Stand By Me, reveling in the tension of your crush maybe making a move. It feels like a scene from an entirely different show — Mouse and Faye certainly seem to find it unusual — but Lexi just really needed a break. And frankly, so did we.
Being with Fez is a respite for Lexi, one of the few moments where she can be the protagonist rather than the supporting character to everyone around her. In the same way, Fexi has become one of the few things that keeps Euphoria from feeling too oppressively grim — particularly in an episode in which Rue also goes through withdrawal, Kat breaks Ethan's heart, and Nate holds a gun to Maddy's head. Clinging to their relationship is perhaps naive, because nothing on this show ever turns out happily. But Fexi is cute OK! Just let us have this.