Fleur East Is Rising Above
Chanté Joseph speaks to the singer, Strictly star, and presenter about The X Factor, her supportive husband, and making new music.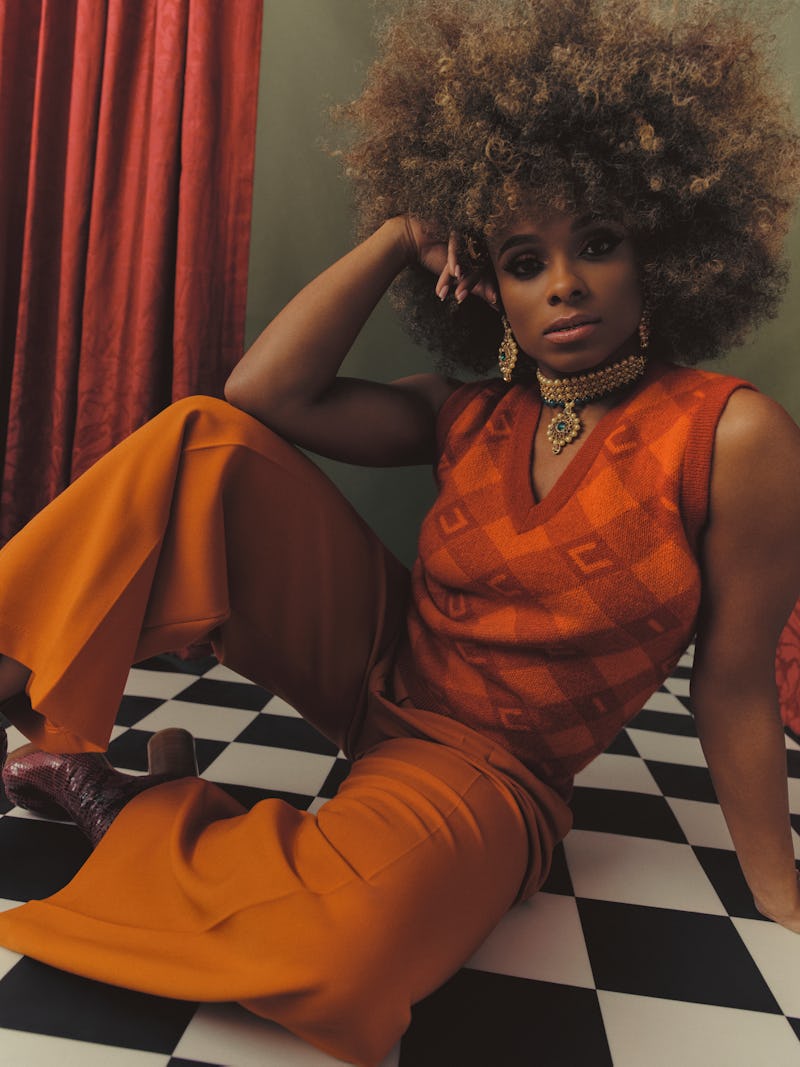 Piotr
When I speak to British pop and TV sensation Fleur East, she is slumped in the back of an Uber, tired but riding the high of the previous night's performance. Fusing her vibrant personality with natural showmanship and the glamour of Strictly, East put on an unforgettable performance at her first headline show in years, held at London's Union Chapel. The work doesn't stop there; she is bound for the Blue Peter studio as we speak. "It was just such a special night," she tells me, beaming. "Hamza [Yassin] literally drove down from Scotland to watch, and Vito [Coppola] got on stage with me; it was incredible!" Of course, this isn't East's first rodeo; she has been a staple in the British pop culture canon for nearly two decades now. A true British entertainment darling, East famously got her start on The X Factor and has gone on to enjoy serious commercial success and to appear on pretty much every major British TV show going.
The X Factor produced stories as much as it did pop stars, and East played the role of the comeback queen. She first auditioned for Simon Cowell's talent contest in 2005, aged 16, with her girl group, called Addictive Ladies. The group made it to the live shows, only to be voted off when Louis Walsh chose Chico over the girls. "I was very determined that I was never going to go back on The X Factor again," she recalls of the first elimination. "I was like, 'I'm going to make it in the industry without this. I don't need it.' So then I was doing demos, auditioning for songs, singing up and down the country to rooms of 30 people where no one cared. I was releasing stuff and featuring on songs, but it wasn't taking off; nothing was happening. So then, one evening while watching X Factor with my husband, he was like, 'Why do we sit here every year to watch this, and you're not on it?'" So with that, East returned to the show, almost 10 years later, ready for her spot in the limelight. She came in second place to Ben Haenow.
"I describe it as a crash course into the music industry," East explains of the show's way of fast-tracking the traditional music career path of its most successful contestants. "You have to learn quickly and in front of millions of people. Usually, if you get signed, you do all that when you're getting developed, not in front of everybody. Plus, you get so much popularity and exposure overnight; that's the thing no one can prepare you for. There's nothing quite like it." Luckily for East, she had the foundations in place, "but if it had happened to me when I was 16, I think it would have been a completely different experience."
After the show, she signed to Cowell's record label Syco, and she released debut single "Sax" in 2015. The single peaked at No. 3 in the charts and went platinum in the United Kingdom. Then, as quickly as the hype exploded, it fizzled down. "It was so savage," she recounts. "What's going on? I've just had a platinum-selling single; I don't understand. I've just toured the world with 'Sax,' so why am I not everywhere? Why am I not on tour now?" she asked. Despite her constant recording, writing, and rehearsals, the label, she believes, was not putting any support behind her releasing again. She knew it was time to go.
"I sort of forced their hand and said, 'Just let me go. Please just let me go — this is agony.' They said I could take my music, and they won't hold me back. That was a real blow for me because one minute I was signed everywhere, I was literally living the dream, and then it was taken away from me." We discuss why this might have happened. "Sadly, the music industry isn't always based on talent," East tells me, matter-of-factly. "It's just not. It is based on how you can market a product. And that's why so many artists are killing it, but maybe they aren't even necessarily working for it. They've got an amazing team, and they can see how to sell the product."
Where her music career stalled, she excelled in the TV space. In December, she and Coppola wowed the Strictly Come Dancing judges with their 10s-across-the-board performance set to Destiny's Child. Like with X Factor, she finished in second place. She didn't fall foul to the Strictly curse, though. Her husband, Marcel Badiane-Robin, she tells me, was beyond supportive. "We had to do the Argentine tango, and I had to stare in [Coppola's] face doing all this sensual dancing, but my husband was there in the rehearsal. He's fully supported me — and that's rare."
East also famously appeared on I'm A Celebrity, Don't Rock The Boat, and Ant & Dec's Saturday Night Takeaway, to name but a few. She also hosted The Void in 2021 and hosts the Hits Radio Breakfast Show with James Barr and Producer Matt. Appearing on nearly every major TV show (bar Love Island), East could be seen as more of a TV personality than a singer at this point. "My dad always said, 'You can never have too many strings to your bow,'" she says, smiling, of wearing several entertainment hats. "More music will be coming out this year," she adds. "Now I'm doing everything independently, I can release as and when."
Her latest release, "Count the Ways," came out this March and is a sultry, jazz-inspired breakup song that leans into strength and away from the wallowing often associated with the category. "It's not a happy song," adds East. "It comes from a position of strength. I've always been so conscious of that; I always want to uplift whoever's listening to my music." Which brings her back to her roots, actually. "'Sax' was such a bold song to come out with as a female. To be like 'You better play that sax, you better give it to me' was very loud, there was a lot of sass and attitude, and I've always written from that perspective," she tells me. "I don't think I've ever written a song that's ever from a position of weakness. I always want it to be a strong, empowering message."
East's evangelical approach to positivity, strength, and empowerment is both inspirational and somewhat overbearing. After she found fame on a nationwide talent competition TV show where you sing other people's songs and then landed firmly in the world of family-friendly presenting, I press her on the idea of becoming a caricature of a person. "My husband always says that I live in Disneyland in my head," she admits. "He's always like, 'The world could be burning around you, and you'll just be skipping and laughing.' I just have a cheery disposition; that's just how I'm programmed. Often, when people don't know me, they'll assume I'm just trying to act like I'm always happy, but that's my default setting."
2020 was an exceptionally hard time, even for the usually chipper star. Her father passed away unexpectedly, and eight days later, she was back at work. "I literally went on air, and I was like, 'This is hard; I'm struggling,'" she recalls. That same month, lockdown kicked in, and she was forced to cancel her headlining show. Ever the optimist, she finds a silver lining in that, too: "The world had shut down, and I had space and time to grieve. I didn't have to face people. I was thinking how intense or overwhelming it would be if I had like 100 people at my dad's funeral and had to cry and grieve in front of them." Putting her feelings of grief and loss in her yet-to-be-released music has been key to the healing process, she tells me. "There have been a lot of real emotions in my writing since losing my dad. I think because I used to write from other people's perspective, now I write from a real place. When you have to face the deepest part of yourself after losing someone, you get in touch with your emotions. Now, when I write, it feels different."
East plans to continue dominate our screens and airwaves and will drop several releases through this year. But she has no intention of honing in on one thing and will continue instead to master them all. What would her ideal career look like, I ask? "The dream for me would be a hybrid of Oprah, James Corden, and Jennifer Hudson. I want to have a show where I can interview people because I love learning about people, where I can perform like Jennifer Hudson, and play games like James Corden. I want to put all my passions together in one thing, because why not?"
Fleur East's single "Count the Ways" is out now.