Gigi Hadid Gave Up One Surprising Thing After Having A Baby With Zayn Malik
The model hasn't had coffee in years.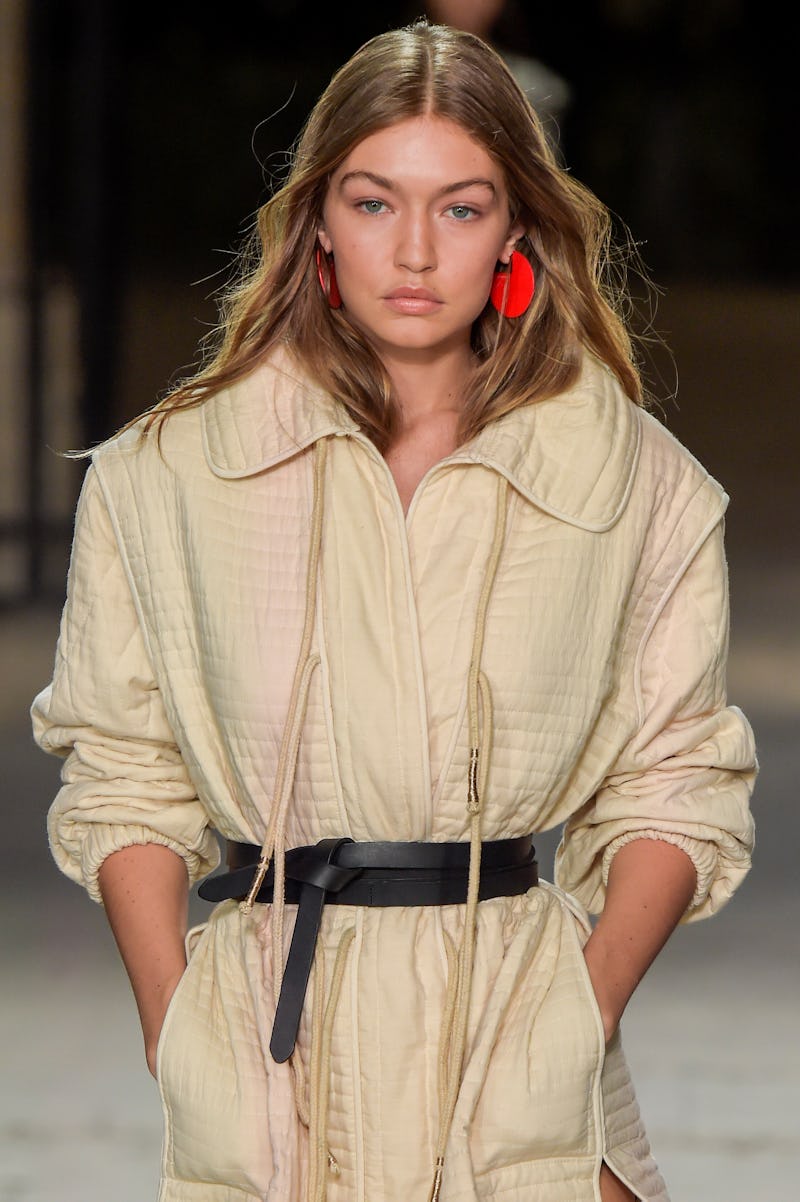 WWD/Penske Media/Getty Images
Like a true supermodel, Gigi Hadid possesses the uncanny ability to transform herself into whichever woman she's portraying — whether that's into an over-the-top Moschino runway model with a Marie Antoinette-inspired wig or as the muse on the cover of Vogue Arabia. But these days, the role she's most proud to immerse herself in is as "mom."
The 27-year-old model shares a two-year-old daughter, Khai, with ex-boyfriend Zayn Malik, and in a Jan. 30 interview with WSJ Magazine, the Next in Fashion host revealed just how much her baby has changed her. "I have a very mom morning routine," she admitted. First, she wakes up when the baby is up. "Whatever time she's waking up, I'm waking up," she said of her human alarm, which gets up between 7:30 and 8:30 a.m. She even added that she stopped — *gasps* — drinking coffee altogether when she became a mom.
Speaking about her new cashmere company, Guest in Residence, the model also talked about her new morning and mealtime routines. "I eat whatever Khai's having," Hadid told the outlet. "I make her pancakes and sausages every day."
Pancakes, in fact, have become such a staple in their house that she had to resort to asking "Santa" for a gift this Christmas. She recounted, "For Christmas, she asked me what I was going to ask Santa for and so I said I wanted a new pancake pan. I ordered myself, via Santa, this cool pancake pan — each little circle pancake is a different animal, so she can have lion pancakes or llama pancakes. It's really fun."
But it's not just her eating, drinking, and morning habits that have been upended by motherhood. Exercise, too. When asked about her exercise routine, she responded with, "Running after my 2-year-old. We walk a lot. We do yoga together. With lifting her and running around all day and going to the park, I get moving."
The hands-on mom is so in sync with her daughter that she even uses Khai's supplies to organize her schedule. Preferring "to handwrite" her schedule, she told the outlet, "[My schedule] is so janky. It can be like Khai's craft paper." She added that no matter where — or whose — paper she writes it on, it's a skill. "If I'm good at something, it's organization, scheduling, and making sure that all of my different projects are getting time. That also helps me give a lot of time to Khai."
Since 2015, Hadid and Malik had been in an on-again, off-again relationship. And 2020 was a banner year for the former couple. They reconciled, got pregnant, and in September, the model gave birth to a baby girl named Khai. Though the pair split up just a little over a year later in October 2021, per an US Weekly report, Malik and Hadid have been co-parenting amicably and "have a loving and caring relationship despite being broken up." The One Direction alum also supposedly visits the mother and daughter at their Pennsylvania farm "a lot." It appears as though the model appreciates Malik's efforts. She even wrote a Father's Day greeting for him on his first Father's Day. More recently, Hadid has been linked to Leonardo DiCaprio after being spotted several times since September.