The Golden Bachelor Filming Timeline Might Surprise You
The franchise's senior spin-off was a "whirlwind," says the new lead.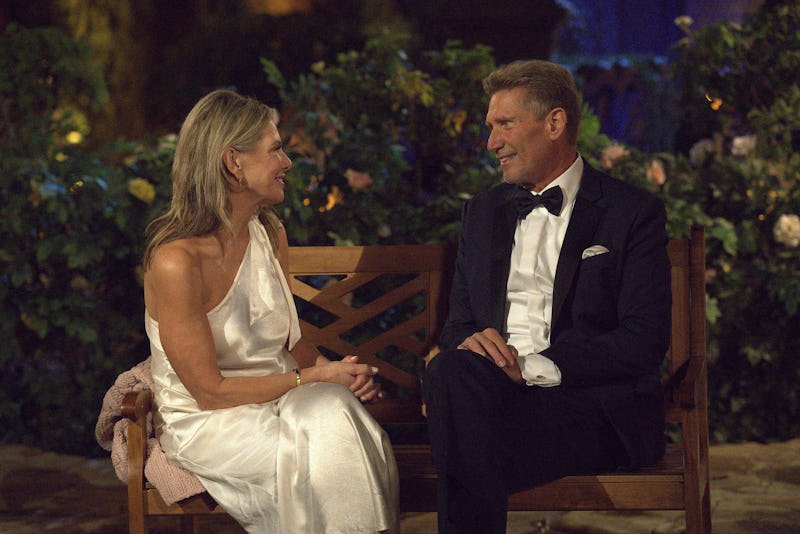 ABC/Craig Sjodin
Between filming Charity Lawson's Bachelorette season, Joey Graziadei's hotly anticipated run, and the sun-soaked chaos of Bachelor in Paradise, it's been a packed year for Bachelor Nation and franchise host Jesse Palmer. So how did production find time to film Gerry Turner's journey for love on top of its busy schedule?
Several clues suggest that The Golden Bachelor filmed from early to late August. On Aug. 5, Palmer posted an Instagram photo of him and Gerry from day one at the Bachelor Mansion. (This was shortly after filming Charity's "Men Tell All" episode in late July.)
"It's been a whirlwind," Gerry told the Los Angeles Times shortly after production got started. "The activity is coming at me much faster than I expected. I tried to ramp myself up but I didn't do a good enough job of it. There [are] wonderful women here that I have had the pleasure to know but I've needed to get to know them in a hurry. That was unexpected. I thought there would be more time for in-depth and casual conversations."
According to Reality Steve, the final rose ceremony took place on Aug. 31, meaning the inaugural Golden Bachelor's journey for love spanned less than a month.
One possible explanation: Gerry told the LA Times that the show "cuts through a lot of the garbage that may be necessary or appear to be necessary to a younger generation." Maybe there will be less drama than normal — but this is still The Bachelor, y'all.
Gerry won't be the only one who feels the swiftness of the season. Shorter episodes — 1 hour apiece vs. The Bachelor's usual 2 — indicate a breezier pace, perhaps because there was less material to work with.
However, according to Palmer, Gerry and his contestants still had plenty of time to form meaningful connections.
"There's really this sort of overarching theme of hope on this show," the host recently told E! "If it doesn't work out between Gerry and one of the women, it's not so much heartbreak but it's more, 'You know, I wasn't sure I could put myself out there again and give love another try. You and this experience have given me the courage to do that moving forward, and I believe I'm gonna find my person.'"