Gottmik Wants The Trans Community & Cisgender Allies To Be Louder Together
"Trans people need to be loud. And cisgender people, you need to be loud for us."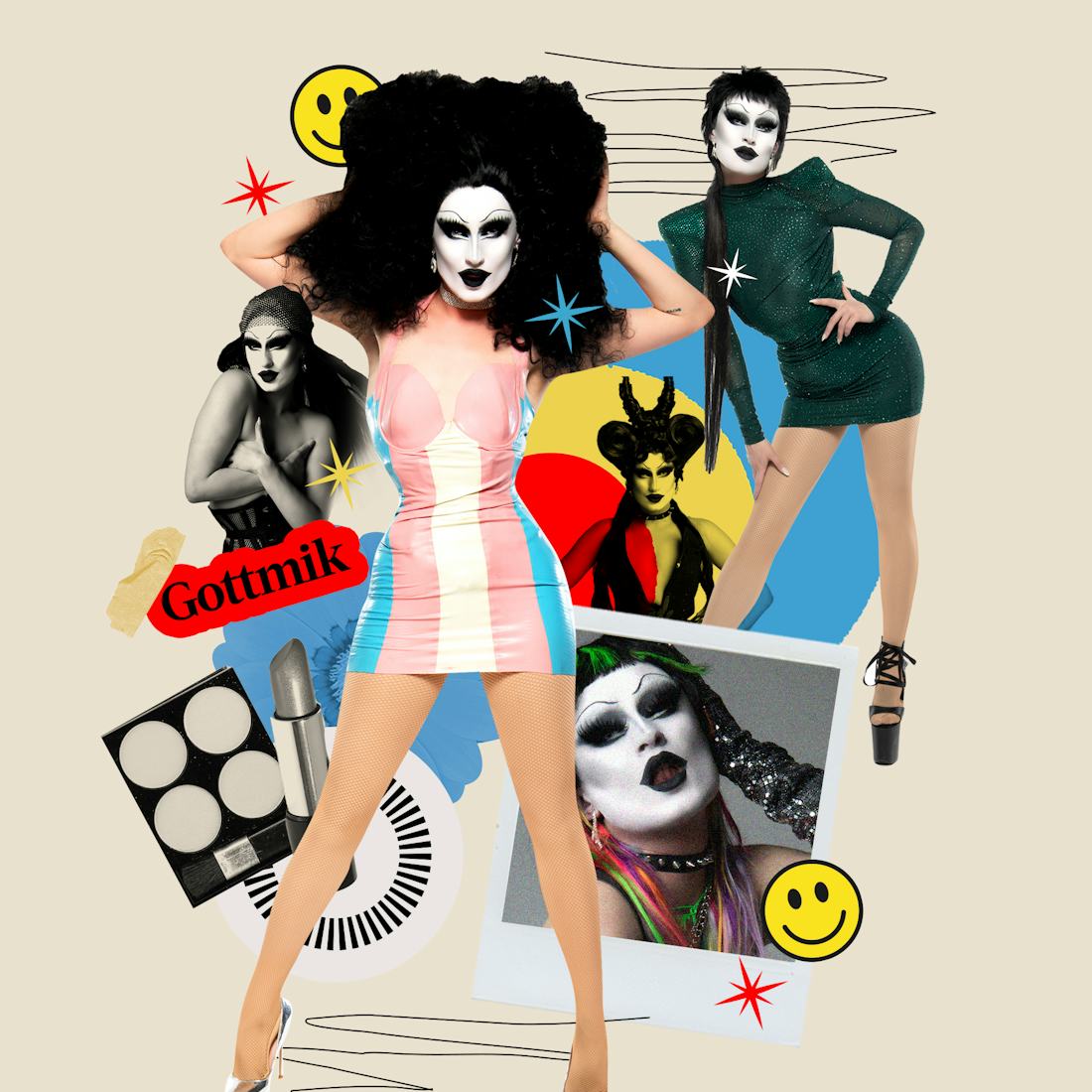 Marco Ovando
Being a drag queen is hard — harder than most people realize. The profession requires money, stamina, talent, and perhaps most surprisingly, time. This is no more evident than on the cross-country Drive 'N' Drag Saves 2021 Tour that Gottmik has embarked on with fellow RuPaul's Drag Race alums. "We get [to each tour stop] around 12:30 for our 7:00 p.m. show to get ready," Kade Gottlieb, who goes by Gottmik when in drag, tells Bustle. "We'll literally do our foundation and then we'll dance for like 20 minutes, make a drink and dance more, and then go back to makeup."
On this tour — with Vanessa Vanjie Mateo, Aquaria, Naomi Smalls, Plastique Tiara, Asia O'Hara, Violet Chachki, Rosé, Kim Chi, and Kameron Michaels — Gottmik and the other queens take on superhero personas to perform to fans who are seated in or around their cars, à la drive-in theaters, to safely entertain them during the coronavirus pandemic.
The 24-year-old entertainer is relishing his life as a celebrity after wrapping his stint on Drag Race Season 13, where he tied for third with Rosé only behind winner Symone and runner-up Kandy Muse. Gottmik is filling his time not only to make famous friends and make money while the iron's hot, but also to use his public platform for good.
As a community, trans people need to be loud. And cisgender people, you need to be loud for us. Uplift our voices; uplift black trans women voices and their stories.
As the first transgender man to compete on a regular season of Drag Race and one of the few trans performers ever featured on the series, Gottmik has inspired millions, and he takes being a role model seriously. At one point, too seriously, he says. "Going into the show, I remember being nervous," Gottmik admits when asked about representing an entire community. He explains that he wanted to "say the right things and do the right things and know all the right terminology," adding that he was "overthinking everything."
Thankfully, host RuPaul helped Gottmik realize how to alleviate some pressure, apparently telling him, "People just want to hear your story. You don't have to go out there and give a speech every second. All you have to do is be yourself." This advice clearly worked, as Gottmik stands out as one of the most positive, beloved, and popular queens to emerge from the series, and though he didn't snatch the crown, his days as a leader in both his artistic endeavors and his activism are just beginning.
Matt Winkelmeyer/Getty Images
Tim Mosenfelder/Getty Images
Below, Gottmik opens up about his friendship with Gigi Gorgeous, growing up without representation, and tailgating with the gays.
Gottmik Q&A
What advice would you give to your 16-year-old self?
I would definitely tell my 16-year-old self to trust whatever I'm feeling and just because you don't see yourself [represented] anywhere does not mean you're crazy. You're valid. Sometimes people have to be the ones to pave the way and you're going to have to do that and you're going to figure it out, gorge!
Where do you see yourself 16 years from now?
Sixteen years is so far away. I always say that if I'm too comfortable with my art or where I am in life, to keep pushing myself, in and out of drag. I feel like 16 years from now, my artistry will be something that I can't even fathom at the moment. And I'm really excited for it. I am such an open-minded person, and I want to keep growing forever and ever, so hopefully 16 years from now I will be doing some crazy artistry somewhere.
What are your proudest moments as a member of the LGBTQ+ community?
I feel like my proudest moment as a member of the LGBTQ community is truly just going on Drag Race and being as open as I was. I think I was really lucky that my chosen family were people like Gigi Gorgeous, who fully transitioned in front of an audience. She helped me come out. She taught me the joy and the power of being such an open person and how many people it helps. I started that journey with the mindset that it's good to be that open, so going on the show and being vulnerable and showing everyone my journey and what I've been through ... looking back on it, I'm so proud of it. And I can't wait to do that more. I want to show everyone every step of the way.
Where and how are you celebrating Pride this year?
I am actually on Voss Event's Drive 'N' Drag tour right now, and we are traveling the country. I've been on it for two months and this is Pride Month. We are going to every city, and it's so fun because half the audience is in their cars and it's fully like a tailgate. Everyone has trans pride flags and gay pride flags all over their cars. In New York at the end of the month for New York Pride we're doing three shows and literally, I've never been more excited for anything in my life.
Who inspires you in the LGBTQ+ community?
Anyone who's just down to be their authentic selves and fight for the community and is constantly opening doors. I feel like the whole cast of Pose does that for me. First of all, I'm obsessed with the show. It's like my favorite show I've ever seen. Second, I follow the whole cast, and every single one of them is such a unique, insane voice in the community. They use every Instagram post, even if it's just a gorgeous selfie, the caption is just the most amazing thing about pronouns. They really do use their platform for such amazing things.
Which LGBTQ+ charity do you love and why?
I love The Trevor Project. I am obsessed with GLAAD, so much. I love having a strong voice in the community and GLAAD is just so amazing at uplifting voices in the media. The LA LGBT Center — they helped me get hormones and like, my life together. So I've witnessed firsthand what they do and I'm just obsessed.
What work still needs to be done for trans equality?
There's so much work that needs to be done in terms of trans equality. Nikita Dragun posted a story where she was literally just getting helped into a car by this guy at the club. And this guy [social media "star" Taylor Caniff, whose only claim to fame is several videos on now-defunct platform Vine] was following her and misgendering her and telling security that she's like fooling them and crazy. That is literally how trans people die.
Look at Nikita. She has passing privilege, a lot of us do, and that's not always the case, and she's getting treated like that. It just blew my mind. It made me realize that it's so important for us as trans people to be very open and proud about being trans, because if we're not loud and taking up space, trans people will never be truly normalized, if people aren't exposed to that and like understanding what we have to go through all the time. As a community, trans people need to be loud. And cisgender people, you need to be loud for us. Uplift our voices; uplift black trans women voices and their stories.