Grey's Anatomy Fans Are Worried About The New Hospital Lockdown Episode
Will history repeat itself?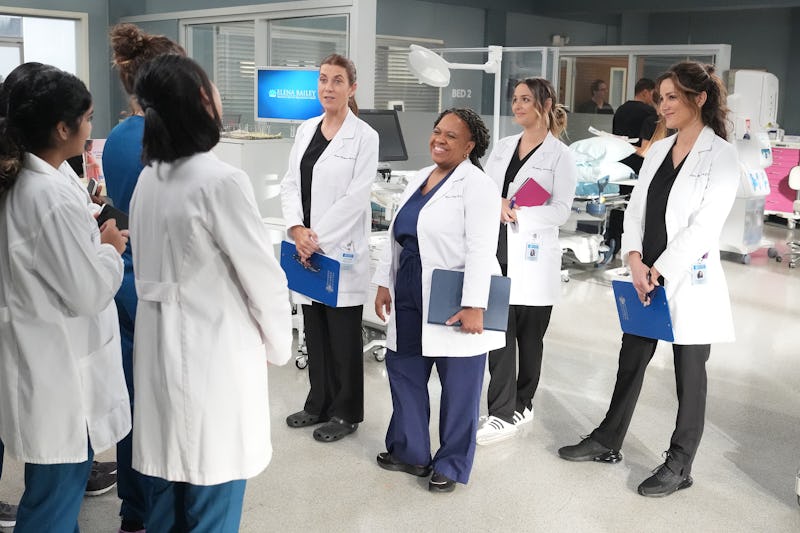 ABC/Eric McCandless
If you're a longtime Grey's Anatomy fan, you know there are certain things that just spell danger: like if "Chasing Cars" starts to play, or the surgeons remark that there's a quiet board, or any of them set foot near a plane, train, bus, boat, or truck.
Of course, one of the biggest omens is the dreaded two-part episode — because so many of the show's worst tragedies (from the bomb to the hospital shooting) took place over the course of two installments. And, well, there's another one on the way. At the end of the March 16 Grey's Anatomy episode, a promo for next week saw Addison return yet again. While it should be a happy occasion, the hospital quickly descends into chaos as anti-abortion protesters crowd the entrance. At one point, someone throws a brick through a window and hits Blue in the head, prompting Teddy to announce a "hospital-wide lockdown."
Other clips from the sneak peek include Amelia running and Addison crying in a corner, while text reads that "no doctor is safe." To borrow a turn of phrase from noted Grey's Anatomy fan Taylor Swift, "I think I've seen this film before... and I didn't like the ending."
Yes, the terrifying teaser is reminiscent of the Season 6 hospital shooting, as many viewers pointed out on Twitter. To recap if you've blocked the episode from your memory (which, fair): "Sanctuary" and "Death and All His Friends" saw widower Gary Clark exact revenge on the hospital after his wife, Alison, died there.
While the details of Season 19's lockdown are different, it's clear that the hospital is going through another violent crisis.
The official synopsis for the March 23 episode reads, "Addison makes a special appearance at Grey Sloan to welcome Bailey's new OB/GYN trainees. Maggie's lung transplant is derailed, and Nick bonds with Lucas — before the day takes a shocking turn."
Then, in the conclusion to the two-parter on March 30: "In the immediate aftermath of shocking events at the clinic, the hospital goes on lockdown and the Grey Sloan doctors split up to save multiple lives. Meanwhile, Maggie lands in hot water with Winston, and Jules' roommate makes a surprise appearance."
Grey's Anatomy is no stranger to catastrophe, of course — and with the new interns paralleling their forebears in many ways, it makes sense that a defining tragedy might be on the way. (It's hard to fathom, but the original MAGIC class went through the hospital bomb, LVAD fiasco, and ferry crash within their first year as interns.)