Halsey's Label Won't Release New Song Until It Goes Viral On TikTok — So They Used TikTok To Call Them Out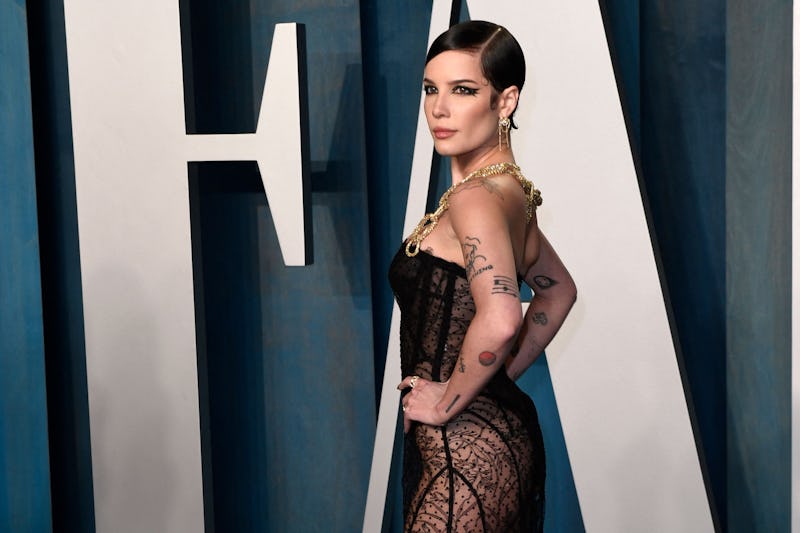 PATRICK T. FALLON/AFP/Getty Images
Nowadays, record labels are revolving around TikTok — and even well-established artists like Halsey are being affected. On May 22, Halsey claimed their record label wouldn't release their new song until it had a viral TikTok moment staged by the artist themself. Ironically, the "Without Me" singer revealed their predicament in a TikTok video featuring a clip of the aforementioned song in the background, which is one way to make sure it goes viral.
"Basically, I have a song that I love that I want to release ASAP, but my record label won't let me,"they wrote in the clip. "I've been in this industry for eight years and I've sold over 165 million records and my record company is saying I can't release [the song] unless they can fake a viral moment on TikTok.‌" Halsey went on to explain that "every artist" is being put in similar situations, where their music hinges on TikTok campaigns. "I just want to release music, man and I deserve better tbh. I'm tired," they concluded.
In a follow-up TikTok, Halsey is seen listening to one of their team members explaining the label's strategy, revealing that the song is titled "So Good" and looking visibly frustrated with the plan. The label initially wanted to reveal the single's artwork on TikTok without giving a release date, hoping that a snippet would go viral on its own before coming out. "I wish I was kidding lol," they wrote in the clip.
Since TikTok's popularity surged during the COVID-19 pandemic, resulting in viral songs from the likes of Doja Cat and Megan Thee Stallion turning into Billboard number one hits, labels are trying to use the social media network to replicate that success. However, artists who rose to fame before the TikTok generation have ignored the network almost completely to great results. Halsey released their 2021 album If I Can't Have Love, I Want Power without even putting out one song first, yet alone making one go viral on TikTok, and it became their most critically acclaimed effort to date, resulting in their first solo Grammy nomination.
Halsey's label, Astralworks and Capitol Records, have yet to comment on their client's way of creating the TikTok moment they asked for. However, the singer updated fans about the situation on Twitter, stating they had spoken with the label after posting the video. "They said 'wow the tiktok is going really strong!'" they explained. "I was like ok cool so can I release my song now? They said 'we'll see!' tell me again how I'm making this up."
When fans asked Halsey to just drop "So Good" without permission, they explained that the label owns the master recording, so it's out of their control. Halsey also revealed that the song's music video is finished as well, and they're tired of having to resort to these tactics to get the attention of executives. "I've been minding my own business on tour taking care of my baby. Four albums deep. Coasting," they wrote. "I'm way too established to stir something like this up for no reason or resort to this as a marketing tactic but now I'm in too deep so there's no going back."