Happy Valley's Ending Was Almost Entirely Different
"I have Sarah Lancashire to thank," said show writer Sally Wainwright.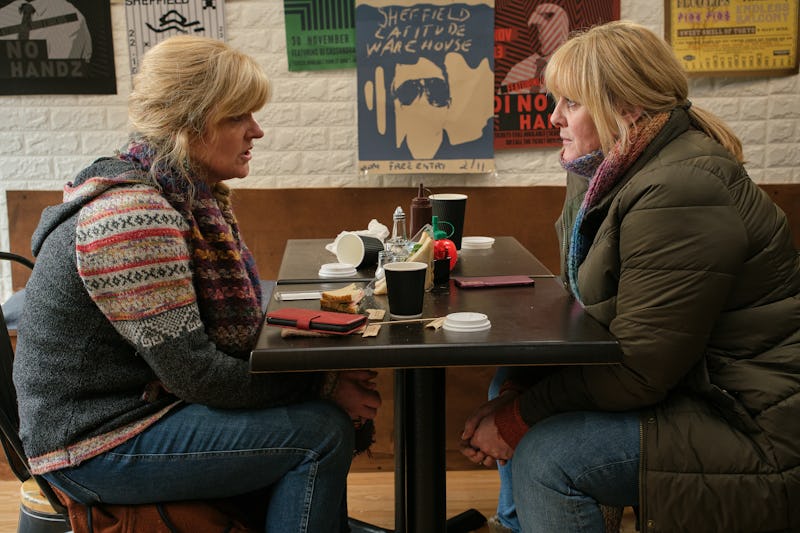 BBC/Lookout Point/Matt Squire
Warning: spoilers ahead for the finale of Happy Valley. After eight gripping years on our screens, crime drama Happy Valley has finally brought Catherine Cawood and Tommy Lee Royce's near-decade long entanglement to a dramatic close. The finale, which aired on Feb. 5, which featured one final tense confrontation between the pair, has been widely praised for both staying true to the show's ethos and trading in high-octane stunts and explosive fight scenes for a surprisingly understated face-off around the kitchen table. But the show's creator, Sally Wainwright, has revealed that the ending could've turned out very differently indeed.
Discussing Happy Valley's ending with BBC's Newsnight, Wainwright revealed that Sarah Lancashire – who plays the show's strong-willed lead, Sergeant Catherine Cawood – "wasn't happy" with how events went down in the first draft. "I have Sarah to thank for that ending in many ways because I wrote the first draft and everybody seemed quite happy with it and then she made it clear that she wasn't happy with it," the writer revealed.
Though Wainwright didn't pinpoint the specific elements of the script that Lancashire tweaked, she did say that the actor helped her to push things further when it came to making tough decisions about the show's conclusion. "I had a real choice about whether to end on a pessimistic note or an optimistic note… about which one of them [Tommy Lee Royce or Catharine Cawood] was going to survive, and it was a no-brainer to end on an optimistic note with someone like Catherine, she's such a force for good."
She also revealed that around Christmas 2021, the pair spent a whole day together hashing out the final version of the script. "She came up to my house and she spent all day talking about it and she gave me some really good notes. So everything got pushed a bit further in that episode and it was all thanks to Sarah."
"Actors have to get into the real granular detail of the script, because they have to learn it," she pointed out. "Certainly no-one knows it as well as the person playing the lead. It was a great privilege to have the opinion of someone who knew the scripts almost better than I do because she puts so much into it, so much thought into it," she said. "So it was a really fabulous conversation... it's nice that we worked it through together – her performance is just off the scale, isn't it?"
If you've got your fingers crossed for more Happy Valley, however, you'll be disappointed. When asked about whether the show was officially finished, Wainwright gave a definitive answer. "Yeah, that's it,' she said. "We made a clear decision that we didn't want it to go on and on and become a pale shadow of itself… I think it's good to know when to stop."
Pressed on whether Cawood could ever come out of retirement in another form, Wainwright said: "she may do, but we won't be seeing it." She also ruled out the prospect of a spin-off starring Cawood's grandson Ryan. So, perhaps we'll just need to make do with knowing that somewhere in Hebden Bridge, Cawood's swigging on Yorkshire tea and enjoying a cheeky cig in her garden after taking down the valley's biggest villain. Maybe for now, that image is enough.