Everything To Know About Hocus Pocus 2
Mark your calendar Sept. 30, because the sequel is coming just in time for spooky season.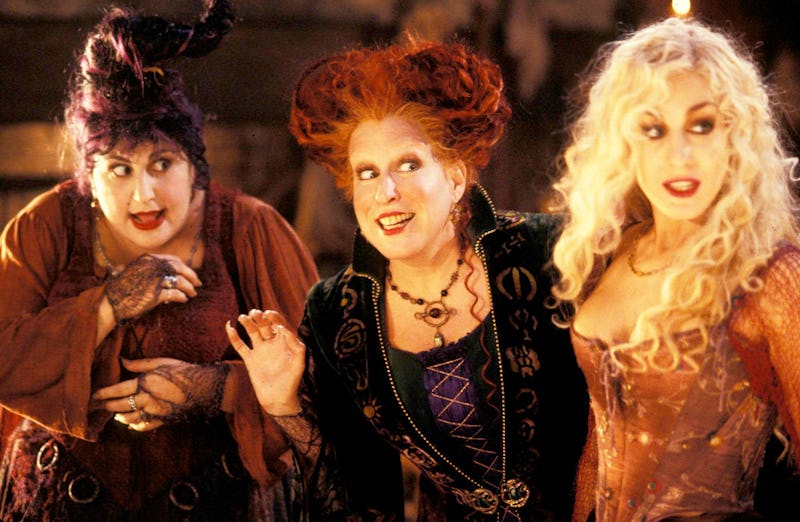 Walt Disney Studios Motion Pictures
Well, all those summoning circles worked. In May 2021, Disney announced plans to conjure up a Hocus Pocus sequel, and it'll feature some of your favorite cast members from the 1993 comedy horror classic. For those who forgot the original plot, just know that after new kid Max resurrects a trio of witches by lighting the black flame candle, he, his sister, a classmate, a friendly feline, and a zombie come together to defeat the sinister sisters.
Hocus Pocus 2 will riff on the first movie and see a new group of curious adolescents bring the Sanderson Sisters back to life. As a Disney press release states, "In Hocus Pocus 2, three young women accidentally bring the Sanderson Sisters back to modern-day Salem and must figure out how to stop the child-hungry witches from wreaking a new kind of havoc on the world."
Cue up "I Put A Spell On You" and check out everything we know so far about the sequel, including the release date and who from the original cast will return.
The Hocus Pocus 2 Cast
First things first — the original Sanderson Sisters will return in full force as Bette Midler, Sarah Jessica Parker, and Kathy Najimy will reprise their roles as Winifred, Sarah, and Mary. Along with the announcement, the actors channeled their Hocus Pocus characters in some delightfully on-theme Instagram posts. Najimy teased, "The people have spoken: I smell children...again." Parker posted, "Yep. I'm ready. To run. Amok, amok, amok, amok." And Midler called out, "Sistaaaahs! It's been 300 years... But we're BACK!"
On Nov. 1, 2021, Disney announced Whitney Peak (Gossip Girl) as Becca, Lilia Buckingham (Dirt) as Cassie, and Belissa Escobedo (American Horror Stories) as Izzy, the "three young women in present-day Salem who incite the wrath of the three witches." Hannah Waddingham (Ted Lasso), Tony Hale (Veep), Sam Richardson (The Tomorrow War), Juju Brener (Vanquish), Froy Gutierrez (Teen Wolf), Taylor Paige Henderson, and Nina Kitchen will also join the live-action sequel. At the moment, there's no word on if Thora Birch (Dani), Omri Katz (Max), Vinessa Shaw (Allison), or Sean Murray (Thackery Binx) will return in some capacity.
Doug Jones, aka zombie Billy Butcherson from the original, will also return as Winifred's ex-boyfriend. On Aug. 29, Entertainment Weekly published a first look of Jones in full, undead makeup as he stepped back into the role, wearing the same wig he wore in the original. Director Anne Fletcher described his revival as "surreal" and "mind-blowing," while Jones added, "Billy came back to me immediately, it was frightening how he's been alive while I've been playing other characters all these years, but, Billy's like, 'I wanted my chance again.'"
Billy's backstory and his relationship with Winifred will reportedly be fleshed out in the forthcoming sequel — and he'll even find love again, though it's in more of a platonic way. Fletcher revealed that there's a "bromance" between Billy and Salem Magic Shoppe owner Gilbert (Richardson). "It's such a sweet, special little relationship and side story," Fletcher said and Jones hopes it's as received as "charming and lovely."
The Hocus Pocus 2 Release Date
There's no trailer just yet, but on in May 2022, Disney revealed the film would be available on its streaming platform starting on Sept. 30, 2022. According to Entertainment Weekly, an exclusive clip was played at the event (and miraculously hasn't made its way to the Internet yet), showing two young girls lighting the Black Flame Candle, summoning the three witches. "Lock up your children! Yes, Salem, we're back!" Midler howls before the three leads launch into a cover of Elton John's 1974 song "The Bitch Is Back." Previously announced cast members Jones, Hale, and Richardson all reportedly also appear in the short clip. Hale will play the town's mayor, but Richardson's role is still undetermined, and little other plot or character details have been revealed.
Production on Hocus Pocus 2 began in Rhode Island in the fall of 2021, which Parker has officially confirmed on her Instagram Stories. On Nov. 10, she shared a behind-the-scenes clip of her transformation into the one and only Sarah Sanderson. "Hair and makeup test on HP 2 first day," SJP wrote alongside a clip of her makeup artist applying two shades of foundation. "Elaine Offers here schmearing."
After promising to let fans know "how it all turns out," Parker gave fans a brief glimpse at the platinum blonde wig that she'll wear in the sequel. "Where's Sarah? Where's Sarah?" she asked. "There's a piece of Sarah." But the And Just Like That star cut the camera there, careful not to reveal too much. "I'm not showing more right now," she said. "We're in the early stages."
It's worth noting that there have been some changes since initial reports about the sequel started to bubble up back in 2020. Though Adam Shankman (Hairspray and The Wedding Planner) was originally set to direct, he has moved to an executive producer role as he's busy directing Disney's Disenchanted, the twisted Enchanted sequel.
Taking over for Shankman is his longtime friend and colleague, Anne Fletcher (The Proposal and 27 Dresses). In a Disney+ press release, Fletcher shared her excitement for the project and assured fans that this sequel deserves a special place in their hearts as well. "I am so grateful to be able to play a part in bringing these witches back to life, and to be working with my friends at Disney again makes it all the more special," she said. "This is a movie for everyone, from the fans who grew up with the first film to the next generation of viewers, and I can't wait to get started."
Hocus Pocus 2 Teaser Trailer
On June 28, the teaser trailer for the upcoming sequel was released. The teaser, though short, offers fans a glimpse of what to expect when the film is released this fall, and it definitely looks spooky with black cats, a graveyard ritual and a full moon. With a crack of thunder and a flash of lightning, the Sanderson Sisters are resurrected and Winifred shouts "lock up your children!"
This post will be updated with the trailer and additional plot and cast details as more information on Hocus Pocus 2 becomes available.
This article was originally published on