Meet Katie Thurston's Bachelorette Contestants
The cast includes a TikToker and Clay Harbor's cousin.
by Candace Cordelia Smith and Savannah Walsh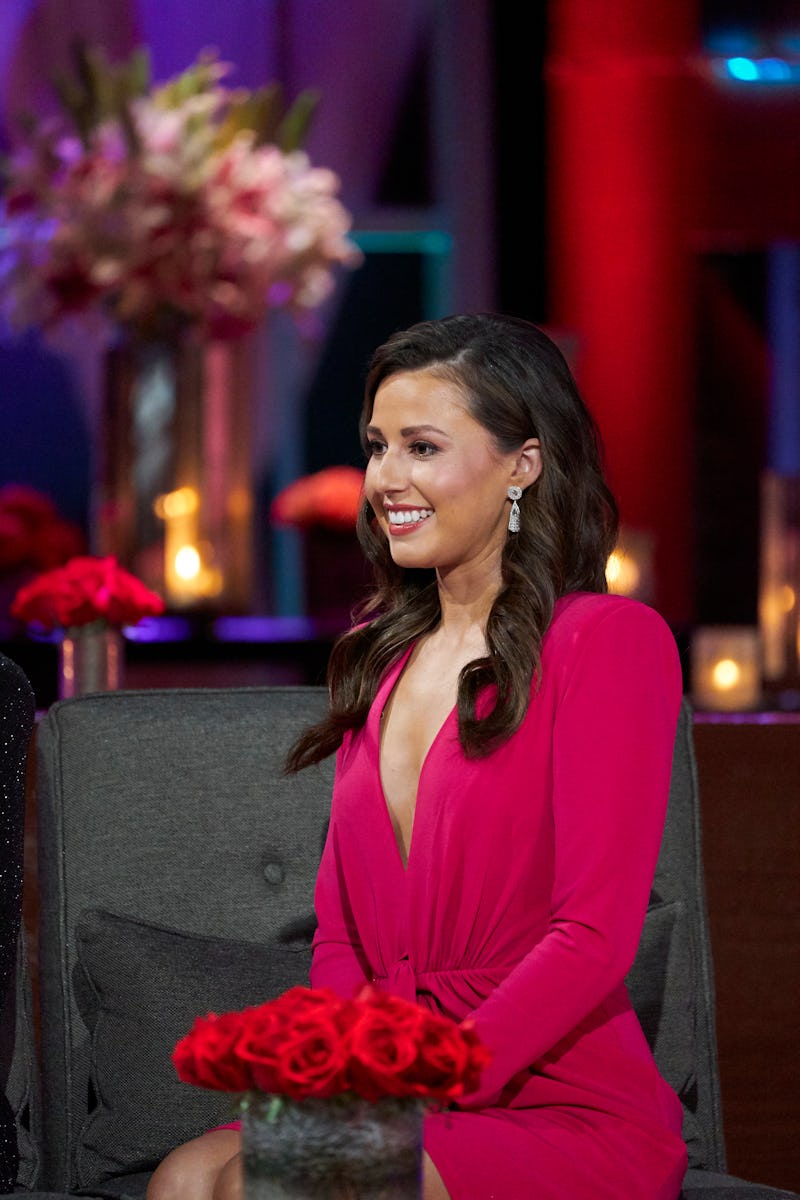 ABC
The moment she stepped out of the limo with a vibrator, Katie Thurston became one to watch on Matt James' season of The Bachelor. Matt ultimately sent her home after a few weeks on the show, but she left with her confidence intact and a memorable declaration to Bachelor Nation: "I know what I deserve, and I deserve a man who knows what I have to offer. I am who I am, and there's someone out there who wants that."
Afterward, rumors began circulating that Katie would become the next Bachelorette — something both a number of the franchise's fans and Matt himself were in support of. When asked on Watch What Happens Live with Andy Cohen about a previous squabble between Katie and fellow competitor Serena Chew, Matt said that "bold" and "courageous" women like Katie "should be in consideration for a Bachelorette role."
On March 15, ABC confirmed that Katie is the next Bachelorette. Now, ABC has released the pictures and bios for The Bachelorette Season 17 contestants who will be vying for Katie's affection. This is already shaping up to be a can't-miss season of The Bachelorette, so here's everything we know about the men so far.
Aaron
Fans think this 26-year-old looks a lot like another Bachelorette contestant — Clare Crawley's final rose pick Dale Moss — but he brings plenty to the table on his own. An insurance agent from San Diego, California, Aaron loves being outdoors and staying active, and was an NCAA swimmer in college. His ABC bio also describes him as "thoughtful, sensitive, and very ambitious"; he wants to own his own business in five years.
Andrew M.
Andrew M. is a 31-year-old attorney from Walnut Creek, California who likes woodworking, playing pranks, and coaching youth water polo. He also played a year of professional water polo himself in Hungary's First Division – the most competitive league in the world.
Andrew S.
Apparently, Bachelor Nation has a legacy program. After Tyler Cameron's best friend Matt James scored the Bachelor title, another contestant with a close tie to a former cast member is joining the show. Andrew S., a 26-year-old from Waukegan, Illinois, is cousins with former NFL player Clay Harbor, who appeared on Becca Kufrin's season of The Bachelorette. According to his ABC bio, he spends half the year playing pro football in Vienna, Austria and the other half in Chicago, where he works as a football coach and teacher's assistant.
Austin
Bachelor Nation has already awarded Austin an interesting title: the love child of Jersey Shore's Pauly D and American Horror Story's Evan Peters. The 25-year-old hails from Mission Viejo, California, where he works as a real estate investor and flips houses. Ambitious is key to him in a partner, but he also has a weakness for a great smile and is looking for the Beyoncé to his Jay-Z.
Brandon
Brandon is a 26-year-old from Mokena, Illinois who reads as a bit of a traveler. His Instagram bio notes that he his ties to Chicago, Tokyo, and New York City, and his grid includes plenty of jet-setting. He also speaks fluent Japanese and Spanish and is working on expanding his Korean vocabulary. According to his ABC bio, his home base is Queens, New York, where he's an auto parts manager.
Brendan
Brendan is 26-year-old firefighter trainee from Toronto, Canada. His ABC bio says he's a straight-shooter who loves making his partner smile, and he's looking for someone who has good back and forth banter, a sense of adventure, and an open mind.
Christian
Christian is a 26-year-old from Newburyport, Massachusetts with dual careers in real estate and life coaching. "Professional optimist," his Instagram bio reads, which could come in hand should he ever receive the dreaded two-on-one date.
Cody
27-year-old Cody wants a woman who can look past his exterior — and the fact that his favorite show is Jersey Shore — to see what he's all about inside. He hails from San Diego, California and works as a zipper sales manager. He's also a proud Eagle scout and self-proclaimed grill master.
Connor B.
What would a season of The Bachelorette be without a musician looking for Instagram foll — I mean, love. Connor B. is a 29-year-old from Nashville who also has a Spotify that you should probably check out. When he's not making music, he works as an eighth grade math teacher, and he's not afraid to poke fun at his nerdy side.
Conor C.
28-year-old Conor C. calls sunny Costa Mesa, California home, but he originally hails from Oklahoma. The Midwesterner attended Oklahoma State University, played minor league baseball, and was once linked to Dallas Cowboys cheerleader Maggie Rouse.
David
David is a 27-year-old Nashville transplant and first-born American raised by Jamaican parents in New York. He currently works as a technical product specialist and is looking for a woman who is intelligent and driven to succeed.
Gabriel
Gabriel is a 35-year-old entrepreneur from Charlotte, North Carolina. He considers himself a Renaissance man who prides himself on having a lot of passions and interests. He's also no stranger to reality TV, appearing in the second season of Bravo's Make Me a Supermodel, according to Bachelor blogger Reality Steve.
Garrett
A 29-year-old from Salinas, California, Garrett was raised in a small town where ranch life, barbecues, and baseball reigned supreme. He now works as a software marketing manager and has a five-year-old German Shepherd named Archer.
Greg
Greg is a 27-year-old from Edison, New Jersey who considers himself a hopeless romantic. According to his ABC bio, he's serious about settling down and is super close with family; eventually, he wants six kids of his own. One noteworthy fact? Greg was originally meant to appear on Clare Crawley's season of The Bachelorette. However, he was part of the cast-shakeup that occurred when production was delayed due to COVID-19.
Hunter
Hunter is a 34-year-old divorcé and father of two from San Angelo, Texas who considers himself a mental health warrior. He's also an avid TikTok user with more than 61,000 followers.
Jeff
Jeff is a 31-year-old New Jersey native whose big Italian family is everything to him. He works as a surgical skin salesman and feels that both his personal and professional life are in a great place. Now, he's looking to add love to the equation.
John
Step aside Pilot Pete, there's a new aviator in Bachelor Nation. John is a 27-year-old from Santa Cruz, California who's working as a bartender but training to get his pilot's license. He's a thrill-seeker who loves surfing, EDM shows, and jumping out of planes.
Joshua
Josh is a 25-year-old IT consultant from Miami who likes barbecue, playing cards, and celebrating Christmas as early as possible. He also happens to be a fan of donuts, per his Instagram bio, which could factor into a semi-cheesy limo entrance.
Justin
If Katie's into the artistic type, she should look no further than 26-year-old Justin. The Ellicott City, Maryland resident is an investment sales consultant and painter with artwork that ranges from nude portraits to landscapes. The catch? He apparently hates dancing.
Karl
34-year-old Karl hails from Miami, Florida and could provide some much-needed pep talks to the other contestants: he's a motivational speaker and founder of his own professional growth firm, Next Level Success.
Kyle
Kyle is a 26-year-old from Sarasota, Florida. He's apparently well-traveled, according to his Instagram bio, and refers to himself as "The Original Golden Retriever." Steve Irwin is his idol.
Landon
There's more to Landon than sharing the same name with the lead male character in A Walk To Remember. The 25-year-old bachelor is also a former collegiate basketball player and uses his skills to motivate a new generation of athletes as a high school basketball coach in Texas.
Marcus
Marcus, 30, calls Vancouver, Washington home but currently works in Portland, Oregon as a real estate broker. Perhaps he could help ABC scout new locations, as the show has yet to return to the iconic Bachelor mansion.
Marty
A 25-year-old dancer from Reno, Nevada, Marty has "big energy, big confidence, and a lot of love to go around," according to his ABC bio. But as much he loves to "bring the party," he also has a sensitive soul and is looking for "the one."
Michael A.
Michael A. is a 36-year-old single father and widower who lost his wife in 2019 to breast cancer. According to his Instagram bio, he founded the L4 Project (Live Life Like Laura) a month after his wife died. As the organization's website states, L4 sells "cause-inspired" merch collections, and 100 percent of the proceeds "go directly to our partner charities in perpetuity." His son, James, is now 4.
Mike P.
31-year-old Mike P. is another former baseball player who made it to the minor leagues. He owns a gym for high school athletes and, after prioritizing his career over dating, is ready to put love first. He openly describes himself as "basic" and is looking for someone loves staying active, will make him laugh, and has a shared set of values.
Quartney
26-year-old Quartney is a nutrition entrepreneur from Dallas, Texas. He's big on romantic gestures and is looking for someone who's outgoing, ambitious, and shares his religious beliefs. He also loves to line dance, even though he's not great at it.
Thomas
"Smarter than the average bear," Thomas' Instagram bio reads, which sounds like the start to conflict on The Bachelorette. This 28-year-old real estate broker from Poway, California may need to bring his A-game to prove that claim.
Tre
Tre is a 26-year-old software engineer from Covington, Georgia who likes a life full of spontaneity and passion. His favorite activity is meeting his friends for their brunch and book club, and he also enjoys playing the harmonica.
This article was originally published on