How To Stream Fast X
The gang's all back together for another high-speed adventure.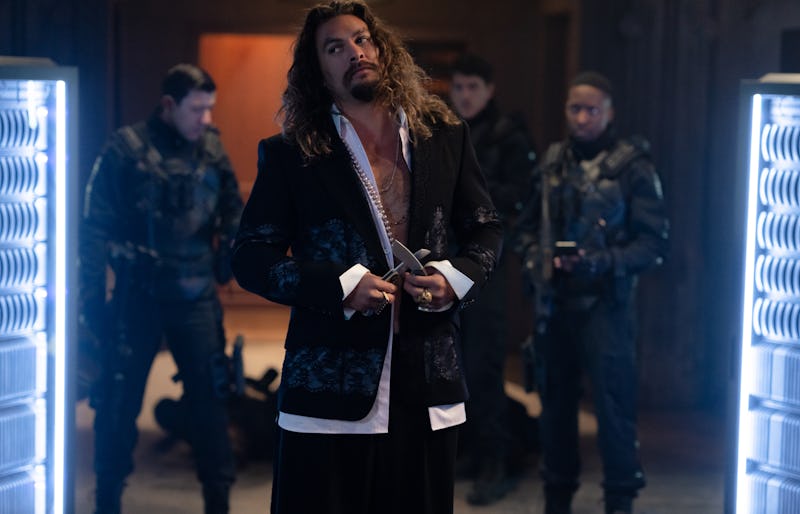 Peter Mountain / Universal Pictures
Vroom vroom! The Fast & Furious franchise — one of the most commercially successful of all time, with its 11 films grossing over $6 billion worldwide — is back. When The Fast and the Furious debuted in the early aughts, the film began a phenomenon, spawning a long string of sequels, spin-offs, video games, and theme park attractions. Now, after two decades of watching cars go boom on the big screen, Fast X is continuing the story.
Fast X, directed by The Incredible Hulk's Louis Leterrier, has high stakes. Fans will recall that Fast Five, the 2011 installment, showed Dom Toretto (Vin Diesel) conquer Brazilian drug kingpin Hernan Reyes, but here's the twist that unfolds in Fast X: Reyes' son (Jason Momoa) saw the whole thing and is now out for revenge after 12 long years of plotting. Diesel and Momoa star alongside Michelle Rodriguez, Tyrese Gibson, Jordana Brewster, John Cena, Sung Kang, Charlize Theron, and Helen Mirren, just to name a few.
But not everyone wants to jump in their car and drive to the theater to see Dom and his crew embark on another ride. Below, how to stream Fast X.
Is Fast X Available To Stream?
At the moment, the only way you can watch the new Fast & Furious franchise installment is by heading to the theater, but it's likely to land on Peacock soon since it's a Universal production.
So, when will that be exactly? Well, we know that Universal's box office hits usually take some time to make their way onto the popular streaming platform. For instance, The Super Mario Bros. Movie hit theaters in early April, but it still isn't available to stream; also, Puss in Boots: The Last Wish started streaming on Peacock around 80 days following its theatrical run. So, fans should expect to see Fast X hit Peacock closer to mid-August. And after its run on Peacock, it'll debut on Amazon Prime Video, thanks to Amazon's deal with Universal.
By the time Fast X hits Peacock, it should also become available on VOD platforms (Vudu, Apple TV, Google Play, etc.) for rent or purchase.
What Are Critics Saying About Fast X?
So far, the critics' reviews for Fast X are looking like a mixed bag. The Associated Press' Mark Kennedy credits Momoa for saving the action flick, writing, "The film would not be near enough as fun without Jason Momoa, who plays the bad guy's son as a full-on flamboyant psycho, licking a knife clean after killing someone with it and painting the toenails of a dead victim as he displays the corpse in a demented garden party. 'Never accept death when suffering is owed,' he says. He is half Joaquin Phoenix from The Joker and half Jack Sparrow from Pirates of the Caribbean. Momoa has a penchant for planning explosions and then standing on a high spot and throwing his arms wide like Christ the Redeemer as the blast wave hits. The film sags as soon as he's not in it."
The Los Angeles Times' Katie Walsh saluted Momoa's performance as well while describing Diesel as seemingly "vacant." She also took issue with the film's overall structure. "It feels like Leterrier and the writers are just digging up loose familial relations and celebrity cameos and throwing characters together for the heck of it, tossing Oscar-winning actresses (count 'em: four) in the audience's face to create a distraction from the other weaknesses in the script," she wrote. "Brie Larson has all of four scenes in what is essentially a cameo appearance in a meaningless role; Scott Eastwood pops up then disappears; characters cross and double cross and then cross again, all while longtime franchise standouts Tyrese Gibson, Chris 'Ludacris' Bridges and Sung Kang are left to wander around London for some reason."