How to Stream Magic Mike's Last Dance
The latest Magic Mike film hit theaters on Feb. 10.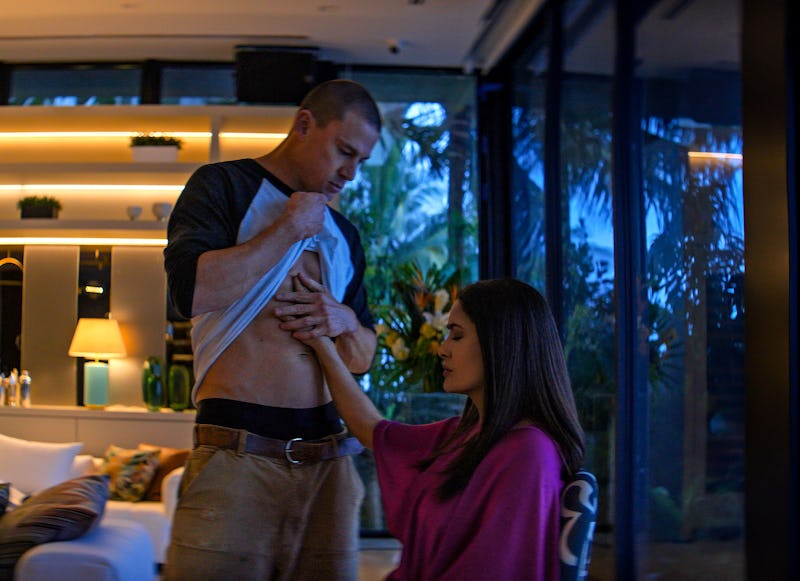 Courtesy of Warner Bros. Pictures
When Magic Mike first debuted back in 2012, the film became an instant phenomenon. Audiences loved the movie, which was loosely based on star Channing Tatum's own experiences as an 18-year-old male stripper trying to make ends meet in Tampa, Florida — and there was enough appetite to inspire a sequel, live shows spanning Las Vegas and London, and even a reality competition TV series. Together, Magic Mike and Magic Mike XXL grossed nearly $300 million. Now, the franchise's long-awaited third and final installment, Magic Mike's Last Dance, is sure to bring the heat with Tatum reprising his iconic role as Mike Lane.
The film hit theaters on February 10, 2023, just in time for Galentine's Day and Valentine's Day weekend. Oscar nominee Salma Hayek plays wealthy socialite Maxandra Mendoza, who helps Tatum's character assemble a special show after a bad business deal leaves him strapped for cash. In an interview with People, Hayek promised diehard fans plenty of sizzling dance numbers. "If you thought [Tatum] could dance [before], you are going to realize you haven't seen anything," she said. "His dance skills — he just got better."
But not everyone wants to trek to the theater to watch Tatum heat up the screen. Below, how to stream Magic Mike's Last Dance.
Is Magic Mike's Last Dance Available To Stream?
Unfortunately, the only way to watch Magic Mike's Last Dance at the moment is to buy a theater ticket. A streaming release date hasn't been announced, but the film will likely hit HBO Max, as it was originally slated for an exclusive release on the popular platform before it was repositioned as a theatrical release. Plus, the franchise's prior two films, Magic Mike and Magic Mike XXL, are already streaming on HBO Max, so it seems like only a matter of time before Last Dance becomes available.
What Critics Are Saying About Magic Mike's Last Dance?
So far, critic reviews for Magic Mike's Last Dance are pretty mixed.Time's Stephanie Zachary noted that the bulk of the movie doesn't live up to the elaborate opening scene. "The picture has the clumsiness of a muffed backflip, and the letdown is hard to get over," she wrote. The Atlantic's Shirley Li praised the film — though she pointed out that the script isn't without flaws: "By making Max as much of a protagonist as Mike is, the film explores what the rest of the franchise never has: a fully realized female character voicing her wants rather than having them presumed by a bunch of half-naked men. The result is perhaps the sexiest entry in the Magic Mike movies. It's intimate and emotional without losing any of the heat that comes with a sensually lit dry-humping scene."