Everything I Know About Love Differs From The Book For A Very Good Reason
The BBC drama is a very creative adaptation of Dolly Alderton's memoir.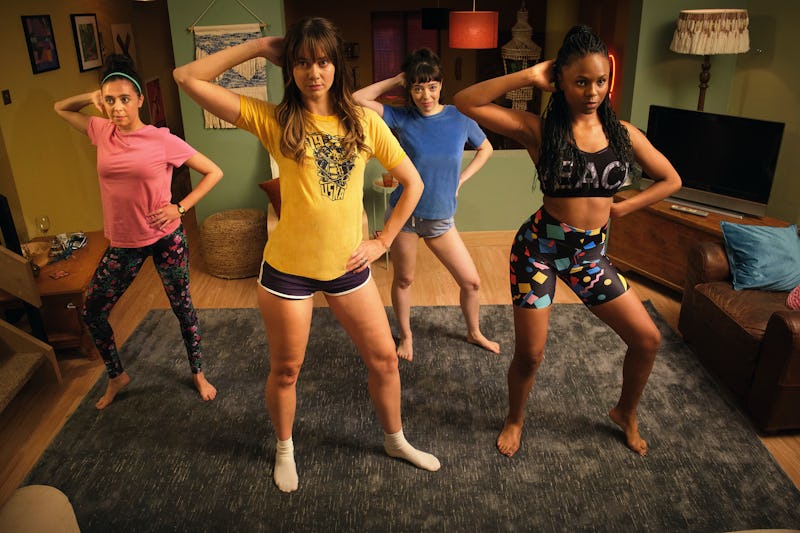 BBC / Working Title / Universal International Studios Limited
Starring Pistol's Emma Appleton and The Morning Show's Bel Powley, the BBC adaptation of Everything I Know About Love is the ultimate exploration of young adult life. Written and adapted for the screen by journalist Dolly Alderton, the seven-part series is directly inspired by her 2018 memoir of the same name. But is true to events?
In short, no. Described by Alderton as a "semi-autobiographical adaptation" of her memoir, Everything I Know About Love follows childhood best mates Maggie (Appleton) and Birdy (Powley) as they move into their first London house share in 2012. Like the book, the seven-part series will see Maggie, Birdy, and their friends navigate the highs and lows of young adulthood, learning everything they need to know about dates, friends, parties, jobs, life, and love. "It's a messy, boisterous joyful romantic comedy," Alderton tells the BBC, going on to warn her former flames on not to panic. "Before every boy I dated a decade ago messages me today to breezily ask how I am," she wrote on Instagram, "It's semi-fictionalised, so don't panic fellas."
The BBC's decision to have Alderton adapt her memoir comes hot on the heels of Michaela Cole's I May Destroy You, which Coel also based on her own experience. "We're commissioning more and more writers who are writing about their own experiences," BBC's commissioning editor Piers Wenger said, per Harper's Bazaar. "I think audiences want authenticity they want personalised stories, they want specifically as they're just looking for truth and you can't mug the audience off."
He continued: "And having writers writing about their own lived experiences as Michaela did, there's just something that allows those pieces to connect with audiences," as Everything I Know About Love most certainly will.
At an event attended by Bustle and other media outlets, Alderton spoke about how "liberating" it was to make the series a semi-fictionalised adaptation, rather than a direct recreation. "I just thought, 'This is going to be too much of a head-f**k'," she said of hearing the producing debating Dolly's character. "So I just decided to change the names and then I decided to kind of open up the world, because the really s**t thing about writing a memoir – other than all the exposure and the therapy you have to do - is you're limited by what happened in real life, and real life can be very unsatisfying and one note.
"It's my favourite thing when I see a one-star review on Amazon – people say, 'The plot wasn't satisfying'. I'm like, 'Try living it'. So the minute that I kind of decided to open that up and take the essence of the show, which is this kind of grand romantic story about female friendship, and a coming of age story for the protagonist, and a girl gang show with this group of girls who have just moved to London, then the rest of it was as imagined as I wanted it to be."