Is Ni'Jah From Swarm Based On Beyoncé? The Beyhive Comparisons, Explained
The show is filled with Easter eggs — including a few blink-and-you-miss-it moments.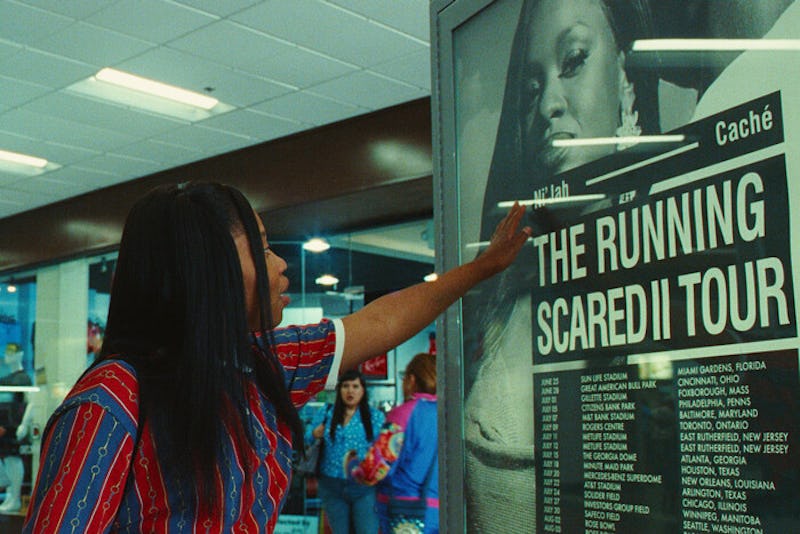 Prime Video
Spoilers ahead for Swarm Episode 1. Prime Video's Swarm begins with an unusual disclaimer (or, anti-disclaimer). "This is not a work of fiction," reads a card at the start of the series, which dropped on March 17. "Any similarity to actual persons, living or dead, or actual events, is intentional." Naturally, the text invites viewers to compare the show to real-world pop culture. Some surprising references appear later in the series, but there's a pretty big one introduced within the first few minutes. Swarm's protagonist is Dre, a super-fan of Ni'Jah, a pop star with many similarities to Beyoncé.
Interestingly, the show begins in Houston, Texas, in April 2016 — a pretty significant setting for Beyoncé fans. The "Break My Soul" singer is famously from the Texas city, and she began her Formation World Tour in April 2016. Dre is seen trying to score tickets to Ni'Jah's Evolution Tour, which shares a similar thematic name.
The opening scenes of Swarm are intercut with clippings of Ni'Jah's media coverage, furthering the comparison to Beyoncé. One article titled "World Dominion" features a photo of "global music power couple" Ni'Jah and Caché, posing a lot like Beyoncé and Jay-Z in their "Apesh*t" video, down to the coordinating outfits.
There are even quicker, blink-and-you-miss-it Easter eggs that you might miss on a first watch. For example, an on-screen Spotify bio page reveals that Ni'Jah was discovered on a talent show called Star Seek and helmed the R&B group XLLENT before going solo. Beyoncé, of course, performed on Star Search with Girls Tyme, which later evolved into Destiny's Child. Ni'Jah is also listed as the No. 32 artist in the world — and Beyoncé is, too. The artists even joined Twitter at the same time: April 2009.
The episode names are significant nods to Queen Bey, too. "Stung" and "Honey" evoke Beyhive imagery, as does the buzzing of bees that can be heard (and sometimes seen) throughout the show. Of course, the very title of the show, Swarm, is also very Beyhive-coded. Later, some episode names are more overt references to Beyoncé's discography, like "Girl, Bye" (a spin on the lyrics to "Sorry").
These Easter eggs are just the beginning, though, and you'll likely discover more as you watch Swarm. Janine Nabers, who co-created the series with Donald Glover, told Entertainment Tonight that the show "is 100% taken from real events and real internet rumors and real other things."
Nabers explicitly discussed one of those events in an interview with Shondaland — citing a woman who was rumored to have died by suicide on the night of Lemonade's release, "because it basically confirmed that a very powerful man was cheating on one of the most incredibly beautiful and successful pop stars of our time."
The rumor served as a "catalyst" for the series, Nabers added. "That's when I researched all the crazy stories that we've heard online or that have existed in the real world revolving around this particular musician and how could we bring those issues to life and make them our own."
If you or someone you know is experiencing suicidal thoughts, call the National Suicide Prevention Hotline at 1-800-273-8255 or text HOME to the Crisis Text Line at 741741. You can also reach out to the Trans Lifeline at 1-877-565-8860, the Trevor Lifeline at 1-866-488-7386, or to your local suicide crisis center.