Donald Glover's Swarm Takes On The Beyhive With A Murderous Twist
Here's everything to know about the buzzy follow-up to Atlanta.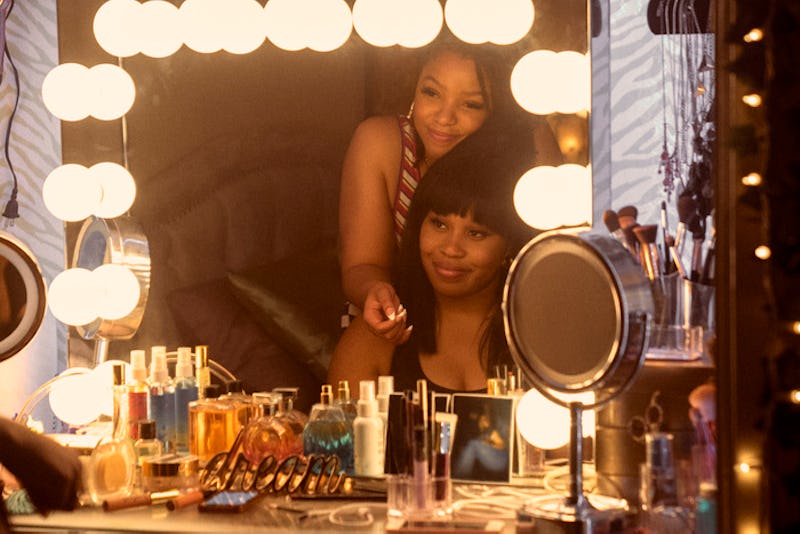 Warrick Page/Prime Video
If you've been missing Atlanta, Donald Glover and Janine Nabers' new series may have you covered. Swarm is like "a sister" to the Emmy-winning series, Nabers told Vanity Fair in a recent interview — and like Atlanta, it's infused with musical DNA, albeit a totally different (and much creepier) kind. It follows a woman who is obsessed with a musician "whose oeuvre and aesthetic are very similar to Beyoncé's," the outlet points out. And of course, the very title of the series, Swarm, can't help but make you think of the Beyhive that passionately supports the most-decorated artist in Grammy history.
Fortunately, Swarm's release date is right around the corner. Here's everything to know about the new series so far, including the high-profile talent that works on camera and off.
Swarm Plot
Plot specifics are sparse for now. But according to Variety, Swarm revolves around Dre, a woman "whose all-consuming reverence for a fictional pop star takes a dark turn." In conversation with Vanity Fair, Glover described the show as "a post-truth Piano Teacher mixed with The King of Comedy."
Swarm Cast
Dominique Fishback stars as Dre. In addition to borrowing inspiration from Beyoncé, Swarm actually stars one of the musician's proteges, Chlöe Bailey, as Dre's sister, Marissa, and Damson Idris as "her charismatic boyfriend," per Vanity Fair.
You'll recognize some of the behind-the-scenes names, too. In addition to Glover and Nabers' work as co-creators, Malia Obama actually serves as one of the show's writers. "Dre and Marissa are in their 20s and Malia is in her 20s, so it was really great having someone like her in the room," Nabers told Vanity Fair. "She's a very professional person. She's an incredible writer and artist. We really wanted to give her the opportunity to get her feet wet in TV and see if this is something she wants to continue doing."
Swarm Trailer
The Swarm trailer sees Dre obsessively watching her favorite musician on TV, and the Beyoncé similarities abound: down to some very Renaissance-esque imagery and a constant buzzing in the background (an apparent nod to the Beyhive). But things clearly take a turn — as the trailer, which dropped Feb. 10, also teases a bloody crime scene.
Swarm Release Date
Swarm premieres on March 17, and will be available to stream on Prime Video — so you don't need to wait too long for Glover's twisty follow-up to Atlanta.