Jenna Ortega Shared The Details Of Her Relentless Wednesday Work Schedule
No wonder Ortega can't remember it all.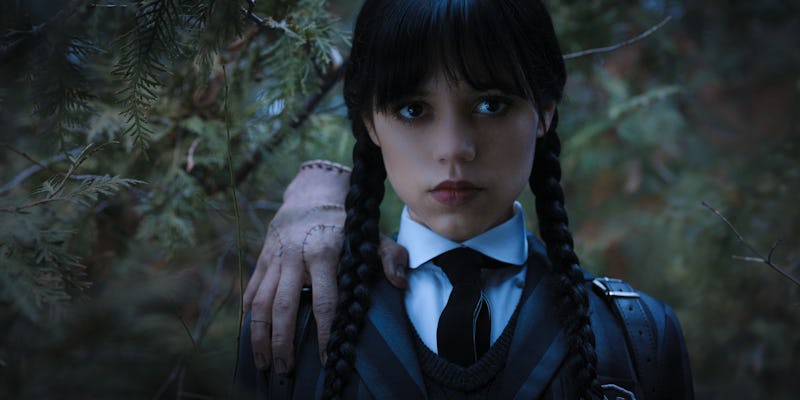 Courtesy of Netflix
Jenna Ortega's success with Wednesday may have looked effortless, but don't be fooled by her stellar acting. The Golden Globe-nominated actor opened up about all the work that went into her headlining role, and it sounds like she put in literal blood, sweat, and tears. Discussing the experience during a Netflix Q&A panel in Hollywood on Thursday, Feb. 9, she said, per Variety, "I did not get any sleep. I pulled my hair out." She also recalled "many FaceTime calls" that started with her dad answering and finding her "hysterically crying."
Ortega explained that her filming days were long — and she still had work to do off set, including learning how to fence and play the cello like her multitalented character. "It was show up to set two hours early, do that 12-14 hour day, then go home and then get on a Zoom and have whatever lesson that I had. Or show up to my apartment, my cello teacher was already waiting for me," she said.
The actor described it as "just constantly going," and noted that even her days off often had more lessons. Her fencing and cello lessons started a couple of months before filming and continued during an intense eight months on location in Romania. One issue, as Ortega explained, is that "Wednesday's in pretty much every scene."
Still, the Wednesday star didn't cut corners, even where she could have. She noted that stunt and cello doubles had to sub in at times, but she "was very adamant about being as well prepared as possible." She wanted to be used as much as she could be because "that's so much more believable," she said. (And let's not forget that she choreographed her character's viral dance herself, as she explained on The Tonight Show Starring Jimmy Fallon in December.)
With all the work Ortega had to do, it's no wonder she admitted on Instagram a week after the show premiered that she has no memory of some of her time shooting the show. "There are things out there of myself on the Wednesday set that I've just never seen in my life," she wrote in a story, per Seventeen. "It's almost not even me. It's like I've been cloned and have been leading two lives."
The Scream star told her co-star Christina Ricci (who had her own iconic version of Wednesday Addams in the '90s) about the phone calls she'd have with her parents during a conversation for Interview magazine in October. "I would call my parents every night in a panic because I felt like it was different from any job I had ever done before where I typically have that time to sit into the character," she said. "I got out to Romania and we started training and shooting immediately. We didn't really have time for rehearsals. I remember it being very stressful and confusing. I did the best I could, but that's probably the most overwhelming job I've ever had."
The best she could do, of course, proved to be more than enough for fans to want more. The wait for Wednesday Season 2 began essentially as soon as viewers got through the first season, so Ortega will have to do it all again — hopefully with a much more manageable schedule.