Joe Jonas Wants To Follow Taylor Swift's Lead & Re-Record The First JoBros Album
Imagine a 2021 version of "Year 3000."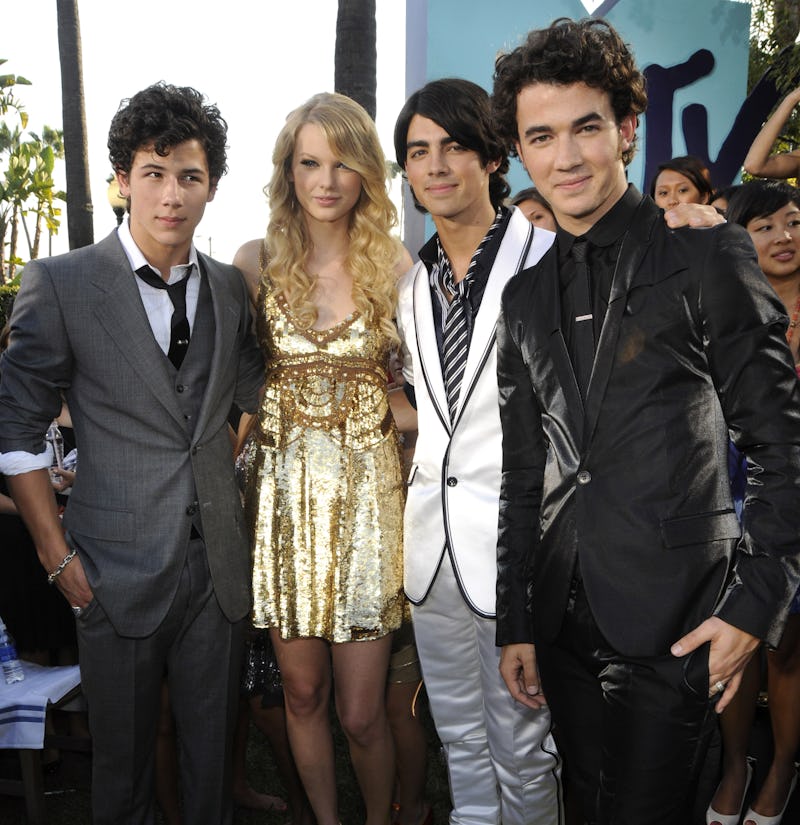 Kevin Mazur/WireImage/Getty Images
By taking back control of her music, Taylor Swift may have accidentally started a trend that even one of her famous exes may get in on. Joe Jonas wants to follow the lead of Swift and re-record some of the Jonas Brothers' most vintage music. In an interview with BuzzFeed, Jonas was asked which Jonas Brothers song he would re-record and why. Taking a page from Swift's playbook, Jonas said he would actually love to re-do the band's pre-Disney debut album It's About Time. "I think I would probably re-record our entire first album," he said. "Just do something like what Taylor did recently, which I thought was really clever." And indeed, it was.
After Jonas formed the band with his brothers Nick and Kevin, they released It's About Time on Columbia Records in 2006, which included old-school jams like "Mandy" and their cover of Busted's hit "Year 3000." At the time, the album was considered a flop, charting only at No. 91 on the Billboard charts, and the JoBros were dropped by Columbia quickly after its release. However, after the song was played on the Disney Channel, "Year 3000" became the band's first top 40 hit, getting them signed to Hollywood Records, opening for Miley Cyrus on her first tour, and eventually starring in their own Disney Channel movie Camp Rock. The rest is history.
Swift and Jonas dated for a few months in 2008, before a now-infamous 27-second phone call ended their relationship. In recent years, however, Swift and Jonas have been great examples of amicable exes, with Swift even sending presents when he welcomed his first child with wife Sophie Turner — and then writing it into her folklore track "invisible string."
In 2019, Swift announced that she planned to re-record her first six albums after the original master recordings of those albums were bought by Scooter Braun as part of a deal to acquire her former label, Big Machine Records, and she was unable to regain ownership. The deal she signed with Republic Records in 2019 ensures that she owns the masters of every album she makes, including the re-recordings of her Big Machine catalog.
She unveiled her first re-recorded effort, Fearless (Taylor's Version), in April 2021, based on her Grammy-winning sophomore album, and plans to release more later this year. It seems that re-recordings are just the new thing now.