Kate Middleton Is Going Viral On TikTok For An Unexpected Reason
All hail the "Princess Shuffle."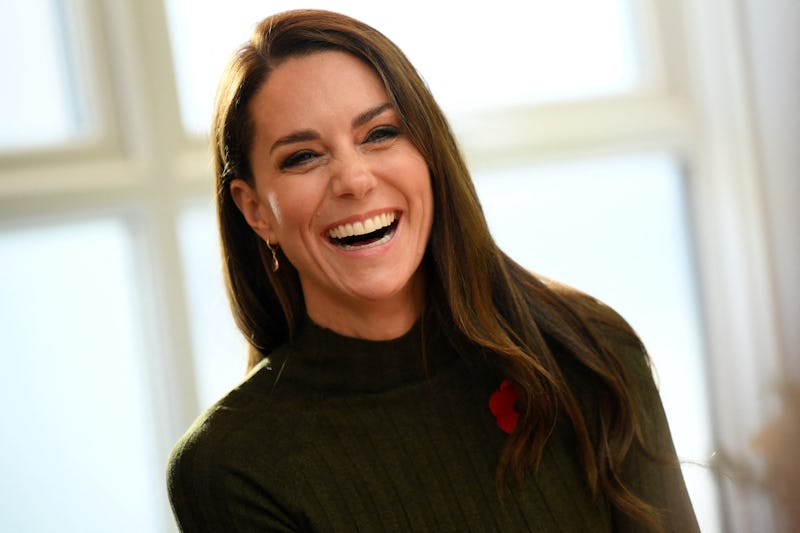 DANIEL LEAL/AFP/Getty Images
The forthcoming coronation of King Charles III has inspired a wave of renewed interest in all things royal. This includes the Princess of Wales, Kate Middleton, who has recently caught the attention of many on TikTok — but not for the reason you might expect.
Uploaded on April 25 by an account known as The Royal Watcher, a now-viral clip shows Middleton during her February 2022 visit to Copenhagen, during which she met with Queen Margrethe of Denmark and her daughter-in-law, Crown Princess Mary, at Christian IX Palace. While posing for photographs with the Danish royals, Middleton is seen shuffling closer to Queen Margrethe with a very subtle heel-toe slide, a move TikTok has now dubbed the "Princess Shuffle."
Commenting on the video in question (which has 1.7 million views and 85,000 likes as of writing), many royal spectators shared their thoughts on Middleton's viral toe slide. "The Princess Shuffle! I love everything about this," one fan gushed, while another praised the senior royal for carrying out the move in heels, writing: "I would definitely get caught on the carpet and wipe out."
Others, however, questioned why the Princess of Wales didn't simply take a step towards Queen Margrethe, who had invited Middleton to come closer for a photo. "This is less discreet and less smooth than just taking that tiny step over," one user commented. "The Queen literally invited her to come in closer. She didn't need to shuffle in," another added.
As mentioned, the viral TikTok was born from Middleton's 2022 royal visit to Denmark, where she had traveled to meet and learn from health workers and academics about their world-leading approach to early childhood development — a cause that has become close to the senior royal's heart and inspired the launch of her Royal Foundation Centre for Early Childhood and Shaping Us campaign.