Did Kate Winslet Accidentally Coin The New "I Don't Know Her" With Her J.Lo Comment?
"I've never read about Jennifer in my life," Winslet responded to a reporter. "What are these questions?"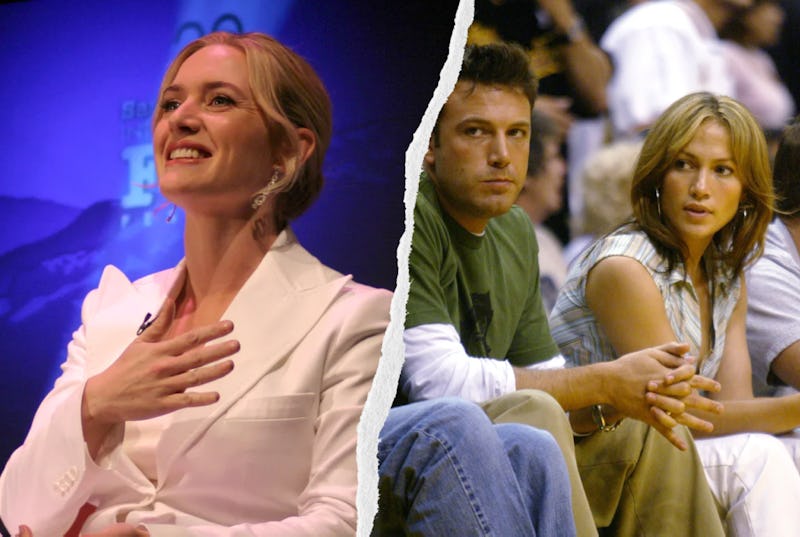 Mike Fanous/Gamma-Rapho/Joe Llano/Getty Images
All anyone seems to care about these days is the reunion of Jennifer Lopez and Ben Affleck — everyone except Kate Winslet. Winslet has absolutely no interest in Bennifer, as proven by a new interview with The New York Times. But in the process, she may have just inadvertently invented the new "I don't know her" (you all know the Mariah Carey meme).
In the interview, published on June 1, the Titanic star was asked a series of rapid-fire "confirm or deny" questions. When the reporter asked her, "You can't stop reading about Ben Affleck and Jennifer Lopez," Winslet was simply baffled. "What? No!" she responded. "I've never read about Jennifer in my life. What are these questions?" She likely didn't mean to come across so shady, but "I've never read about Jennifer in my life" is the new "I don't know her." It's just a fact.
For those who aren't cultured enough, in 2001, Mariah Carey was asked what she thought about J.Lo, and she gave the most iconic response: "I don't know her." The quip lives on in GIFs and viral tweets, remaining the most effortless example of celebrity shade to this day. Lopez said that they've met many times, calling Carey "forgetful" in a 2016 interview. However, Carey has only doubled down on the comment, telling TMZ "I still don't know her!" 15 years later.
"I don't know her, what am I supposed to say?" Carey said on Watch What Happens Live in 2016. "I'm not going to put on a thing, 'Oh, we're all Hollywood, let's all just pretend we're best friends because we're in that land.' It isn't like I don't know who she is, that's not the question."
In Winslet's defense, she was clearly answering out of pure confusion with no hurt intended, while Carey was intentionally being shady. In fact, Winslet has never been associated with either half of Bennifer, having never even co-starred in a film with one of them. But still, "I've never read about Jennifer in my life" ups the ante when it comes to brutal shade, however unintentional.
Since Winslet hasn't read about J.Lo in her life, let's catch her up. After repeatedly being spotted together in Miami, Montana, and Los Angeles, it's being speculated that Lopez and Affleck are back together nearly 20 years after they initially split in 2004, giving fans all of the early 2000s nostalgia. The on-again couple, dubbed as Bennifer in the press, dated for a year and half during their breakout years of fame and even got engaged, but had to call off their September 2003 wedding due to the intense media attention surrounding the event.
The reported relationship comes just weeks after Lopez officially split from former fiancé Alex Rodriguez, after a month of breakup speculation, and months after Affleck broke up with his Deep Water co-star Ana de Armas — and threw her cardboard cutout in the trash — after nearly a year of dating. Now, it seems that fate has reunited the former young lovers once again. Maybe one day Winslet will understand why we're so invested.