Katy Perry Cries & Curses After School Shooting Survivor's American Idol Audition
"Our country has f*cking failed us! This is not OK!"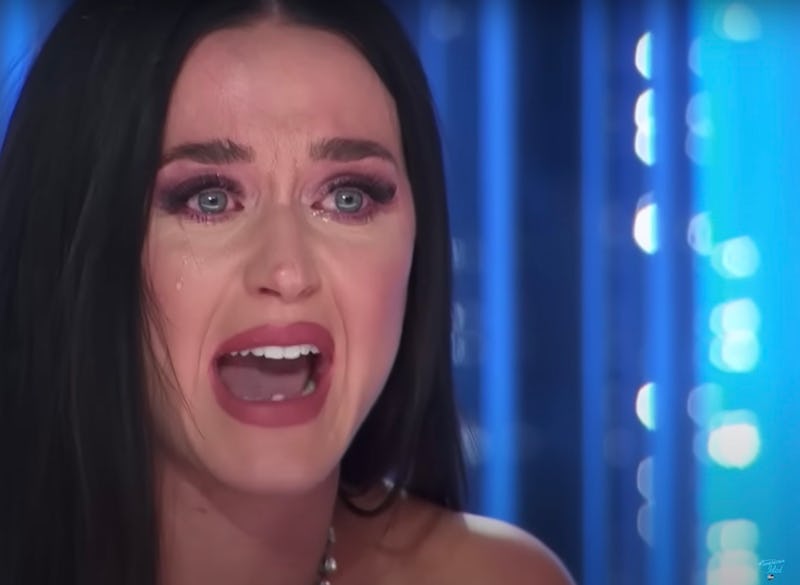 FOX/American Idol
Trey Louis walked into his American Idol audition with the hopes of making it to Hollywood, but left with a profound message of support from the panel of celebrity judges. On the Feb. 26 episode, Katy Perry broke into tears and gave an impassioned plea about gun violence after the 21-year-old contestant revealed that he survived the 2018 mass shooting at Texas' Santa Fe High School, which killed 10 people.
For his audition, Louis performed Whiskey Myers' 2018 single "Stone," which received a standing ovation from the judges and caused Luke Bryan to ask why he wanted to audition. While his first answer paid tribute to the show's legacy of finding superstars, his second answer stunned the judges. "In May 2018, a gunman walked into my school," Louis said. "I was in Art Room 1 and he shot up Art Room 2 before he made his way to Art Room 1. I lost a lot of friends. Eight students were killed. Two teachers were killed. It's just really been negative, man."
After telling his story, Perry burst into tears, laying her head in her palms. "Our country has f*cking failed us!" she yelled, to which Louis responded simpley with, "Facts." Perry continued, "This is not OK! You should be singing here because you love music! Not because you had to go through that f*cking b*llsh*t. You didn't have to lose eight friends. I hope that you remind people that we have to change, because, you know what? I'm scared too."
Lionel Richie felt a similar sentiment, telling Louis, "We have tolerated this for so long, for too long. It's become a norm." After taking a second to gather themselves, the judges unanimously decided to send Louis to the next round, giving him hugs as he exited the audition room.
Perry has been a longtime advocate for gun control reforms. In 2016, she signed an open letter to Congress, alongside stars like Lady Gaga and Selena Gomez, after four separate failed Senate votes to pass new gun control measures after the Pulse Nightclub shooting and musician Christina Grimmie's death by gunshot wound in Orlando. In 2021, she lent her 2010 hit "Teenage Dream" to a gun violence PSA organized by Sandy Hook Promise, a non-profit formed by the family members of victims in the 2012 Sandy Hook Elementary School shooting.
Before sending him on his way, Perry asked Louis for one last thing. "We've got to change," she said. "And I hope you can just lead. Can you do me that favor?" He happily accepted. "For myself, for my school, for you," he told her. "You got it. Yes ma'am."