Kim Kardashian Revamped An Old Dress For Sister Kourtney's Wedding
Maybe this was Kourtney's "something old."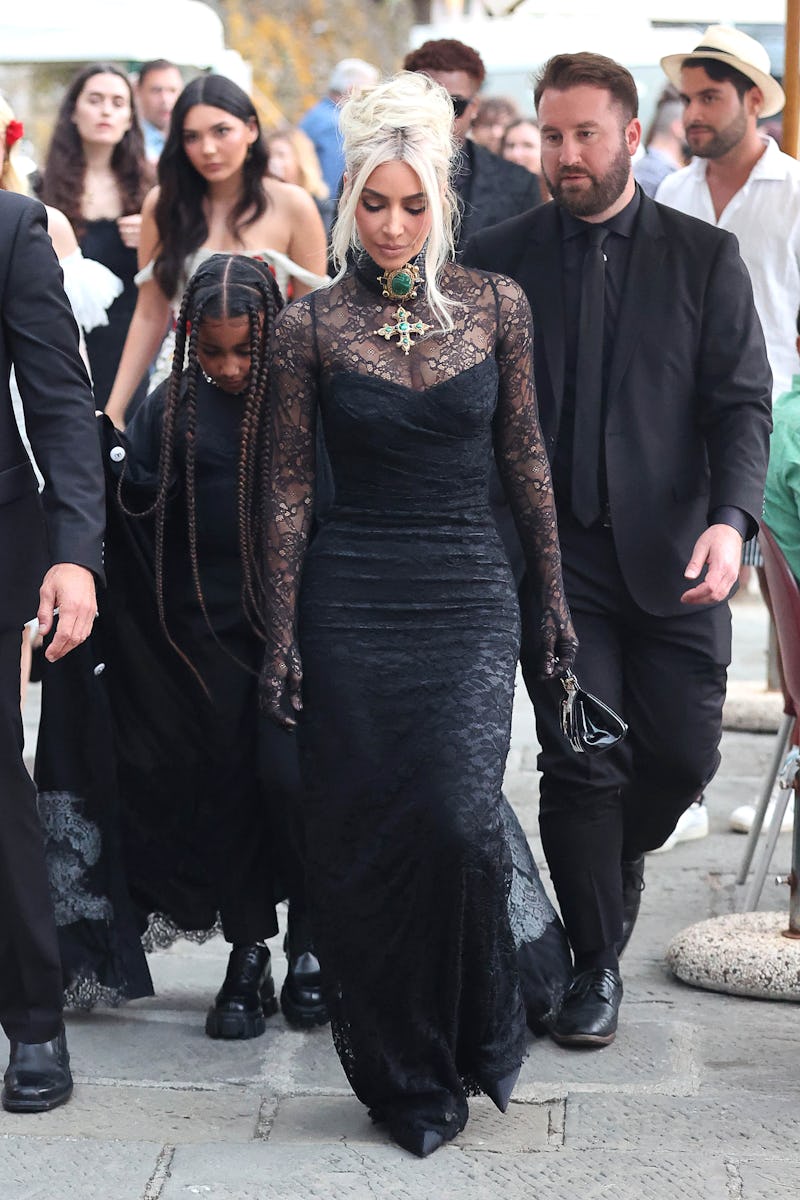 NINO/GC Images/Getty Images
Tradition calls for every wedding to have something old, new, borrowed, and blue, and it turns out Kim Kardashian took care of the first part for sister Kourtney Kardashian and Travis Barker's wedding in Portofino, Italy on May 22. The Skims founder dug into her wildly expansive wardrobe for the occasion, and she found she had some pieces that would work perfectly. As Kardashian shared in her Instagram stories on May 28, she revamped a dress she purchased in 2011 and had previously worn to another big event.
The first of her three stories about her ensemble introduced a "fun fact about this look for the wedding!" Kardashian recalled the most recent episode of The Kardashians, in which viewers saw her 30,000-piece fashion collection. "I know you guys just saw me in my archieve [sic]," she wrote before noting that she has "every piece photographed and on an app." Before going to Italy, she decided to go through all of her Dolce & Gabbana items to "try on again and see if [she] could re-wear anything!"
As it turns out, she could. Kardashian chose a black, strapless Dolce & Gabbana gown that she bought at Bergdorf Goodman in 2011. If the dress looks familiar to you, that's because she wore it to the Glamour Women of the Year Awards in London on June 7 that year.
Of course, Kardashian wasn't about to just rock the exact same look. She revamped the gown by adding a lace layer, in the form of another dress from her wardrobe. "To make the dress more modern and more me, I wore this lace gloved Veterments dress I had in my closet for a layered lace look," she explained in another story.
Her outfit came together to look right at home at the opulent ceremony. Bride Kourtney was also clad in Dolce & Gabbana and lace as she and Barker began their happily ever after. It was their third and most opulent ceremony, following their Las Vegas nuptials (minus the marriage license) on April 4 and courthouse wedding in Santa Barbara on May 15. In Italy, they finally got to go all out, right down to the performance by famed opera singer Andrea Bocelli.
Funnily enough, Kardashian slept through her sister's Vegas wedding. While a guest on Jimmy Kimmel Live! on April 6, she told the host it was only after the fact that she learned of the "practice" ceremony from Kourtney. "She put it in the group chat, like, 'Oh, hey guys, by the way, I got married last night,'" Kardashian said. "And I woke up to, like, a million texts."
Being able to be there, in a gorgeous revamped outfit nonetheless, must have been a nice change.