Scott Disick Pressures Kourtney Kardashian Into Marriage In A New KUWTK Preview
He's not giving up so easily.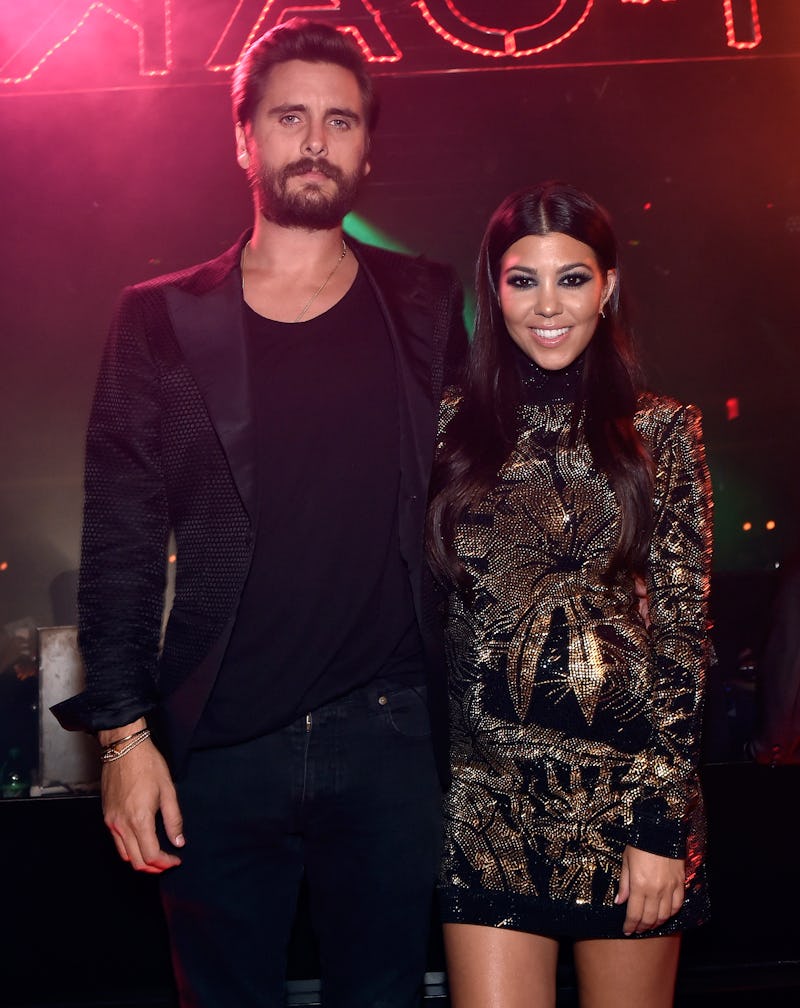 David Becker/WireImage/Getty Images
Sorry, Travis Barker, but Scott Disick isn't giving up on his love for Kourtney Kardashian quite yet. In a new preview for Keeping Up With the Kardashians, the 37-year-old tried to pressure the mother of their three kids — Mason, 11, Penelope, 8, and Reign, 6 — into finally walking down the aisle and committing to each other forever. "Is there anybody that thinks we shouldn't get married?" he asks during a dinner with the Poosh founder and several other members of the Kardashian family, including Kim Kardashian, Khloé Kardashian, and Kris Jenner.
Unsurprisingly, no one objects. In fact, Kourtney's sisters are rather enthusiastic about the idea. "That would be epic!" Kim responds. "Marriage! Marriage!" Khloé shouts. But alas, Kourtney is not quite as convinced that getting back together is the right move. "I'm feeling ambushed," she says in the clip, suggesting that she's not quite ready to risk their friendship and successful co-parenting relationship for something more. Kourtney and Scott first started dating in 2007, but after creating their family, they called it quits in 2015.
"Either we figure out creating our own lives together or separately," Disick continued, clearly pressuring his ex to make up her mind about the future of their relationship. And after she tells him that it's "a lot of pressure" for him to put on her, he professes his love. "I love you!" he says. This, of course, isn't the first time that Scott has made it clear that he wants to marry Kourtney. In a sneak peek of KUWTK's final season that was released in February, he said he was 100 percent ready for them to exchange vows.
"Wherever Kourt stands, I stand with her," the Talentless founder said when Kim asked when and if they planned on getting back together. "That's nice," Kourtney responded, totally unfazed. Then, Scott doubled down on his love for the oldest Kardashian sister. "I love you and I'm ready to marry you right here, right now," he said. Later, he told the camera, "Kourtney knows that we'll eventually get married and live a good life."
Fast forward to real life, though, and it seems that the Kourtney and Scott ship may have sailed. Scott has been linked to 19-year-old Amelia Hamlin for several months now, and they were recently photographed spending time with his kids. The model also showed off a beaded bracelet with Scott's name on it on her Instagram Story, which might mean that they're more serious than we ever realized.
While the jury's still out on just how serious Scott's current relationship is, it's clear that Kourtney and Travis are very much in love. Not only were they good friends before taking their relationship to the next level, but the Blink-182 drummer had the reality star's name permanently inked above his left nipple. The pair also went on a joint family ski trip recently, where Kourtney referred to him as her "boyfriend." That label came after she wrote the musician many love notes. "To lots of fun adventures," one of them read. "May we destroy each other completely. Love, Kourtney."