Scott Disick Is "Struggling" With Kourtney Kardashian & Travis Barker's Relationship
The reality star is reportedly "having a hard time."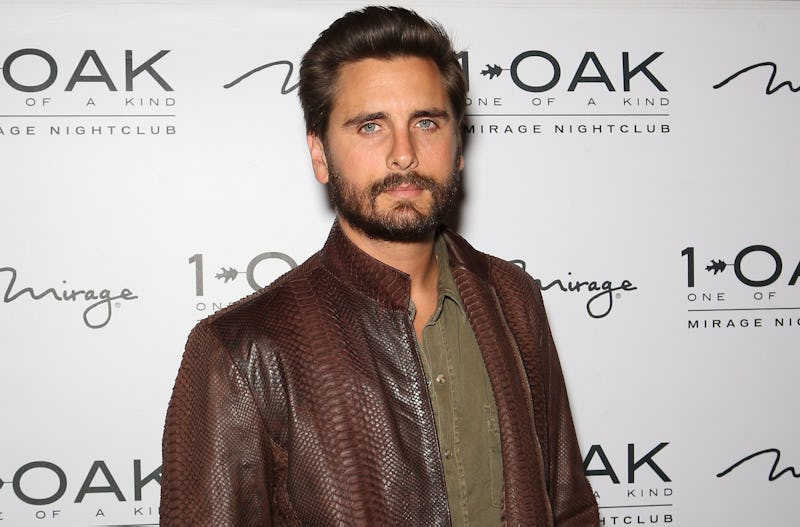 Gabe Ginsberg/FilmMagic/Getty Images
Kourtney Kardashian and Travis Barker seem very happy together, but there's one person who's really "struggling" with their relationship. According to People, Scott Disick is having a tough time watching the mother of his three children fall in love with someone else — especially since he's been vocal about wanting to get back together with the 42-year-old reality star on the current and final season of Keeping Up With the Kardashians.
According to People's source, Scott "has been jealous" of the Poosh founder's past romances, but he can tell that her relationship with the Blink-182 drummer is a lot more serious. "With Travis, he is struggling even more," the insider revealed. "Before Travis, Kourtney's relationships were never serious. It was more like flings. With Travis, it's different." People first reported that Kardashian and Barker were dating in January 2021. The KUWTK star officially confirmed their relationship by sharing a photo of them holding hands on Valentine's Day.
"Scott was pretty shocked when he found out that they are dating, and he can tell that they have moved very quickly," the source continued. Per the new report, the fact that Kardashian and Disick's kids — Mason, 11, Penelope, 8, and Reign, 6 — all really like Barker is also taking a toll on the reality star. "His kids love Travis, which is also hard for Scott," the insider added. "Kourtney and Travis are like a family with the kids. Scott is having a hard time with this situation."
Unfortunately, the 37-year-old is struggling with more than just Kardashian's new relationship; he also reportedly "has many regrets" about his own former relationship with the reality star. "He knows that he messed up their relationship and let her down," the source said. "For a long time, he still hoped that they would end up back together." Scott has been very clear about his desire to rekindle his romance with Kourtney. In a recent preview for the show, he even put pressure on his ex to meet him at the altar. "Is there anybody that thinks we shouldn't get married?" he asked at a family dinner.
In terms of the reality series, it seems there are still many intense moments ahead for the former couple. "I feel like I just don't like seeing you with another guy," Disick told Kardashian in a recent trailer for the season's upcoming episodes. "It hurt [sic] me when you're with somebody else and waking up to, like, looking at pictures of you with this guy you were dating. It was just unhealthy and it just made me upset and sad, you know what I mean? And now, I wake up with no real problems. I'm, like, care-free in the sense I don't have that, which used to take up a lot of space in my mind all day."
Kardashian and Disick dated on and off for nine years before officially calling it quits in 2015. Shortly after their split, the reality star reportedly had a fling with Justin Bieber. She then went on to date model Younes Bendjima, Luka Sabbat, and now Barker. Disick also went on to date a variety of women, including but not limited to Chloé Bartoli, Bella Thorne, Sofia Richie, and now Amelia Hamlin. Ultimately, though, it seems he still believes that he and Kardashian are meant to be and that they shouldn't be dating other people.
"The big fear is if you start dating again, then it goes back to that and I have to feel, like, a different way again and it's just hard," Disick told Kardashian in the most recent trailer for KUWTK, which was filmed before Barker and Hamlin were in the picture. "It sucks. I guess now that you're single and I'm single and you haven't been with somebody in a bit, either we figure out creating our own lives together or separately."