A Swiftie Had The Funniest Reaction To Meeting Laura Dern On A Jurassic Park Tour
The Oscar winner appeared in the "Bejeweled" music video as the wicked stepmother.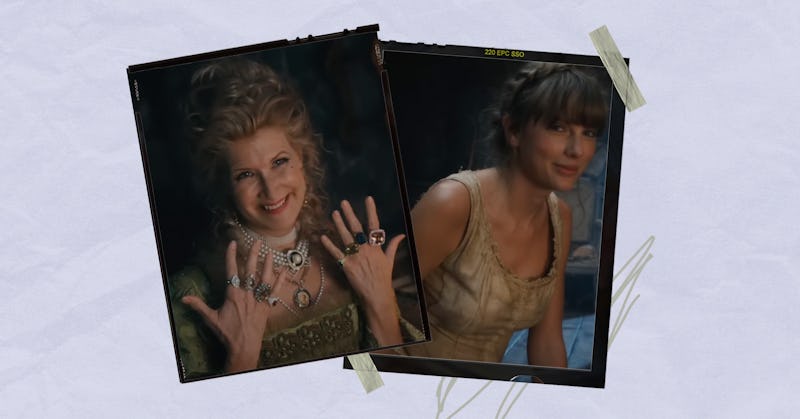 YouTube / Taylor Swift
Laura Dern had her breakout moment in Jurassic Park, won an Emmy for her starring turn in Big Little Lies, and took home her first Oscar for Marriage Story. But now, she's receiving notices for what may be her most important role to date: Taylor Swift's "Bejeweled" music video. In a new interview on Jimmy Kimmel Live on Jan. 9, Dern revealed that she was recognized during a Jurassic Park tour — but not actually from the 1993 film.
The actor was visiting her friend's organic farm in Oahu, where some parts of the movie were filmed. Themed guided tours were being held nearby, complete with a sign saying "Welcome to Jurassic Park." "I was post-beach and seeing our friends, we're getting in the car, and I'm standing right in front of the sign, and here comes a group of people," she recalls. "This girl comes running up to me and says, 'Oh my god! Oh my god!' I was just like, 'I just want to be with my family, let's not do a whole Jurassic Park [thing].' She goes, 'Aren't you the girl in the Taylor Swift video?'"
Although hesitant at first, she was honored by the Swiftie, calling it an "amazing" encounter. "She asked for a picture with me because she loves Taylor Swift, and there was 'Welcome to Jurassic Park' right behind us," she said, laughing.
Dern remembered her experience filming with Swift, who also directed the video. "Taylor asked me, and it sounded like such an incredible time," she said. "And I was amazed by what a great filmmaker she is, how prepared she was, how improvisational and fun it was. I had the time of my life. So, it was amazing."
Swift had similarly glowing praise for Dern as well. During an interview on The Tonight Show Starring Jimmy Fallon in October, the singer explained how she got the Oscar winner to appear in her video, revealing that she told her she wrote a one-scene script in which Dern would call her "a tired, tacky wench." "And she was like, 'I'm down,'" Swift quipped, before recalling what it was like to work with Dern. "She's the coolest, she's so funny," she said. "Directing Oscar winner Laura Dern is easier than anything I've ever done in my life. She's just the greatest and I don't even believe I'm saying things like this."