What Really Happened Between Lea Michele & Sadie Sink On The Tonight Show
Some viewers believe the Glee star was "shady" toward her fellow guest.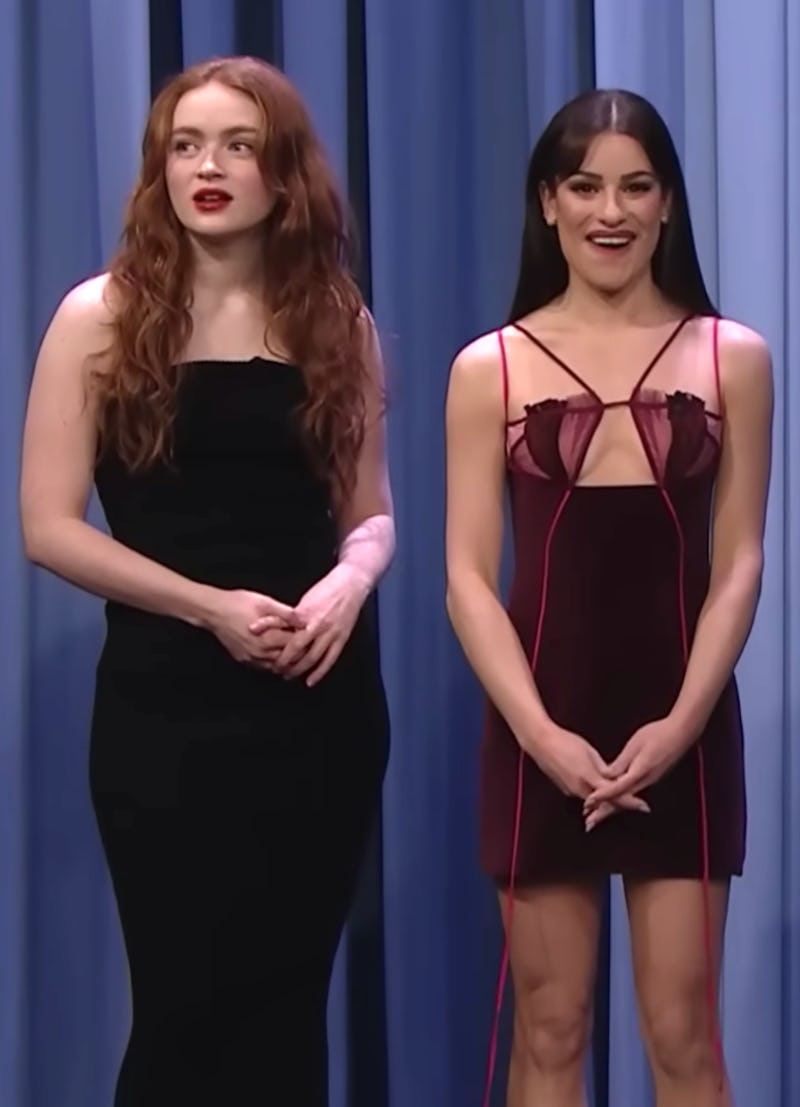 YouTube/TheTonightShow
A recent episode of The Tonight Show Starring Jimmy Fallon has got fans talking, with some viewers claiming they witnessed Glee's Lea Michele nicking fellow actor Sadie Sink's spot on camera ahead of playing a game of charades. The two actors appeared as guests on the chat show, and took part in a round of the mime-based parlour game. Jimmy and The Roots' Tariq Trotter (aka. Black Thought) both acted as captains, introducing their team-mates.
Sink, who recently starred opposite Brendan Fraser in The Whale, was the first to emerge from behind the curtain, taking up a spot next to Trotter. "Joining my team, she stars in The Whale, which is in theatres right now, please welcome Sadie Sink," Fallon said.
The host then welcomed Michele to Trotter's team, saying: "Joining Tariq's team, she stars in Funny Girl now playing at Broadway's August Wilson Theater, it's Lea Michele!" When Michele entered the stage shortly after, she touched Sink's arm before moving across to greet the two team-leaders, then occupying the Stranger Things star's original place. Sink, it should be noted, didn't appear to react, and quietly moved across to make space, instead. Though it's certainly possible that production told the two actors where to stand in advance, some fans claim that Michele subtly reshuffled the order and pinched Sink's spot. Bustle has approached a representative of Lea Michele for comment.
"Sadie was very humble and politely countered," claimed TikToker @bricooper.mezzosoprano, who shared footage of the moment. In the comments section, viewers had mixed views, with some labelling Michele as "disrespectful" and "immature." Meanwhile, on Twitter, one viewer went so far as to accuse Michele of giving Sink the "shadiest" smile.
However, others were quick to defend the star. "She was 99% chance told to stand there by the producers," reasoned one TikTok comment. "I'm not a fan, but they just introduced Michele so shouldn't she naturally be centre for this time," pointed out another.