Lewis Capaldi Has Made Major Bank From His Love Songs & Pizza Business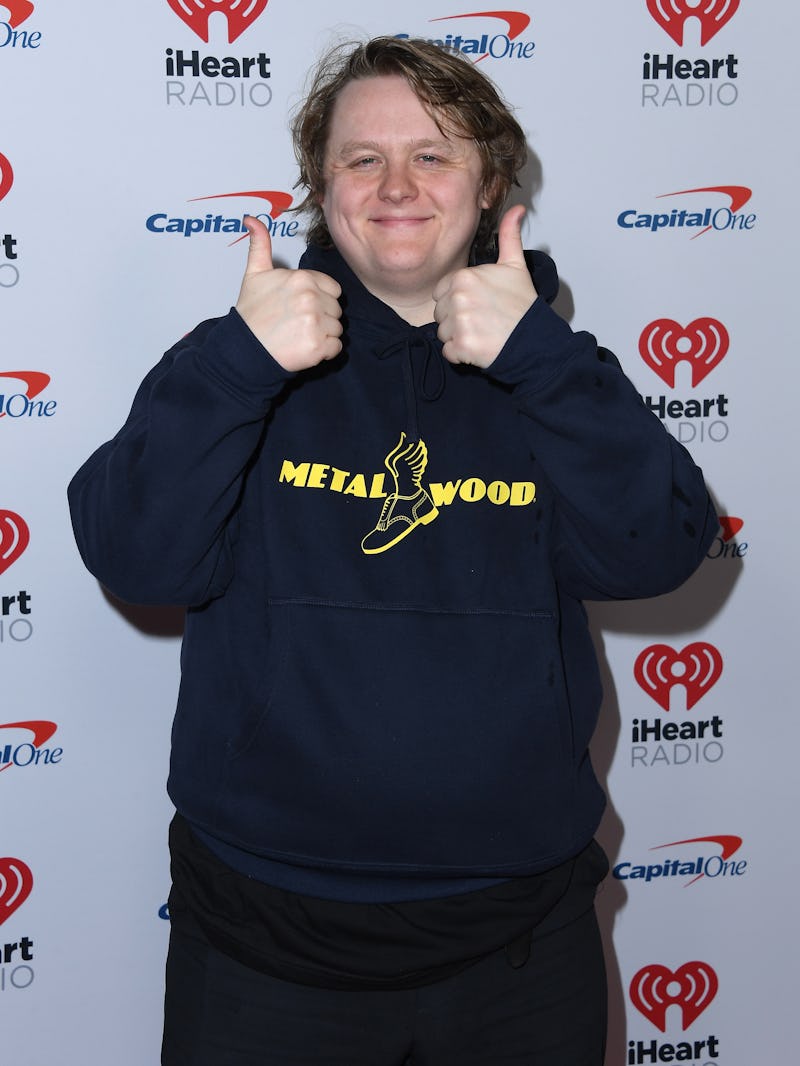 Getty Images/Steve Granitz/FilmMagic
Known for his music, as well as hilarious one-liners in interviews, Scottish singer Lewis Capaldi has made quite the name for himself since his debut single "Bruises" was released in 2017. But it was his 2018 single "Someone You Loved" that propelled the musician into global fame, with the hit song spending seven weeks in the charts top spot and, in November 2022, it became the UK's most streamed song.
With multiple albums and hit singles firmly under his belt, the 26-year-old has created an illustrious career, which has surely built the singer quite the fortune. But Capaldi remains surprised by it. Back in 2019, he made an Instagram video where he said he had seen his net worth online and jokingly responded with: "It says according to Forbes and Wikipedia, Lewis Capaldi's estimated net worth is $10 million. I have less than £200 in my bank right now so who the f*** has my $10 million?"
So, what exactly is Lewis Capaldi's net worth and how does he make his money?
3 Ways Lewis Capaldi Earns The Big Bucks
Music
The singer's biggest and primary source of income is, of course, his music career. His 2018 song "Someone You Loved" broke Ed Sheeran's record of being the most streamed song in the UK and he was the UK's best-selling artist of 2019, with his album Divinely Uninspired to a Hellish Extent and "Someone You Loved" being the top album and single of the year, respectively. His upcoming album, Broken By Desire To Be Heavenly Sent, will likely add to his growing fortune.
Over the course of his career, he's also performed at several music festivals such as Glastonbury, Lollapalooza, and Reading & Leeds Festival. Additionally, Capaldi has toured globally multiple times, performing across Europe, the Americas, Australia, and more to sold out concerts. His upcoming 2023 tour has over 60 dates spread out through the year.
Merchandise
Capaldi's website offers a variety of merchandise for fans including apparel like hoodies, tees and sweaters, and accessories like bucket hats and tote bags. The singer also sells his music as vinyls, cassettes, and CDs for more retro listeners and collectors. With a huge fan base, the artist has 5.8 million followers on Instagram alone, the merchandise is another way he adds to his revenue.
And who could forget Capaldi's own pizza line, Big Sexy Pizza? Not us, that's for sure. Launched in September 2022, Big Sexy Pizza is available to buy in Tesco and Iceland with the fitting tag line, "devilishly good in 12 minutes." And you can of course expect to see Capaldi *all* over the marketing campaign.
Brand Collaborations
Another huge source of income for Capaldi are his many brand collaborations. From starring in an ad takeover for Samsung to featuring in hilarious campaigns for retailer ASOS, he's done it all and in his typical lighthearted and humorous way. While promoting his single "Bruises," the musician partnered with Tinder and Virgin EMI for numerous campaigns and events too.
So, What Exactly Is Lewis Capaldi's Net Worth?
£8.3 million
The Glasgow-born singer is reportedly worth $10 million, which is an estimated £8.3 million.
Per The Sun, Capaldi also bought a five-bedroom farmhouse on the outskirts of Glasgow for £1.6 million in 2020, which was apparently recommended to him by none other than Ed Sheeran. Speaking to Zane Lowe on his Apple Music show, Capaldi said, "We became quite close over lockdown. I was asking a lot of questions about second records and blah blah blah, picking his brain a lot. And then I was talking about buying a house... He sent me a link... I went and looked at it, and I was like, this is great," Capaldi said.
This article was originally published on