Lizzo & Myke Wright's Relationship Hit A New Level With Their "Hard Launch"
The couple officially brought their romance to social media after an extra-special event.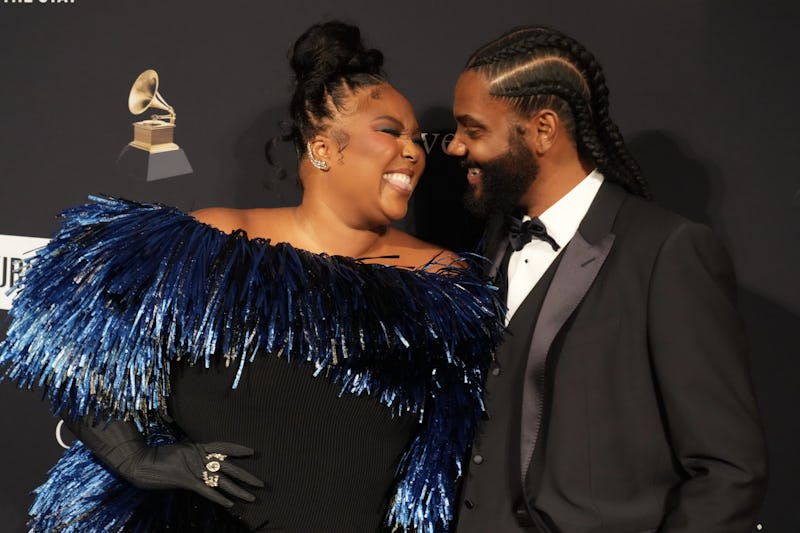 Jeff Kravitz/FilmMagic, Inc/Getty Images
Lizzo hasn't been hiding her relationship with boyfriend Myke Wright from fans, but she has mostly refrained from showing him off on her social media in the year they've been dating. Well, no longer. The "Special" singer decided it was time for the "hard launch" of their relationship and posted four sweet couple photos on her Instagram and Twitter accounts on Saturday, Feb. 4.
In each of the snaps she chose to share, Lizzo and Wright can be seen in dapper evening looks for a red carpet event (more on that key detail soon). She wore a black-to-blue dégradé raffia fringe dress from Alexander McQueen's Spring/Summer 2023 collection, which she paired with thigh-high sock boots. Meanwhile, Wright's outfit was simpler, but his black tux complemented her look perfectly.
The images come from a special date night from the two. They attended the Clive Davis Pre-Grammy Gala at the Beverly Hills Hilton Hotel, a star-studded affair that made its comeback after two years off amid public health concerns. Attendees ranged from Oliva Rodrigo to Tom Hanks, and stars like Jennifer Hudson, Sheryl Crow, Lil Wayne, and Lizzo herself performed. Onstage, she sang "Break Up Twice," a song that just so happens to have lyrics seemingly inspired by Wright and their relationship.
The couple walked the red carpet together at the start of the night, and this one was special. The carpet rolled out at the gala was truly red, and that's an important detail because Lizzo noted during an interview on The Breakfast Club radio show in July that they would be official when they walked a literal red carpet together. When Wright joined her at a "For Your Consideration" event for her Amazon Prime Video series Lizzo's Watch Out For the Big Grrrls on June 6, the color was blue.
Though the blue carpet moment apparently didn't yet signify they were official, their appearance had fans buzzing because Lizzo happened to be wearing a ring on her left hand. When asked about it by Elle UK in July, she laughed and called their relationship "a bromance." The three-time Grammy winner (and current nominee for five awards) has since been more open about her romance, and she told Vanity Fair that Wright is her "life mate" in an October cover story.
"I've known him for over six years," she said. "He's everything. We're just in love. And that's it. … He's the love of my life. We are life mates."
Now that their relationship has gotten so serious, their hard launch and red carpet debut is fitting. Lizzo previously joked about their "soft launch" (aka her posting photos with him but not tagging him) during the July Breakfast Club interview, so all signs point to her feeling more solid than ever in their relationship now.