Giannina Reveals What Happened Between Her & Damian After The Love Is Blind Special
The two got into an explosive fight after Damian invited another woman to the cast's reunion party.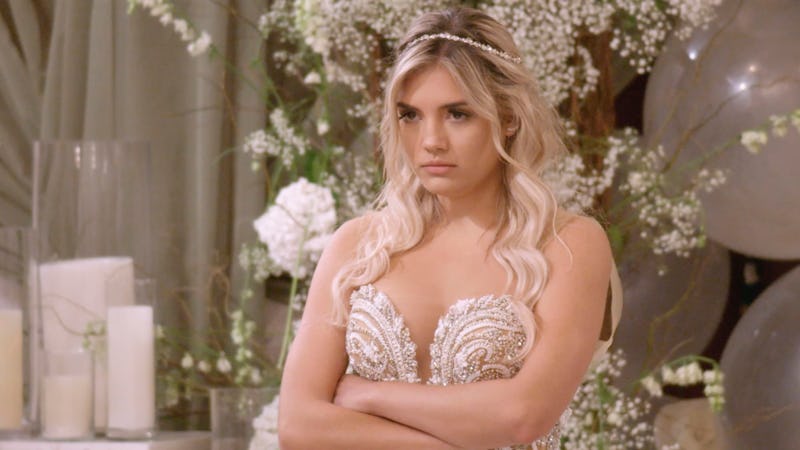 Netflix/screenshot
Giannina Gibelli doesn't need to watch Love Is Blind: After the Altar to know that she'll like it. "I've seen clips here and there," she tells Bustle the day before the three-episode reunion special drops on Netflix. "They did a beautiful job. Showed people's true colors, too."
Whose true colors, in particular? "Like 100% — Damian's."
As if you could possibly forget, Giannina is the ball-busting "soulpreneur" who interrupted Damian Powers as he tried to propose in Season 1 of Love Is Blind. "I see you as my equal and I'm just as strong as you," she told him, preferring to do the proposing herself. But when she said "I do" at their wedding, Damian said "I don't." Giannina ran off in shock.
Season 1 of the Netflix dating series was filmed in 2018, and by the time it aired in February 2020, Giannina and Damian were back together. They were still together — or at least "figuring things out" — when they filmed After the Altar later that year. By that point, the two's relationship had endured many false endings. "We just kept calling it off and calling it off and calling and calling it off," Giannina explains. But when she showed up to the joint anniversary party of the Love Is Blind couples who actually did get married to find Damian had invited Too Hot to Handle star Francesca Farago as a "friend," it was a watershed moment. "That was the end for me as far as just, like, honestly? Being attracted [to him]," Giannina says.
Now, the 28-year-old is staying in Miami with most of her possessions in storage, figuring out what she wants to do next. She's definitely not going back to Atlanta, where she and Damian waited out the coronavirus pandemic together. San Diego is a possibility, but Europe is her preference. "[Damian and I] haven't been together for quite a while now. And it has been...it's been nice," Giannina says, giggling as she trails off. She talks about Damian sensitively, but she can't help from sounding like a tremendous weight the exact size and shape of her ex has been lifted from her shoulders.
It's not like Giannina didn't try to make things work. Both she and Damian were invested in their relationship. Their families were invested, too — especially Giannina's mother Milady, who took the breakup hard the first and second time around. "At first, she was really sad because she kept calling Damian, 'My son, my son," Giannina remembers. "My dad still was like, 'Oh, I thought he was the man for you," though neither of her parents had seen After the Altar.
As for the split, Giannina doesn't blame Francesca, who didn't seem to know the whole truth when she accepted Damian's invitation to the party. "There's one common denominator here," Giannina says as she retells the story of that disastrous night. "So I wonder what that is?"
Now that the relationship is finally over, Giannina can acknowledge the differences between herself and Damian. They both love to travel, for example, but he was an itinerary guy. He's "cautious," Giannina says. "I like to literally say yes to everything."
She and Damian still exchange how-are-yous and happy birthdays, but Giannina pushes back against any suggestion that they might get back together. "Whenever I text him, I don't feel the same," she says. "I've completely turned the page. I've pulled the Band-aid and it healed ... But I don't regret it at all because it taught me ... [to] never second guess myself. I feel like if my gut is saying something, it doesn't matter how charming the other person is."
Before Damian, Giannina didn't think she was the kind of person who could lose her independence in a relationship. Now, she knows her own tendencies. Abrupt breakups can have their drawbacks, like making you wonder if you should have tried harder, compromised better, stopped leaving the cap off the toothpaste, etc. Not so for Giannina and Damian.
"We know," she says with finality. "We rang the towel dry."
This article was originally published on