All The Clues Giannina & Damian Broke Up After The Love Is Blind Special
The two had an explosive fight after he got a little too cozy with Too Hot to Handle star Francesca Farago.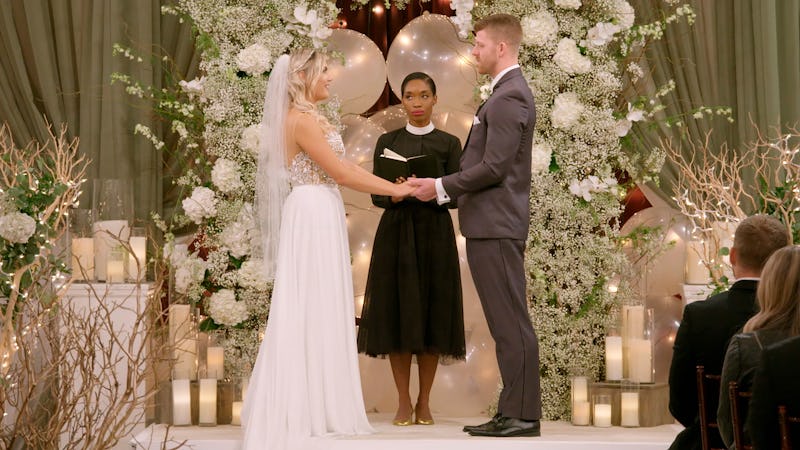 Netflix
They may not have gotten married on Love is Blind, but stars Giannina Gibelli and Damian Powers did ultimately get back together. "We are so together," Giannina revealed during the show's reunion special, which aired in March 2020. "Every single day, waking up next to each other, going to the gym together. I don't wanna lose this."
After filming for the show wrapped, the couple had a lot to come to terms with. "I was so afraid of driving this person away that I was instinctively doing it anyway," Giannina explained at the reunion. "I self-sabotage, and I'm aware of that. And I felt that because we were in the pods and we communicated so well, that he could instinctively tell that. But he couldn't. He couldn't read my mind; he couldn't know these things. So when I felt frustrated, I just let it out in very non-constructive, insensitive ways."
She turned to Damian and apologized. "I never wanted to hurt you, either. We've both expressed ourselves in really hard ways. But since the show, it's been such an amazing journey with you, to get to know you and see how we integrate with each others' lives. And my friends and family love you."
Following the reunion, Giannina and Damian were public about their relationship on social media. On Giannina's birthday last year, Damian wrote, "I hope to be by your side for many more and look forward to all the adventures we have yet to embark on!" and the two frequently posted about their date nights. However, they stopped posting pictures of each other on Instagram around last fall; the last photo of Giannina on Damian's feed is from October 2020, and the last picture of Damian on Giannina's page is from the previous month.
That's around the same time the new Love Is Blind special, After the Altar, was filmed, and at the end Giannina and Damian get into an explosive fight. He'd befriended Too Hot to Handle star Francesca Farago, with whom he shared a flirty lunch and even invited to Lauren and Cameron Hamilton and Amber and Matt Barnett's joint anniversary party. Damian — who was still in a relationship with Giannina — insisted that he and Francesca were strictly platonic, but when Francesca showed up to the party, it was clear she was under the impression that he and Giannina were on their way to breaking up. Giannina confronted Francesca, and she left the event early, while Giannina and Damian argued about the situation.
It's unclear where the two stand now. According to Life & Style, Giannina and Damian were still leaving comments on each other's posts as recently as February 2021 — suggesting that they may still be together, or at least in touch. On Valentine's Day, Damian posted a solo photo of himself and a bunch of roses, wishing a happy holiday "to all those out there spending your day with a loved one, friends, or by yourself!" Neither of the two have responded to fans' incessant comments about the status of their relationship.
What is clear, however, is that Damian is not dating Francesca. After dating and breaking up with with The Only Way Is Essex star Demi Sims earlier this year, Francesca reunited with her Too Hot to Handle ex Harry Jowsey. However, it was short-lived. In an early June interview with Us Weekly, Francesca revealed that they'd been "getting to know each other slowly" and planned to get back together, but that they split after Harry was "extremely disrespectful" to her online.
"I'm the most single I've ever been," Francesca said. "I'm super, super single. I hate everyone pretty much."
This article was originally published on