Made For Love Has The Perfect Set-Up For Season 2
It ends with a massive and complicated cliffhanger.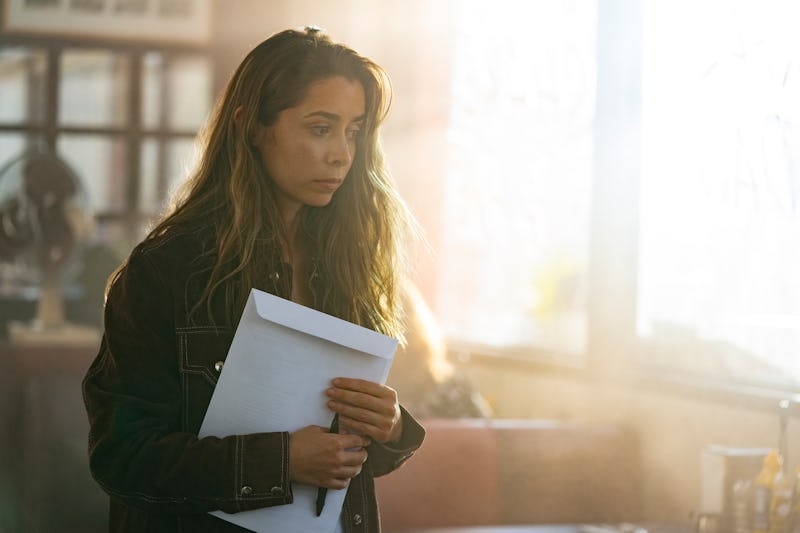 HBO Max
Spoilers ahead for the Season 1 finale of Made For Love. Between being constantly surveilled by her tech CEO husband, forced to give daily reviews of her orgasms, and forbidden from leaving their compound ("the Hub"), Made for Love's Hazel Green (Cristin Milioti) knew she had to get out of her marriage at any cost. But fleeing such a tightly controlled and manipulative partner isn't that simple, so perhaps it's no surprise that her attempt to escape her marriage wasn't solved in just one season.
Though the Season 1 finale ends with Hazel and Bryan (aka Byron) officially signing divorce papers, she returns to the Hub anyway — a sacrifice she makes so that her dad can get the cancer treatment he needs. What will happen from there— or if we'll get to watch it unfold — remains to be seen, as HBO Max has yet to renew the series for a second season. That's not necessarily cause for concern, though: it's not unusual for a show like this to take a while to get renewed. Big shows like Lovecraft Country and Search Party have had to wait on renewals, even with glowing reviews. And Made for Love has certainly raked in positive reviews so far: it currently has a 93% critical rating on Rotten Tomatoes, and it's received high marks for its solid cast and ability to enjoyably explore the knotty issues at the heart of the story.
It's also true that Made for Love was adapted from a 2017 book of the same name written by Alissa Nutting, who helped adapt and write the HBO Max series along with showrunner Christina Lee. The book doesn't have a sequel, but that hasn't stopped HBO in the past; there's some precedent with Big Little Lies (which may return once again), and the writers of Lovecraft Country are reportedly coming up with a pitch for Season 2 that wouldn't involve the book it's based on.
While Made for Love's cast and crew haven't said much about a possible Season 2, it seems like Hazel returning to the Hub could be fertile ground for exactly the kind of exploration that brought Milioti to the role in the first place. "So much of her life has been lived for other people. It's been lived for Byron, and before that it was lived for her dad," Milioti tells Bustle. In both cases, Hazel was being asked to flatten herself into some unattainable person — a helpful daughter, a dutiful wife. "I was really interested in being able to play both those things, and explore how she got there and how she is going to move forward … Who is she and what does she want?"
A second season with Hazel in the Hub "working on things" with Byron while her dad is none the wiser is not hard to imagine. Plus, there are several plotlines that didn't get any resolution, like what happened to Byron's associates who he trapped in "the pasture cube" and whether Zelda the dolphin ever gets her own escape from Byron's compound. If HBO Max and the creative team decide to press ahead, there's plenty more story left to mine.