Megan Mullally & Nick Offerman's Relationship Includes Several Collaborations
Offerman credits his wife for his 2023 role in HBO's The Last of Us.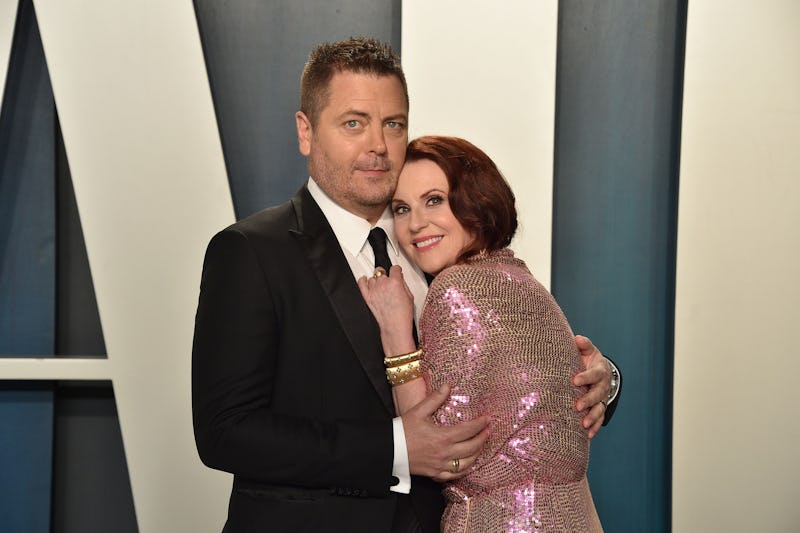 David Crotty/Patrick McMullan/Getty Images
After more than two decades together, Megan Mullally and Nick Offerman have learned a thing or two about what makes a successful relationship. "We have a two-week rule," Mullally explained to GQ in 2017. "We're never apart for more [than] two weeks. Just not being separated for Jurassic periods of time seems to help. And no children probably helps a lot."
Their reason for not having children, the Will & Grace alum added, was partly strategic: "I never had a burning desire to have children," she shared. "But then I met Nick, and I thought "This is the only person I'd do this with." So we tried, but I was a little long in the tooth for that sort of thing. But we didn't turn it into a soap opera. We tried for about a year or so, and it didn't happen, and took that to mean it wasn't meant to be."
Offerman, for his part, chimed in, joking, "Our attempts may not have been great because we still haven't had full-on sex."
Instead, the funny couple has focused on creating comedy together, and have already been in so many projects together that shared titles on IMDb are in triple figures. As they continue to add to their portfolios, here's a rundown of the history of their relationship, aka The Greatest Love Story Ever Told.
This article was originally published on