Meghan Trainor & Daryl Sabara Are Expecting Their Second Baby
The singer and actor welcomed their son, Riley, in 2021.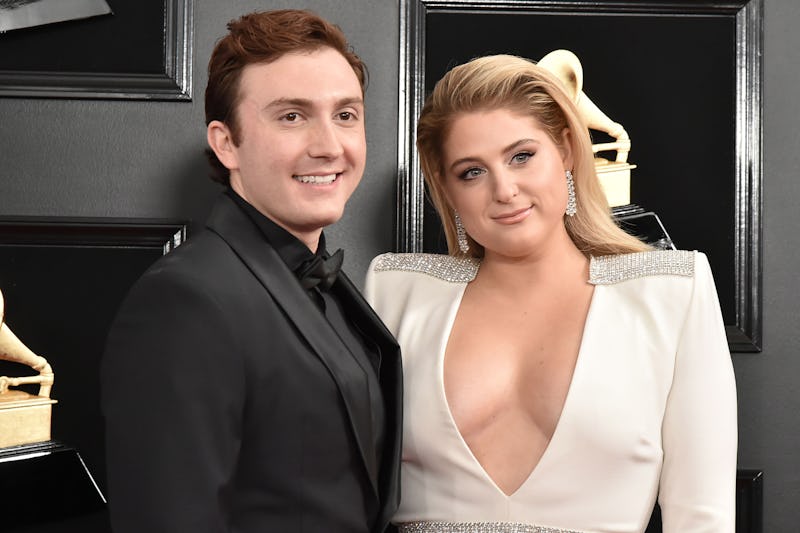 David Crotty/Patrick McMullan/Getty Images
One of the Spy Kids is about to have another kid. On Jan. 30, Meghan Trainor announced that she was expecting her second child with husband and Spy Kids alum Daryl Sabara. The "Made You Look" singer confirmed her family's expansion to People, calling her pregnancy a "blessing." "I'm just so grateful I can get pregnant," she said. "I'm like, 'I'm crushing it. This is amazing. This is my dreams.'"
The couple welcomed their first child, a son named Riley, in February 2021, and they've already been preparing him to become a big brother — even though he doesn't quite understand how it works. "We try to tell him, 'There's a baby in the belly,' but then he points to his belly now and is like, 'Baby.' And we're like, 'Oh no, it's not in yours — it's in Mama's belly!'" Trainor recalled. However, with their upcoming addition, she's still working toward her family goals. "I'm halfway there — I want four kids!" she explained.
Trainor, 29, and Sabara, 30, also unveiled the pregnancy in a joint Instagram post, sharing a snapshot of her posing with a photo booth-style reel of ultrasound photos. "BABY #2 COMING THIS SUMMER," they captioned the post.
Trainor and Sabara started dating in 2016 thanks to their mutual friend and his off-Broadway co-star Chloë Grace Moretz, who played matchmaker. They went Instagram-official soon after, and by the next year, they were engaged. The two got married in an intimate backyard ceremony in December 2018, which also happened to mark Trainor's 25th birthday.
Trainor's pregnancy happens to coincide with her first book, which is about motherhood. The singer announced that her book Dear Future Mama, a spin on her 2015 single "Dear Future Husband," will be released on April 25. As indicated by its full title, the book promises to be a "TMI guide to pregnancy, birth, and new motherhood," with Trainor opening up about her first experience with being pregnant and giving birth, complete with professional insights from her OB-GYN, registered dietician, and personal trainer. "After feeling so overwhelmed and alone in my first pregnancy, I was inspired to write this book to make sure no other future mama ever felt like that," she said in a press release. "I want this book to feel like a hug from a bestie."