Twitter Is Divided By Madonna's Controversial Vanity Fair Cover
"My #Jesus is not #Madonna's costume. Blasphemous."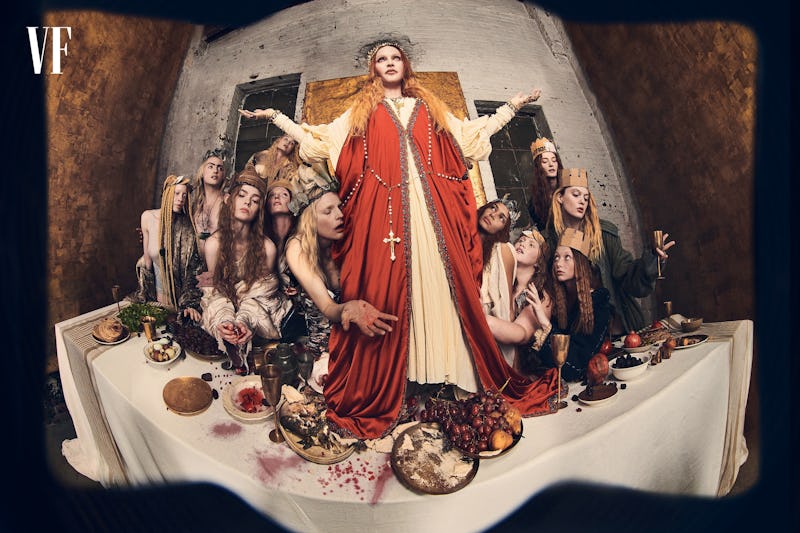 Photo by Luigi and Iango for Vanity Fair
Madonna doesn't need to do much to be talked about — the chatter comes with the Queen of Pop territory. But that doesn't mean she isn't up for bold, iconic, and often controversial moves. Her 2003 MTV Video Music Awards performance which included a kiss with Britney Spears has gone down in VMA infamy. Even her Coachella smooch with a visibly uncomfortable Drake in 2015 ruffled feathers and received backlash on Twitter.
More recently, at the heels of announcing her 40th-anniversary Celebration Tour, the 64-year-old stirred the pot yet again with her Vanity Fair covers. Madonna simultaneously graced the covers of Vanity Fair Italia, France, and Spain for the publication's first-ever "Icon Issue." The title tapped photographers Luigi and Iango to create provocative imagery, in line with the publication's goal of the issue being an "artistic project that includes an exhibition, a short movie, a collaboration between fashion, art and design, and an urban art performance."
The series of photos features the "Crazy For You" singer in heavily stylized designs by John Galliano for Maison Margiela, Gucci, Dolce & Gabbana, and Jean Paul Gaultier, among others. The resulting editorial included Madonna replicating religious iconography including references to the Virgin Mary as well as The Last Supper, which is dividing Twitter.
On one camp, Madonna stans are loving the shoot. "Hail Holy Queen Mother Madonna," one user tweeted.
Some even pointed out similar references by celebrities in the past including Lana Del Rey's Met Gala look and Drag Race's Mimi Imfurst.
Not everyone appreciated the biblical references, however, and many blasted the editorial for being "blasphemous." One user wrote, "I don't know what's going on with Madonna or Vanity Fair but it looks suspicious at best ritualistic at worst."
There were also some who found the shoot offensive. User itsnatlydenise wrote simply, "My #Jesus is not #Madonna's costume."
While some noticed the "terrible" retouching.
Speaking about the controversial imagery, Madonna explained that it was "just a set" in her Vanity Fair interview. "Look closely at the image: I am there with a crown on my head, in a sumptuous dress, above an altar. Do you know how I felt? I felt exposed, attacked. And it was just a metaphor, it was just a set." She even recalled a time she "was fiercely criticized by the Catholic Church" and that the church didn't recognize that her work "was trying to produce something good." She said, "My work as an artist united people, gave them freedom of expression, unity."