Netflix Has Responded To Speculation About Prince Andrew Casting Trouble
The Crown's production company advertised for the part on Spotlight, prompting speculation.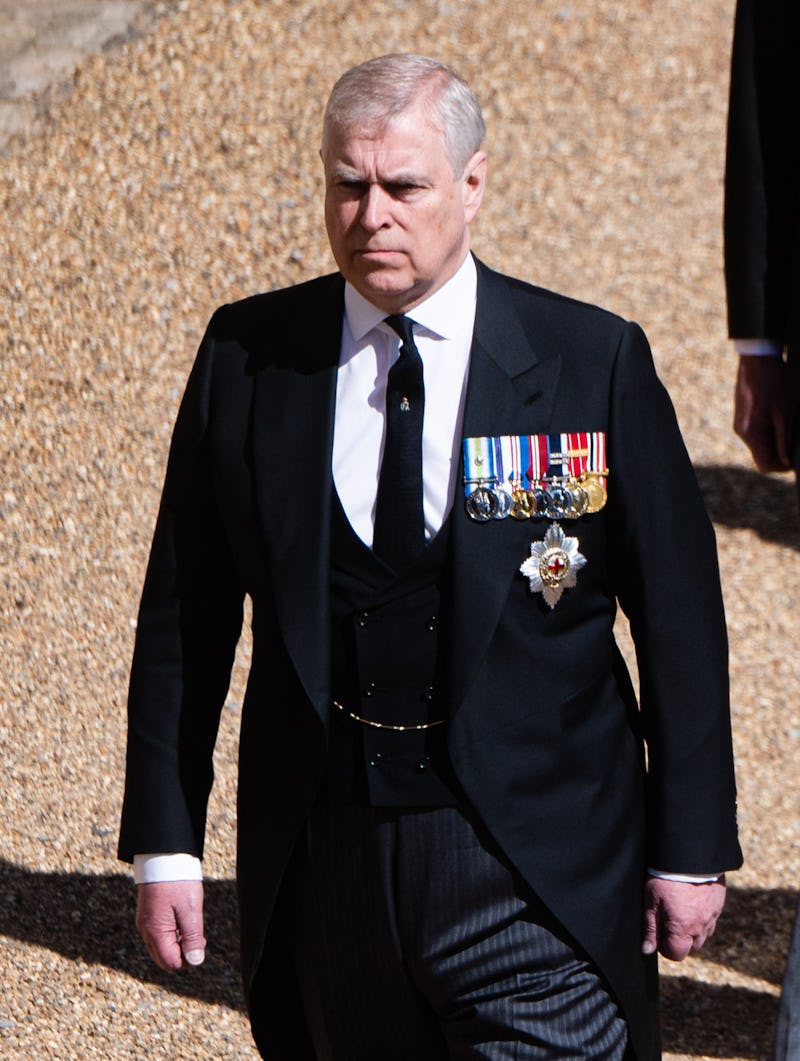 Pool/Samir Hussein/WireImage/Getty Images
Filming for Netflix's smash-hit royal drama The Crown is expected to resume this summer, prompting widespread speculation about the plot, locations, and casting for the final two seasons. While many of the names have already been announced, with Imelda Staunton taking over the role of Queen Elizabeth and Jonathan Pryce as the late Prince Philip, Netflix has been forced to deny it was "struggling" with casting Prince Andrew.
The rumours began after the show's production company, Left Bank Pictures, had advertised for an actor "in his mid-30s to early-40s" to take on the role on Spotlight, a casting directory. The advertisement was first reported by The Sun, with the tabloid suggesting Netflix was having trouble finding an actor to portray Prince Andrew due to the royal's involvement in the 2019 Jeffrey Epstein scandal.
The Sun quoted a source who allegedly said, "Stars aren't exactly queuing up to play him."
A Netflix spokesperson has responded to the rumours.
"There is absolutely no struggle to cast any role for season 5 of The Crown," they said in a statement to Deadline, "and it is normal practice for productions to advertise in Spotlight."
Prince Andrew was previously played by actor Tom Byrne who depicted the royal in his twenties during season 4 of the hit series. As is typical for the program, another actor will take his place in the coming new seasons.
Speaking to Bustle about his time playing Prince Andrew, Byrne said:
"People are going to apply their own judgments to the character and person anyway, that's not my job. So, I thought I'd play him without my own judgement, because that's the best way to serve the character."
He added: "I had a script helping me out, and I'm playing him in his twenties. On every level I thought it was best that I didn't engage with it. I'm quite lucky in the sense that there isn't a great deal of media of him from the '80s, so I felt [I could use] some artistic license."
Season 5 of The Crown is expected to centre on the lives of the British royal family between the '90s and early '00s. As Bustle reported earlier this year, the upcoming season may feature the breakdown of several royal marriages, including Prince Andrew's separation from Sarah Ferguson, Princess Anne's split from Captain Mark Phillips, and Prince Charles and Princess Diana's 1996 divorce.
Those confirmed to be joining the series include Oscar-nominated actor Lesley Manville, who will replace Helena Bonham Carter as Princess Margaret. Additionally, Jonathan Pryce will take over the role of Prince Philip from Tobias Menzies, The Night Manager's Elizabeth Debicki will replace Emma Corrin as Princess Diana, and Dominic West is expected to join the series as Prince Charles, taking over from Josh O'Connor. Finally, Queen Elizabeth II, currently portrayed by Academy Award-winner Olivia Colman, will be portrayed by Imelda Staunton.