Everything To Know About The New 3-CD BTS Album Proof
On May 10, fans got their hands on all three tracklists two months before the album comes out.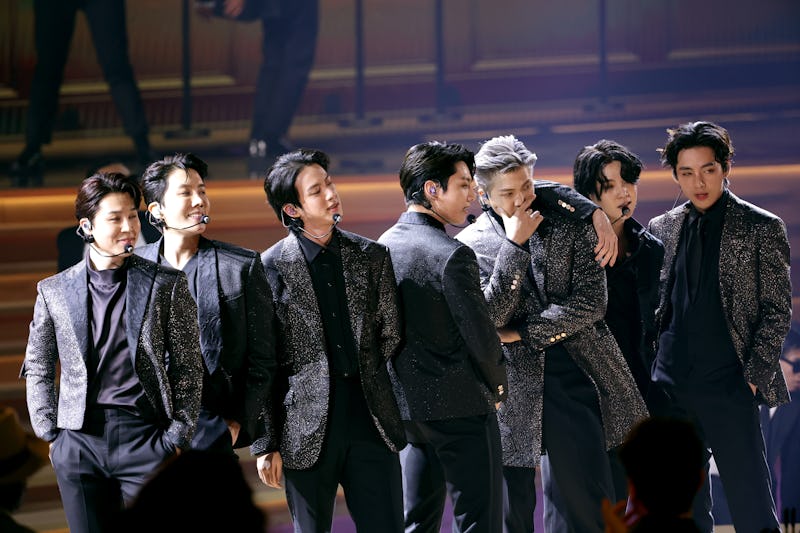 Matt Winkelmeyer/Getty Images Entertainment/Getty Images
Weeks after performing their global pop hit "Butter" at the 2022 Grammys in April, BTS announced that they're churning out more music — and soon. Technically, the first tease of the upcoming album happened for fans at the final night of BTS' Las Vegas residency on April 16, and the audience reacted with enthusiastic screams. The next day, the group shared the video to their social media, unveiling black-and-white performance footage. "WE ARE BULLETPROOF" appears on the screen and is spoken by BTS, and then the date June 10 appears.
Since then, the septet's social media accounts have been dropping more details about the album, including its title and tracklists. On May 10, fans finally learned that the newest album, Proof, will be a three-part anthology, celebrating BTS' nine years in the industry and will include brand new tracks, members' selections of older hits, demo versions, and unreleased songs.
Here's everything to know about the new BTS album so far.
What Is The New BTS Album's Title?
Fans initially thought that the "We Are Bulletproof" line referred to the name of BTS' new album — and if you're an ARMY, you know it's a significant phrase. "Bulletproof Boy Scouts" is the translation of the group's original name, as Allkpop points out. While "We Are Bulletproof Pt. 2" is the name of an early BTS song.
On May 6, BTS' Twitter account shared that the album is simply titled Proof. And it could mean a number of things. ARMYs know that the road to global superstardom wasn't easy for the septet and that the band has felt the need to prove themselves since their debut, especially in international markets where even their climb to the top of the charts is questioned and taken for "chart manipulation." Perhaps Proof is literal — an answer to all of their own doubts.
When Is Proof's Release Date?
Big Hit Music confirmed that the new BTS album would drop June 10. The K-pop group traditionally doles out releases over several launches. Proof will be the same — and ARMYs already know exactly when new album details will drop.
Following the May 10 release of the three-CD tracklists, expect the "proof of inspiration" to be released over a week (likely focusing on one member each day) beginning May 16 through 22. Similarly, concept photos will also be released later while a surprise will drop on June 6.
As for "Yet To Come," Proof's title track, expect teasers to start dropping beginning June 7, with the music video dropping on June 10 with the album. There's another surprise announcement on June 13. Perhaps a tour announcement? Fans will just have to wait and see.
What Is Proof's Tracklist?
Proof will feature 48 tracks over three CDs. The first CD will act "as a chronicle of BTS," according to a statement. Its first track "Born Singer" — a play on J. Cole's song "Born Sinner" — will be a remastered version of the unofficial song they released in 2013 about the "candid emotions they felt" a month after their debut. The lead single, "Yet To Come (The Most Beautiful Moment)," is the final track on the first CD and is likely an ode to their 10th year in the business.
The second CD will be a collection of solo and sub-unit tracks that were chosen by the members. The first track on the CD, "Run BTS" is a new single and the title is a play on their variety game show of the same name. Per the materials, the new track "reflects each member's different color and musical taste, and how these altogether form BTS' charm as a group." CD2 will include some of the band's chart-toppers, including "Fake Love," from 2018's Love Yourself: Tear, "I NEED U" from 2015's The Most Beautiful Moment In Life Pt.1, and "Life Goes On" from 2020's BE.
The third CD is the compilation dedicated to their fan base. It includes two new tracks, "Quotation Mark" and "For Youth." It will only be available on CD, except for "For Youth," which will be available online. The album will also include several demo versions of previously released BTS group songs and tracks they've performed solo. "Tony Montana," Suga's song previously released under his solo rap alter ego Agust D, will feature Jimin. "Still With You," which Jungkook released on his own, will also be remade into an a capella version.
Here's the complete Proof tracklist.
CD1
"Born Singer"
"No More Dream"
"N.O"
"Boy In Luv"
"Danger"
"I NEED U"
"RUN"
"Burning Up (FIRE)"
"Blood Sweat & Tears"
"Spring Day"
"DNA"
"FAKE LOVE"
"IDOL"
"Boy With Luv" (Feat. Halsey)
"ON"
"Dynamite"
"Life Goes On"
"Butter"
"Yet To Come (The Most Beautiful Moment)"
CD2
"Run BTS"
"Intro : Persona"
"Stay"
"Moon"
"Jamais Vu"
"Trivia 轉 : Seesaw"
"BTS Cypher PT.3 : KILLER" (Feat. Supreme Boi)
"Outro : Ego"
"Her"
"Filter"
"Friends"
"Singularity"
"00:00 (Zero O'Clock)"
"Euphoria"
"Dimple"
CD3
"Jump" (Demo Version)
"Young Love"
"Boy In Luv" (Demo Version)
"Quotation Mark"
"I NEED U" (Demo Version)
"Boyz with Fun" (Demo Version)
"Tony Montana" (with Jimin)
"Young Forever" (RM Demo Version)
"Spring Day" (V Demo Version)
"DNA" (j-hope Demo Version)
"Epiphany" (Jin Demo Version)
"Seesaw" (Demo )
"Still With You" (A capella)
"For Youth"
This post will be updated with additional details as more information on the new BTS album becomes available.
This article was originally published on