Here's Everything Coming To & Leaving Netflix In March 2023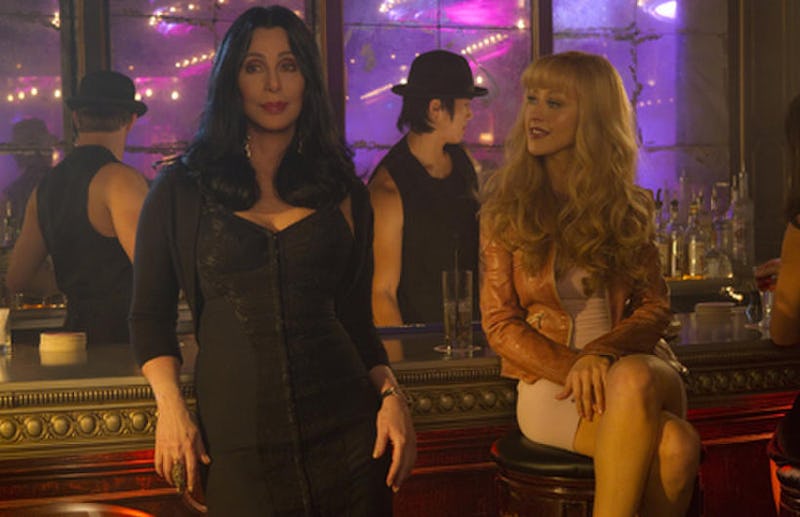 ScreenGems/Fandango
Spring is almost here, meaning that flowers will bloom, rainy clouds will make way for sunny skies, and Netflix will give you many excuses to not go outside and enjoy any of that. On Feb. 22, Netflix revealed its list of everything leaving and coming to the streaming service in March 2023, which is full of new seasons of your favorite Netflix shows and classic movies making their grand return.
Anticipated new seasons of Netflix originals — like Sex/Life and Love Is Blind — and the final part of YOU Season 4, will premiere throughout March, culminating with the sequel to Jennifer Aniston and Adam Sandler's Murder Mystery at the end of the month. March will also bring some millennial classics back to Netflix, including Christina Aguilera and Cher's iconic musical Burlesque, Emma Stone's coming-of-age breakout film Easy A, and the entire Hangover franchise. Netflix is also adding a lot of new yoga and workout videos in case you want to be somewhat productive this spring without leaving the TV.
There are not too many titles leaving Netflix in March, but the few that are departing might leave a hole in your heart. All four seasons of Big Time Rush will leave Netflix at the end of the month, meaning you only have a few weeks to jam out to "Boyfriend," while acclaimed classics like Lee Daniels' The Butler and Brokeback Mountain are also set to deaprt.
Here's everything coming to and leaving Netflix in March 2023.
What's Coming To Netflix In March 2023
March 1
Cheat
Tonight You're Sleeping with Me
Wrong Side of the Tracks: Season 2
Big Daddy
Burlesque
Easy A
Forged in Fire: Knife or Death: Season 2
The Hangover
The Hangover: Part II
The Hangover: Part III
Little Angel: Volume 2
Magic Mike XXL
National Lampoon's Animal House
Open Season
Open Season 2
Out of Africa
Rango
Seven Years in Tibet
Sleepless in Seattle
Spirit: Stallion of the Cimarron
The Other Boleyn Girl
March 2
Framed! A Sicilian Murder Mystery: Season 2
Karate Sheep
Masameer County: Season 2
Monique Olivier: Accessory to Evil
Sex/Life: Season 2
This Is Where I Leave You
March 3
Love at First Kiss
Next in Fashion: Season 2
Split the Root
March 4
Chris Rock: Selective Outrage
Divorce Attorney Shin
March 6
March 7
March 8
Faraway
MH370: The Plane That Disappeared
March 9
March 10
The Glory Part 2
Have a nice day!
Luther: The Fallen Sun
Outlast
Rana Naidu
10 Minute Workouts: Volume 2
20 Minute Workouts: Volume 2
30 Minute Workouts: Volume 2
Abs & Core Volume 1
Bodyweight Burn: Volume 2
Fire & Flow with Tara & Xochilt Volume 1
Fitness for Runners Volume 1
High-Intensity Training: Volume 2
Ignite & Inspire: Volume 1
Kick Off with Betina Gozo: Volume 1
Lower-Body Workouts Volume 1
Upper-Body Workouts Volume 1
Yoga Volume 1
Yoga with Xochil: Volume 1
March 14
Ariyoshi Assists
Bert Kreischer: Razzle Dazzle
March 15
The Law of the Jungle
Money Shot: The Pornhub Story
March 16
The Chronicles of Riddick
Kick-Ass 2
Pitch Black
Riddick
Shadow and Bone: Season 2
Still Time
March 17
Dance 100
In His Shadow
Maestro in Blue
The Magician's Elephant
Noise
Sky High: The Series
March 20
Carol
Gabby's Dollhouse: Season 7
March 21
March 22
Invisible City: Season 2
The Kingdom: Season 2
Waco: American Apocalypse
March 23
March 24
Chor Nikal Ke Bhaga
Love Is Blind: Season 4
March 28
InuYasha: Seasons 4-5
Mae Martin: SAP
March 29
Emergency: NYC
Unseen
Wellmania
March 30
Big Mäck: Gangsters and Gold
From Me to You: Kimi ni Todoke
Unstable
March 31
Copycat Killer
Diary of a Mad Black Woman
Henry Danger: Seasons 4-5
Kill Boksoon
Love Is Blind: Season 4
Murder Mystery 2
Teenage Mutant Ninja Turtles: Season 2
What's Leaving Netflix In March 2023
Leaving 3/5/23
Hap and Leonard: Seasons 1-3
Leaving 3/16/23
Lee Daniels' The Butler
Outback Truckers: Seasons 1-3
Leaving 3/18/23
Leaving 3/24/23
Leaving 3/25/23
Big Time Rush: Seasons 1-4
Leaving 3/31/23
30 Minutes or Less
Brokeback Mountain