Kim K & Mariah Carey's Daughters Recreated Rihanna's Halftime Dance On TikTok
North and Monroe nailed Rih's "Work" choreography.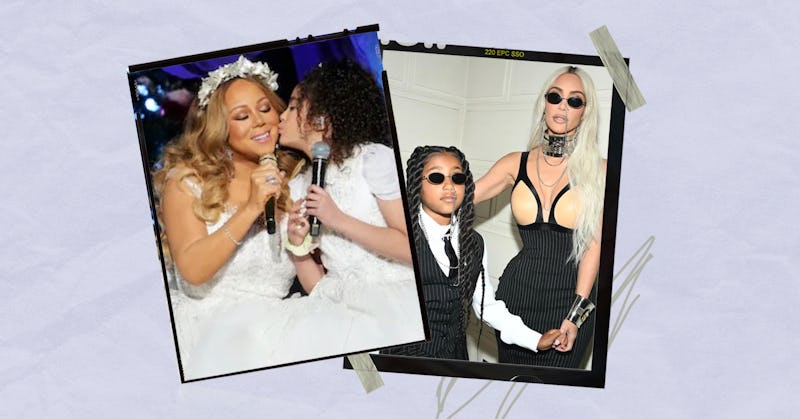 Kevin Mazur/Getty Images Entertainment; Pascal Le Segretain/Getty Images Entertainment
Social media has been obsessed with recreating Rihanna's Super Bowl Halftime Show, specifically the booty-popping "Rude Boy" choreography, but no TikToker has come close to North West and Monroe Cannon's rendition. On Feb. 20, Kim Kardashian and Mariah Carey's daughters recreated part of RiRi's Super Bowl spectacle on Kim and North's joint TikTok, complete with matching costumes, making for quite the unexpected crossover.
The duo imitated a bit from Rihanna's performance of "Work" — the part where Rihanna leads an army of dancers down the catwalk. Monroe, 11, played the part of Rihanna, donning a deep red puffer coat and a sparkling pink microphone, while 9-year-old North played one of her dancers, wearing an all white get-up as she squatted and crawled to follow Monroe.
The TikTok video happened to be posted on RiRi's 35th birthday, which the girls celebrated in the caption. "We love you @rihanna Happy Birthday xoxo Roe and North," they wrote.
North and Monroe had a very productive playdate, considering how they also got their famous moms to guest-star in another TikTok video. Changing out of their Rihanna costumes, the girls lip-synced the words to Mariah's 2009 track "It's a Wrap," which has recently gone viral on the social network, complete with the TikTok choreography. Toward the end, Mariah and Kim crash the party by lip-syncing on hairbrushes, before getting pushed out of the shot by their daughters. "It's a wrap! But never for us!" they captioned the post.
Kim recently took on the trend with North and influencer friend Olivia Pearson on her solo TikTok, making their dance with Carey a full-circle moment.
North and Monroe's new friendship has appeared to bring their moms closer. In 2014, Mariah's now ex-husband Nick Cannon claimed that, in the famous words of Mariah herself, she didn't know her. "My wife, she don't even know who Kim Kardashian is," he told Howard Stern. "She doesn't pay attention to that." Two years later, Mariah became aware of Kim, but didn't seem to be a fan. In an interview with Complex at Nobu, she explained how her E! reality show would be different from the Kardashian family's, who happened to be filming just yards away. "Some of us talk about other people and what they do and la la la," she said, glancing toward their area. "But I'm not that person."
Since their divorce, Mariah has become more friendly with Kim, including her and mom Kris Jenner in the 2019 "Celebrity Edition" video for "All I Want For Christmas Is You" — complete with a surprise cameo from North. "Thank you so much!! Living for the moment North comes in the shot!! Love you all!!" Mariah wrote to Jenner on Twitter after she shared the video. Now, the two are hanging out in person. Never underestimate the power of a playdate.