Everything We Know About P-Valley Season 2
Will we finally learn what went down in the Paradise Room?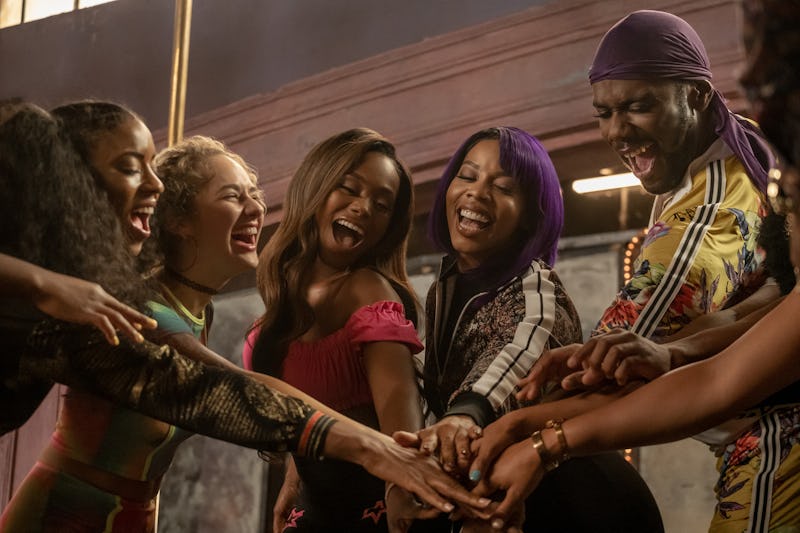 Starz
HBO and Showtime tend to get most of the buzz when it comes to premium cable networks, but upstart Starz surprised everyone in 2020 with its hit series P-Valley. The drama that follows the lives of employees of a Mississippi strip club earned critical acclaim and strong ratings in its first season, and the network wasted little time in renewing P-Valley for Season 2.
Announcing that news in July 2020 — with more than half of the first season still left to air — was a clear vote of confidence from the network. "P-Valley has quickly become this summer's newest must-see television series as critics and audiences alike are taken up by the authentic and compelling characters that make the Pynk come alive," Starz head of originals Christina Davis told The Hollywood Reporter.
With a renewal secured, fans can now turn their attention to what P-Valley Season 2 will actually look like — and when we might get to see it. Here's what we know so far, including new cast members making a living at The Pynk and the show's release date.
The P-Valley Season 2 Cast
Many familiar faces are returning next season, including Elarica Johnson, Brandee Evans, Harriett D. Foy, and Skyler Joy, who'll be reprising their roles as Autumn Night, Mercedes, Pastor Woodbine, and Gidget, respectively. Their announcement came early, with some of them already sharing their Season 2 comeback in July of 2021. They'll be joining Parker Sawyers, J. Alphonse Nicholson, Dan J. Johnson, and Tyler Lepley, who will return as Andre, Lil' Murda, Corbin, and Diamond, respectively.
On Feb. 2, Deadline reported that two new women will perform at The Pynk: Whisper (Psalms Salazar) and Roulette (Gail Bean). Per the outlet, Salazar's Whisper is "spooky" and "speaks in riddles and eerie truths" while Roulette is a "wild child" who breaks all of Uncle Clifford's rules.
Of her new role, Bean recently told Bustle, "My character in P-Valley is another character that I feel I'm a voice for amazing Black women who several people don't see as humans. I think I'm bringing a humanity to the dancer, to the stripper." The Snowfall actor even added that the "young," "lit," and "tatted-up" Roulette is "unlike any other character that you've seen in P-Valley or on TV."
Some of the show's former recurring stars made series regular status according to a Feb. 14 Deadline report. Morocco Omari (Empire), Dominic DeVore (The Ride), and Jordan M. Cox (The Outsider) will reprise their roles and likely have bigger narrative arcs this season.
According to a March 15 Deadline report, Zoey's Extraordinary Playlist and Luke Cage alum John Clarence Stewart joins the cast as the recently paroled Big Teak of Lil' Murda's gang. The Wire's Shamika Cotton also joins as Farrah, a "talented artist in an unconventional marriage with Coach, Mercedes' top client." Apparently, Farrah and Mercedes are bound to "strike up an unlikely connection." Newcomer Miracle Watts will star as Big Bone, a new The Pynk recruit who's a "fighter and a biter with sky-high ambitions" with a "tongue more lethal than a draco."
Cardi B previously expressed interest in making a cameo in the show. "The doors of the Pynk are always open to you!!" Hall responded, adding the hashtag #checkyodms. Unfortunately, as of April 2022, there's no news yet on whether the "WAP" rapper will make an appearance.
The P-Valley Season 2 Plot
There are two big storylines fans can look forward to in P-Valley Season 2. "The power dynamics at the club have completely changed and to see Uncle Clifford and Hailey fight over the throne will be stuff of legends," Hall told Entertainment Weekly in September 2020. "Also, the fact that Mercedes will still be fighting the big Goliath in her life that is respectability politics. Will she be able to get her dance studio and custody of her daughter? Will she ever conquer her pimp-turned-pastor mother? Only time will tell." Hall also teased an answer to the question of what really happened in the Paradise Room in the Season 1 finale. "I can only say that the secret of what went down in the Paradise Room will bond Uncle Clifford, Mercedes, and Hailey forever."
Over on Twitter, Hall confirmed that Season 2 will showcase more of the characters' backstories and how they came to work at the Pynk. You can also expect to hear more original music from Mississippi artists in the show's second season. Hall put out a call on Twitter on Aug. 31 asking for submissions from musicians and producers who are native to the state, especially if they're also Black and female. "Always looking for more MS artists so please shoot to @pvalleywriters," Hall tweeted. "ESP excited about being introduced to MS black female artists & producers."
Finally, coronavirus itself may make its way into the plot of Season 2. "There's a story to tell about how Black folks are affected by this disease ... how they figured out what to do to survive," Hall told TV Guide in September 2020. She added more details in her talk with EW, saying, "Our show will definitely be in conversation with what is happening in our world right now, [and] I cannot wait to see Uncle Clifford in a rhinestone mask and lace gloves. I cannot wait to see her."
Viewers will also see how The Pynk, in particular, survives amid the pandemic, according to a Deadline report on Feb. 2. Hall also teased the upcoming season's timeline, saying that the events will "take place five months after the Season 1 finale."
The P-Valley Season 2 Premiere Date & Trailer
During a Twitter Q&A in September 2020, P-Valley creator Katori Hall revealed that the coronavirus pandemic was "making it hard to shoot" and that it would "take awhile to gear up for production." A casting call posted in March 2021 asked for actors available to film in the summer, so taking post-production into account, it was clear P-Valley likely wouldn't return until late 2021 or early 2022.
On April 12, Starz announced it will return on June 3, 2022. On May 11, Starz released the first official trailer for Season 2, which teases plenty of confrontation, along with some COVID-related business struggles:
The show's Twitter account confirmed that Season 2 will be 25% longer. Whereas Season 1 consisted of 8 episodes, Season 2 will have 10. Hall also has a five-year plan for the show, so as long as it can keep up its stellar ratings — it had the most-watched premiere in Starz history.
This post will be updated as more details on P-Valley Season 2 are released.
This article was originally published on