Paul Mescal Just Covered Taylor Swift's Most Iconic Break-Up Song
This comes after he and Phoebe Bridgers reportedly ended their engagement.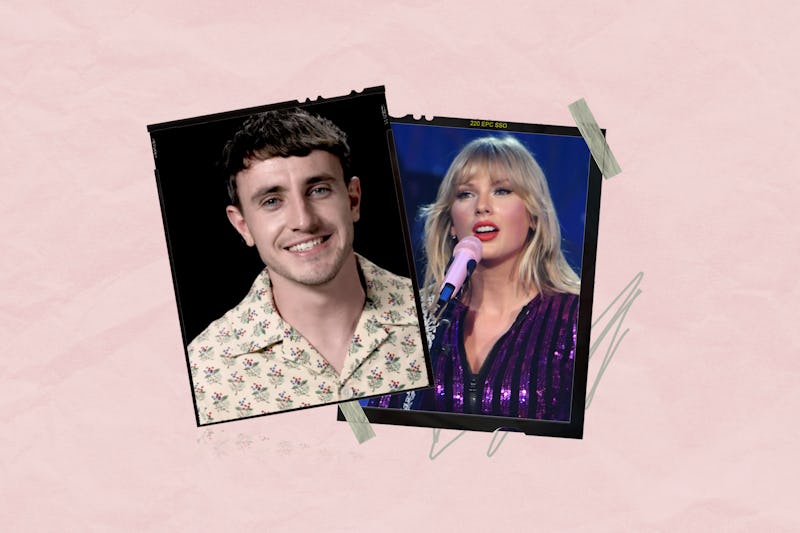 YouTube/W/Getty Images/Kevin Mazur
Back in 2022, broody boys Joe Alwyn and Paul Mescal reportedly formed a (now covetable) alliance called the "Tortured Man Club." Of course this came about from their acting gigs in Conversations With Friends and Normal People, the TV adaptations of Sally Rooney's bestselling books. Now, Mescal has collaborated (kind of) with Alwyn's long-time partner, Taylor Swift. The Irish actor has done a lyrical improv cover of the singer's hit break-up song "We Are Never Ever Getting Back Together."
Aptly released on Valentine's Day, Mescal's rendition of the pop song for W magazine is without any music, and thanks to his deep voice the lyrics hit rather different. Dressed in a floral printed shirt, the actor reads the first stanza until he smirks at one line: "Cause like we hadn't seen each other in a month, when you said you needed space." Surprised, he chuckles and says "What?" — it's like making your grandparents do improv to Olivia Rodrigo's "Brutal" while expecting them to keep a straight face. By the end, the actor gives up the facade and sings along to the beat with a goofy smile.
The video wraps up with Mescal saying, "It's kind of sad, isn't it?" Although TayTay's hit is a break-up song, Mescal appears to be having fun with it. The timing of this may raise some eyebrows, as it comes just weeks after Mescal and singer Phoebe Bridgers reportedly ended their engagement. In reference to this, one YouTube user commented under the video: "Phoebe Bridgers has entered the chat." Another joked: "Thanks for the confirmation."