Everything To Know About The Mandalorian Season 3
If Kylo Ren kills Baby Yoda, I'm out.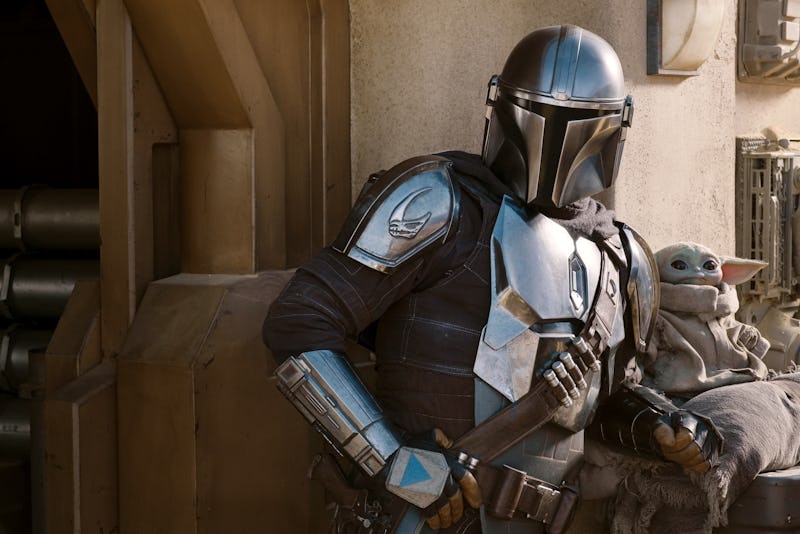 Lucasfilm Ltd.
It's been nearly a year since The Mandalorian Season 2 wrapped, but Din Djarin and Grogu's stories are far from over. At the Disney Investor Day presentation on Dec. 10, 2020, Lucasfilm head Kathleen Kennedy officially announced that The Mandalorian will return for Season 3. This verified a Nov. 5 Deadline report that showrunner Jon Favreau and his team have "been in pre-production for months" on the new season.
Kennedy also confirmed that at least two Mandalorian spinoffs are in development: Ahsoka, starring Rosario Dawson, and The Book of Boba Fett, starring Temuera Morrison as the titular bounty hunter. (Kennedy initially announced a third spinoff, Rangers of the Republic, but that series has been shelved following Gino Carano's firing.) "Set within the timeline of The Mandalorian, these interconnected shows, along with future stories, will excite new audiences and embrace our most passionate fans and will culminate in a climactic story event," Kennedy said. It's clear that Disney is heavily investing in The Mandalorian's future, so here's everything to know about Season 3 and what lies beyond.
The Mandalorian Season 3 Premiere Date
At the 2020 investor event, Kennedy initially said that Season 3 will debut around Christmas 2021. That didn't come to pass. "What we didn't say [during the Disney investors' call] is the next show coming up is The Book of Boba Fett," director Jon Favreau told Good Morning America in December 2020. "And then we go into production right after that on Season 3 of The Mandalorian, back with the main character that we all have known and loved. That will be pretty soon following that."
The Book of Boba Fett debuted in December 2021, but The Mandalorian Season 3 won't hit screens until February 2023, according to Favreau and Feloni at a Star Wars Celebration in Anaheim in May 2022. Lead actor Pedro Pascal confirmed the long lead time during a June 2021 interview with Ewan McGregor for Variety's Actors on Actors. "We haven't shot a third season," Pascal said at the time. Carl Weathers later revealed that filming for The Mandalorian Season 3 would not begin until sometime in September 2021, per Comicbook.com.
Considering The Mandalorian is a big-budget and effects-heavy show that has a long post-production time, a 2023 premiere makes sense for Season 3.
The Mandalorian Season 3 Cast
Kennedy didn't announce any new cast additions, but Pascal will obviously return as Din Djarin alongside his body-double Brendan Wayne. Weathers' Greef Karga will also play a role in Season 3. "I get to be in front of camera again, and I get to direct again," the actor revealed at Steel City Con, per Comicbook.com. Considering The Book of Boba Fett premieres before The Mandalorian, it's likely that Morrison will again cameo as Boba Fett at some point. The Ahsoka spinoff is projected to premiere sometime after The Mandalorian Season 3, so there's also a chance that Dawson will return to the series. Katee Sackhoff was also confirmed to return as Bo-Katan Kryze, the former ruler of Mandalore.
Beyond that, Giancarlo Esposito's Moff Gideon will continue to be a major villain in Season 3. At GalaxyCon Raleigh in July, Esposito revealed that he was filming for the new season. And when asked if he was going to play a larger role, he joked, "Yes, you're going to see me kill this baby," while clutching a toy Grogu.
The Mandalorian also tends to bring back characters, so fans can only hope that minor figures like Fennec Shand (Ming-Na Wen), Cobb Vanth (Timothy Olyphant), and Bo-Katan (Katee Sackhoff) will return to team up with Din. Bo-Katan, in particular, is still on the hunt for Moff Gideon's Darksaber, so she'll likely show up again as long as he still has it.
The Mandalorian Season 3 Trailer
The Season 2 trailer was only revealed about a month before the premiere, but Disney didn't put it off quite so long this time around. The first Season 3 teaser trailer dropped at the D23 Expo on Sept. 10, teasing the upcoming adventures of Mando and Grogu.
The Mandalorian Season 3 Plot And Theories
There are many theories about the plot of The Mandalorian Season 3, particularly now that Luke Skywalker himself answered Grogu's call for another Jedi. Since the Force-sensitive toddler was saved from Moff Gideon and will now train with Luke, there's a chance Baby Yoda will stop Force-choking Stormtroopers — a very worrying sign, as the bad guys typically use that tactic. The fact that sweet baby Grogu might be Sith material has been teased for a while; we know he's overprotective of Din and extremely stubborn, and he once Force-choked Cara Dune just because she was arm wrestling with Din. If Grogu were to become evil, it would confirm Ahsoka was right to worry that he could snap if he was ever separated from Din.
With Grogu in young Luke's care, The Verge also teased the possibility of the alien meeting Luke's nephew, Ben Solo, aka Kylo Ren, who is about 4 years old in this time period. Future seasons might explore if Luke's efforts to train Grogu ultimately result in Baby Yoda favoring the dark side, as Ben later did. Potentially even more devastating, Kylo Ren could kill the toddler when he, Snoke, and the Knights of Ren eliminate Luke's Jedi training program.
Another theory is that Season 3 will introduce Grand Admiral Thrawn and Force-user Ezra Bridger, as Ahsoka said she's on the hunt for Thrawn (and by extension Ezra, who was last seen in Thrawn's presence). Other fans theorize that the show is building toward another battle of Mandalore, where Din and possibly Bo-Katan try to retake the Mandalorian home planet.
Regardless of what happens, bringing together The Mandalorian and the wider Star Wars lore will make for a monumental Season 3.
This post will be updated as more The Mandalorian Season 3 details become available.
This article was originally published on