Pete Davidson Once Asked Megan Fox For Kim K's Number & Got Shut Down
Fox said, "You have a better shot of me and [Machine Gun Kelly] getting eaten by crocodiles."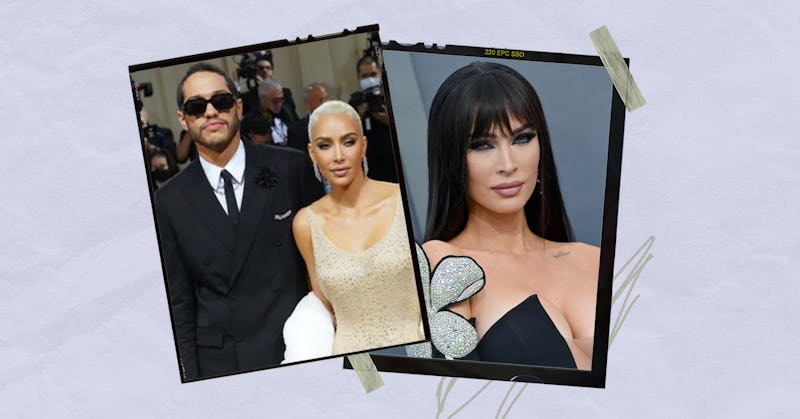 Sean Zanni/Patrick McMullan/Axelle/Bauer-Griffin/FilmMagic/Getty Images
Petedashian may have happened much sooner than October 2021 if it weren't for Megan Fox. On the June 2 episode of The Kardashians on Hulu, Kim Kardashian revealed that Pete Davidson wanted to reach out to her months before they kissed during her Saturday Night Live hosting stint, but Fox — who is engaged to his famous friend Machine Gun Kelly — shut him down.
In a confessional, Kardashian explained that after she and Davidson officially got together and "became a thing," Fox texted her asking if she was actually serious about the comedian and revealed the funniest plot twist. "Is this sh*t for real?" she told Kim. "Because he asked me for your number months ago, and I was like, 'Dude, you have a better shot of me and MGK getting eaten by crocodiles than you ever getting her number. Never gonna happen. Do not ask us.'"
Luckily for Davidson, Kardashian was the one that asked for his number and made the first move — even after he skipped her SNL afterparty. "Everyone was at my afterparty," she said. "He does not give me the time of day." A few days later, she decided to go for it anyway and asked an SNL producer for Pete's number. "I wasn't even thinking, 'Oh my god, I'm gonna be in a relationship with him,'" she admitted. "I was just thinking, 'Heard about this BDE, need to get out there.' I was just basically DTF."
Gotham/Getty Images Entertainment
Stefanie Keenan/Getty Images Entertainment
Now, Fox has gone from rejecting Davidson for Kardashian to going on double dates with the new couple. In a March interview with Howard Stern, her fiancé Machine Gun Kelly recalled how a double date with Kardashian and Davidson quickly went wrong.
"We rented out a theater, and I was vouching for this movie so hard," he said, without naming the flick. "I was like, 'It's gonna be the best movie you've ever seen.'" But only 10 minutes into the film, MGK realized that he was sorely mistaken. "Do you ever just have that moment where you're like, 'We shouldn't be here?'" he said. They all just started laughing, which only affirmed MGK's approval of Kardashian, saying he was "so happy" for his good friend Davidson.