35,000 People Signed A Petition To Cancel Colton Underwood's Netflix Show, So Far
The backlash is due to his alleged stalking and harassment of ex Cassie Randolph.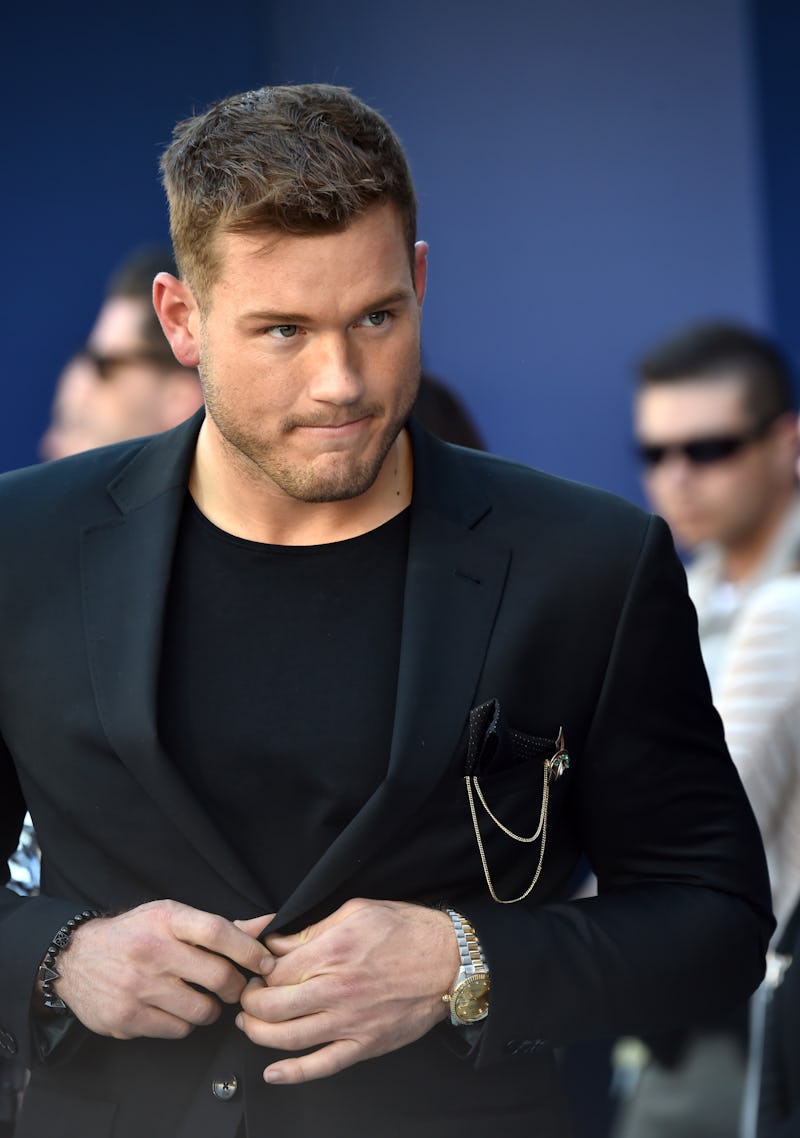 Jeff Kravitz/FilmMagic, Inc/Getty Images
Not everyone wants to watch former Bachelor Colton Underwood's coming out journey. A Change.org petition to cancel Underwood's Netflix show has garnered roughly 30,000 signatures as of Thursday, April 22. The number increased to nearly 35,000 on April 26. Shortly after Underwood came out as gay during a Good Morning America interview on April 14, news broke that Netflix was filming a reality show that would follow Underwood as he comes to terms with his sexuality, with openly gay Olympian Gus Kenworthy acting as his "gay guide."
The announcement gradually drew backlash from Bachelor fans and non-fans alike, criticizing Netflix for giving Underwood a huge platform after his alleged history with ex-girlfriend Cassie Randolph. In September 2020, three months after the couple split, Randolph obtained a restraining order against Underwood, accusing him of "stalking and harassing" her. In court documents obtained by E! News, Randolph alleged that he placed a tracker on her car, sent her unsettling text messages, and repeatedly showed up at her family's California home and her apartment unannounced.
Two months later, Randolph dropped the restraining order, with Underwood saying they were able "to reach a private agreement." However, that's not enough for his critics. "Cassie is a victim of Colton's abuse, and he does not deserve a platform in any way," the petition's creator, who is staying anonymous, wrote on Change.org. "Regardless of his sexuality, Colton should not be given a platform as a result of his abusive, manipulative, and dangerous behavior."
Many people also took to Twitter to appeal to Netflix, arguing that Underwood's show could be seen as an attempt to bury his past actions, especially with him saying that he did not believe Randolph "did anything wrong in filing for the restraining orders."
Netflix has yet to respond to the petition, and given their history, they may not bother. In 2018, comedian Aziz Ansari faced accusations of alleged sexual misconduct, leading some to create petitions demanding that Netflix cancel his hit series Master of None. However, this week, the streaming service quietly announced that the show's third season would premiere in May, albeit with a reduced onscreen role for Ansari.
Randolph has yet to officially respond to Underwood's coming out or the Netflix show, but she did thank fans for "all the kind comments and messages" on her Instagram Story after his interview. "It means so much," she wrote. As for Underwood, he apologized to his ex-girlfriend for how their split was handled during his GMA interview. "I would like to say sorry for how things ended," he said. "I messed up. I made a lot of bad choices."