Twitter Can't Make Up Its Mind About Pistol
Punky panto or a fresh look at anarchy?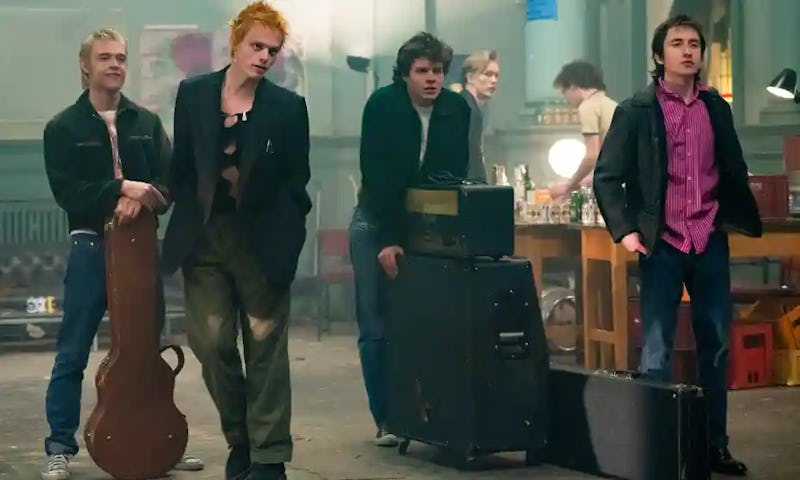 Disney+
The spirit of anarchy in the UK is alive and well ahead of the Queen's Platinum Jubilee, with Danny Boyle's long-awaited biopic Pistol finally out there. Telling the mayhem-packed, hedonistic story of the Sex Pistols — who ignited punk rock and burned out just three years later — in scrappy, fast-paced fashion, the Disney+ six-parter stars the likes of Maisie Williams (Game of Thrones) and Thomas Brodie-Sangster (Love Actually) alongside a whole host of newcomers.
Giving an alternative look at the Sex Pistols' rapid rise to notoriety, and the outcry that accompanied their now-classic single "God Save The Queen" (sample lyric: "God save the Queen/She ain't no human being") the series is based on the memoirs of the band's guitarist and founding member Steve Jones. As well as depicting less well-storied elements of the band's journey, including Jones' relationship with the Pretenders' vocalist Chrissie Hynde, and the real-life inspiration behind Sex Pistols' track "Bodies," plenty of legendary gigs and well-known milestone moments get the dramatisation treatment, too.
And with the show finally out there, viewers have been reacting to Pistol: an opinion-splitting, high-energy, and slightly campy race through the story of one of the UK's great punk bands. For starters, real-life Sex Pistols frontman John Lyndon — aka Johnny Rotten — isn't a fan, branding the biopic a "middle class fantasy" in a statement on his website earlier this year.
Lyndon wasn't involved in the making of Pistol and was previously taken to court by two of his former bandmates after he refused to let them use Sex Pistols' original music in the show. "The Sex Pistols have become the property of Mickey f**king Mouse," he said after losing the case — referring to the show finding a home on Disney+.
And for fans of the band, Pistol has also proved divisive. Here's what viewers have to say…
It's a win for niche punk rock trivia fans
The show's campy vibes left some confused
Others couldn't stand the show, full-stop
There's been much praise for the show's young cast
Finally, a few viewers noted a certain resemblance between Johnny Rotten and…