Why This One Harry & Meghan Engagement Pic Is So Much More Meaningful Than The Rest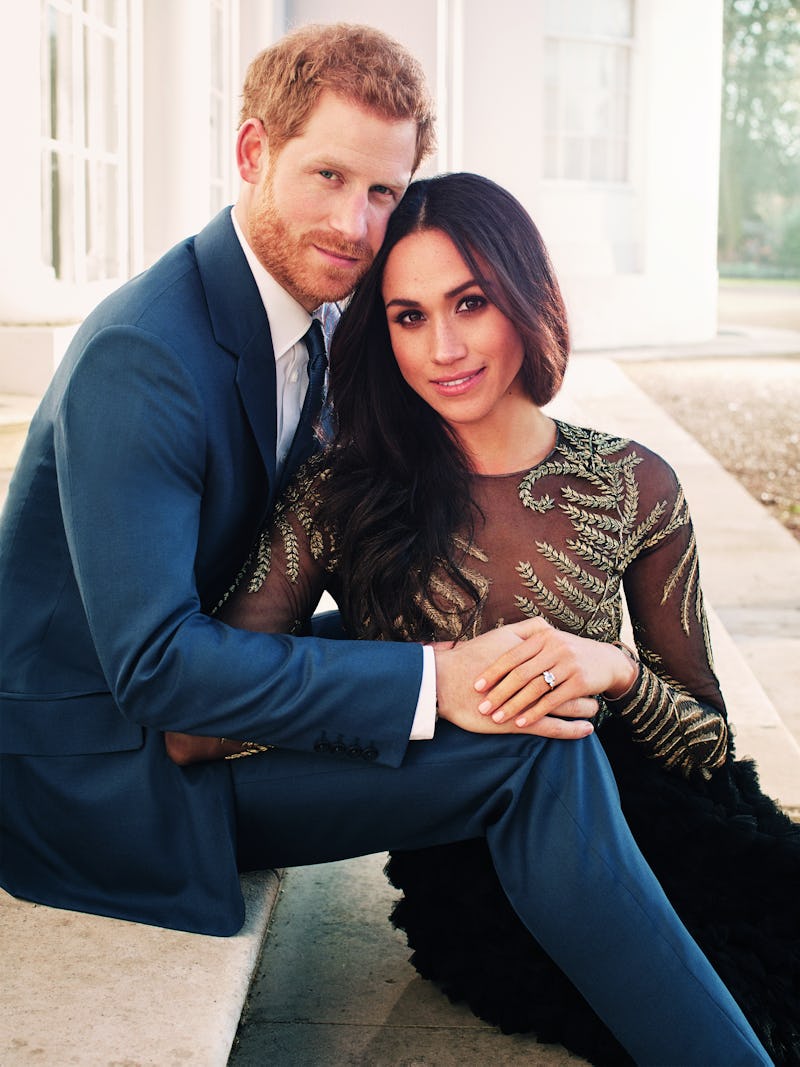 Handout/Getty Images Entertainment/Getty Images
On Thursday, Prince Harry and Meghan Markle released a series of three photos celebrating their engagement. They are all beyond gorgeous, but Harry and Markle's "candid" engagement photo is the true stand-out. It doesn't appear that they ever intended to release it, but after receiving such a heartfelt response to their first two official images, they wanted to share it with their supporters. How sweet is that?
"The couple are so grateful for the warm and generous messages they have received during such a happy time in their lives," Kensington Palace tweeted. "As a way to say thank you, they have decided to share this candid photograph from the day of their portrait sittings directly with all of you." Of course, it's being praised, but what people might not realize is just how truly special the third photo is compared to the others.
As you can see below, the candid shows Harry and Markle holding hands (no surprise there), smiling wide, and staying extremely close to each other as they walk along the grass. The photograph exudes happiness. Even if you didn't know who they are, anyone could tell that they are head over heels in love with one another.
But the fact that the engaged couple was willing to distribute this type of photograph with the world speaks volumes on its own. Usually, the British Royal Family is pretty private when it comes to their personal lives. From time to time they've opened up, especially if they get engaged, if they walk down the aisle, or if they choose to have children. That's when they typically let the public into their lives.
In Harry and Markle's case, they've shown how modern of a royal couple they truly are. Whether it's showcasing PDA, the former Suits star challenging the royal status quo, or Markle being the first fiancée to spend Christmas with Queen Elizabeth II, they are breaking barriers in major ways. The way they've opened up as a couple and are helping change the standards expected of a royal couple certainly hasn't gone unnoticed.
When it comes to the above image, well, it's another demonstration of their openness. They didn't have to share another picture as a "thank you", but they did. And the fact that it is a "thank you" seems to suggest that Harry and Markle feel their openness is being accepted in a positive way and they want to show the public how much they appreciate that.
For those who have watched Harry grow up ever since he was a little boy, to see his growth has been wonderful. The way he's become more vulnerable has been an emotional experience for his fans. The first time he was very open and honest with the world about who he is as a person was only in April. While chatting with The Telegraph's Bryony Gordon for her podcast, Mad World, Harry shined a light on mental health, the stigma that comes with it, and what it was like for him as a young boy to lose his mother, Princess Diana, at the young age of 36.
"I can safely say that losing my mum at the age of 12, and therefore shutting down all of my emotions for the last 20 years, has had a quite serious effect on not only my personal life but my work as well," the now 33-year-old confessed. To hear him discuss his grief, the troubles that came with it, and how it impacted his life (and forever will) was something many found relatable. Plus, it allowed people to become acquainted with the true Harry.
Seeing as Harry was dating Markle at the time of his interview about mental health, there's a chance that because he was so happy with her it made him feel like he could be open and expressive. She may have even helped him to turn on his emotions again. That's how love can affect an individual. Harry has matured tremendously and his love for Markle might have pushed him to open up more. (There's no doubt that his feelings for her have made him even more photogenic.)
The style of their engagement photos is something people truly appreciate. It's a modern-twist compared to the norm, which also makes others feel like they can relate to them as people.
They Appear "Human"
They really are more relatable.
Harry's Happiness Is Embraced
There is no ignoring his blissfulness.
Their Love Is A Wonderful Experience
You can tell how much they truly care for each other.
Harry's Health Is Being Praised
He has come so far, hasn't he?
As the saying goes, "A picture's worth a thousand words," and, well, that's absolutely the case here. Their "candid" engagement photo is one that will go down in history — and not just because it's stunning. It shows that Harry and Markle refuse to be the average royal couple by allowing the public to see who they really are as two people in love.