Sam Smith Reportedly Had A Major Stage Malfunction At The BRITs
There were concerns the "Unholy" performance featuring Kim Petras would be cancelled.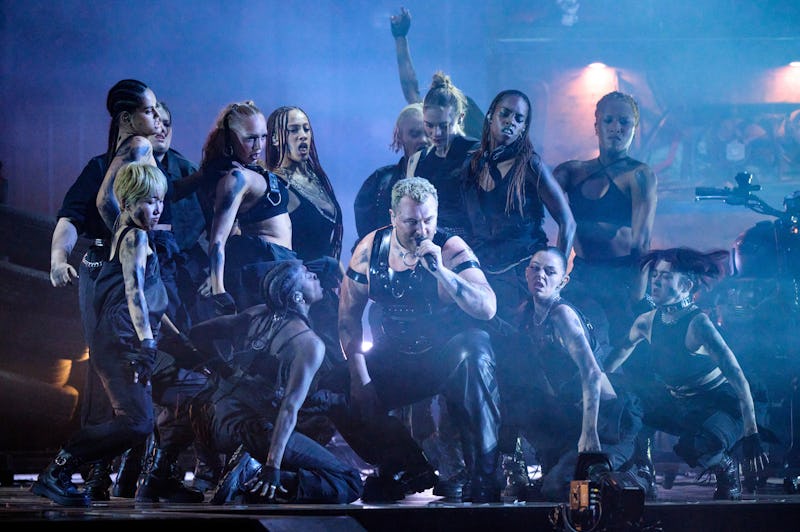 Gareth Cattermole/Getty Images Entertainment/Getty Images
Having already made history at the 2023 Grammys winning Best Pop Duo alongside Kim Petras, the pair reunited once again to perform their catchy hit "Unholy" at the BRITs on Feb. 11. Sam Smith arrived on the red carpet wearing a more-is-more look in the form of an inflated black latex look by Harri KS, which quickly took the internet by storm. But as it turns out, there's more than meets the eye when it comes to Smith and Petras' performance on the night, with an apparent staging malfunction causing a whole host of issues.
A source told The Sun that prior to Smith's performance at the BRITs ceremony, their complex £500,000 set apparently malfunctioned. Dressed in horned punk attire, the singer along with a crew of dancers performed on an elaborate stage involving cars. But reports suggest that one of the cars glitched before the performance, with producers allegedly considering axing their performance completely. Bustle has reached out to Sam Smith's team and ITV for comment.
Stormzy's performance on the night was brought forward to give crew members more time to fix the malfunction, as well as a broadcast of Adele's live performance of "I Drink Wine" from the 2022 awards show, with host Mo Gilligan mentioning a "technical difficulty" whilst introducing Adele's performance.
The source said the paper, "Sam's performance might have appeared seamless but behind-the-scenes it was a nightmare… Sam was told there was a possibility their performance might be pulled altogether." Despite the apparent chaos and last-minute changes behind the scenes, the three-time BRIT award winner and Petras performed their set successfully. However, Smith is said to have skipped the after-parties, reportedly due to the stress of the night.