Selena Gomez Defended BFF Taylor Swift Against This Hailey Bieber Diss
The singer quit TikTok soon after, explaining she was "too old" for the silliness.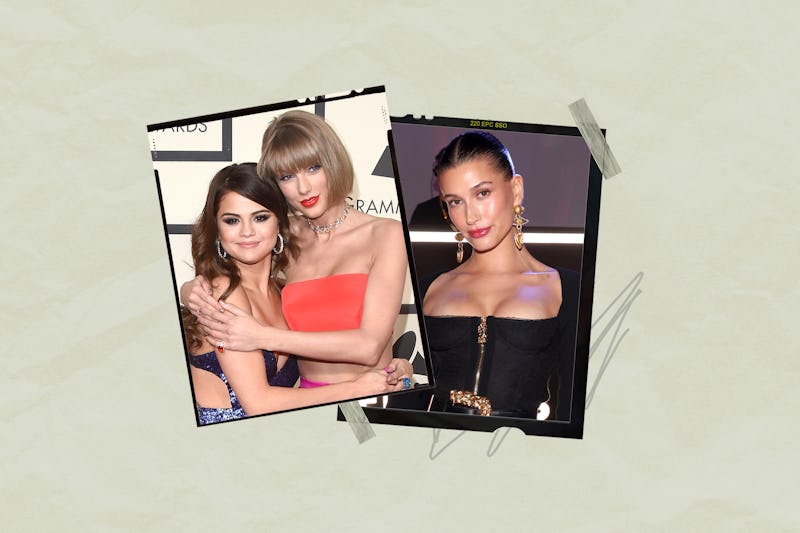 Getty Images/Jason Merritt/Jerritt Clark
Selena Gomez has stepped in to stand up for her "best friend" Taylor Swift after a newly-resurfaced video of Hailey Bieber supposedly mocking the singer started doing the rounds on TikTok. The initial clip is taken from an old episode of Drop The Mic, the rap battle show Bieber co-hosted with Wu-Tang Clan's Method Man between 2017 and 2019. The footage shows the rapper introducing a "rap battle full of the meanest lyrics about a celebrity since Taylor Swift's last album." Seemingly when hearing the singer's name, Bieber mimes the action of making herself throw up, and rolls her eyes. It's unclear which episode the clip is taken from.
"So sorry my best friend is and continues to be one of the best in the game," Gomez, 30, commented below the clip, shared by a user who labelled Bieber a "mean girl" for her actions. As fans will know, Gomez and Swift have been BFFs for years, after they were introduced in 2008. Prior to the comment, fans have speculated that several posts by Kylie Jenner and Hailey Bieber — including a post about ruining your eyebrows, shortly after Gomez told fans she'd accidentally laminated hers too much — were mocking the singer. "U guys are making something out of nothing. this is silly," Jenner later wrote below a fan's theorising. Gomez agreed in the comments, telling fans she liked the Jenner sister.
Meanwhile, following the latest online run-in over the Bieber x Swift video, Gomez told followers that she would be taking a break from social media. "I'm very happy, I'm so blessed, I have the best friends, the best fans in the whole world, and I just couldn't be happier. And I'm good. I love the way I am. I don't care, I'm big, I'm not — I don't care. I love who I am," she said in a TikTok live. "And yeah, I'm gonna be taking a second from social media, because this is a little silly. And I'm 30, I'm too old for this, so. But I love you guys so much! And I will see you guys sooner than later, I just... I'm just gonna just take a break from everything." Though she deleted her account, it has now been reinstated.
Mrs. Bieber and Gomez, meanwhile, have shared history with Justin Bieber. Before the former married the singer in 2018, Justin and Gomez were in an on-off relationship from 2010 to early 2018. Despite this history, the two women say there's no bad blood or drama between them, and posed for pictures together in 2022 at the Academy Museum Gala.
"[Selena] doesn't owe me anything," Mrs. Bieber said last year on the Call Her Daddy podcast. "Neither of us owe anybody anything except respect. I respect her a lot and I think there's no expectations. There's no drama personally."